The Italian Air Force Museum
(Museo Storico dell' Aeronautica Militare Italiana)
Wonderful aircraft in a beautiful setting
Vigna di Valle, Rome October 2013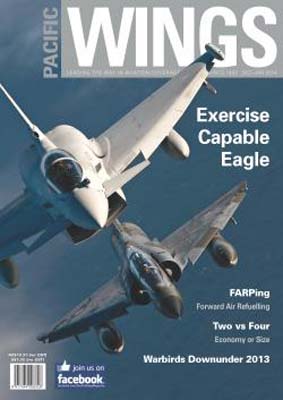 Article by Philip Stevens for Pacific Wings magazine
The Italian Air Force (Aeronautica Militare Italiana - AMI) museum at Vigna di Valle is situated on the shore of Lake Bracciano 25 miles (40 km) north of Rome. The Museo Storico is on the site of an airship and seaplane air base constructed over 100 years ago. With typical clear blue skies and gently lapping crystal clear water just feet from the historic hangars, this surely must be one of World's most attractive locations for an aircraft museum.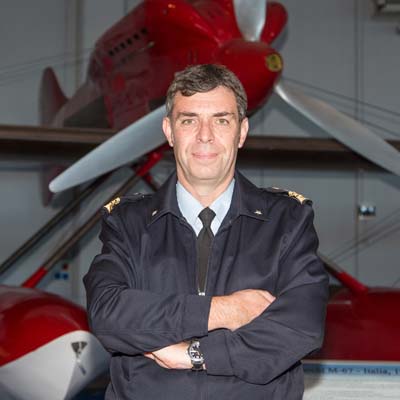 Museum Director Lt. Col. Pierluigi Poletti, "It is a pleasure to come here every day".

Italy is a proud nation with an impressive aircraft design and manufacturing pedigree, famous Italian aircraft manufacturers including; Ambrosini, Ansaldo SVA, Agusta, Caproni, Fiat, IMAM, Macchi, Nardi, Piaggio and Savoia-Marchetti are all represented. The museum's aircraft and artefacts trace Italian aviation history from a Blériot XI, used in the war in between Italy and Turkey in 1912, to a Panavia Tornado. A former AMI F-16 Fighting Falcon is due to arrive very soon.

With Italian family connections I try visit the museum each year. Much has changed since my first visit in 1981 four years after the museum opened. A separate public entrance and a large hangar have been constructed, the aircraft that were baking outside in the Italian sun and suffering from the humidity from the lake, are now under cover.



"The Museum is too static"


I met up with the Museum Director Lt. Col. Pierluigi Poletti to discuss his latest plans. Lt. Col. Poletti took over in 2011 from Col Massimo Mondini who had been Museum Director for twelve years before he retired. Lt. Col. Poletti has started to make some changes to reflect modern day trends and to cater for a wider audience. "When I came here I was conscious that the former Director did a wonderful job. I have my own ideas which we will do little by little, there are budget restraints. My first thought is that the museum is too static we have to look at new technologies such as flight simulators and computers. It is a museum for people who have a real passion for aircraft, the museum should offer more especially for the young. I want visitors to be able to interact with the aircraft and have more of a flying experience". Pilot associations have accepted the Director's invitation to reconstruct historic flights using commercial flight simulators and big screens. "Twice last year we flew a virtual flight from Northern Italy to Vienna from World War I". In 2013 to commemorate the 80th anniversary of the 1933 Balbo formation flight across the Atlantic, a 3D animation of a Savoia-Marchetti S.55 a double-hulled flying boat was produced.

Lt. Col. Poletti joined the AMI Academy in 1979 and following his ten years as a Tornado back-seater he became a Boeing E-3 AWACS navigator with NATO at Geilenkirchen in Germany. After serving as Chief of Operations on a firing range in Sardinia and a spell with NATO at Supreme Headquarters Allied Powers Europe (SHAPE) he was transferred to Logistic Command in Rome. To realise his dreams he later applied and was awarded the vacant Museum Director position. I asked why he wanted to manage the museum so much; "This is a special place with its history and aircraft, I can't explain why, it's something you have inside yourself, it's a position I had wanted for many years". The Museum Director's job is not for a fixed term, it can be held until retirement. "Hopefully I will stay here till I retire in seven years time when I am 60. I live in Rome and it is a pleasure to come here every day" Lt. Col. Poletti added.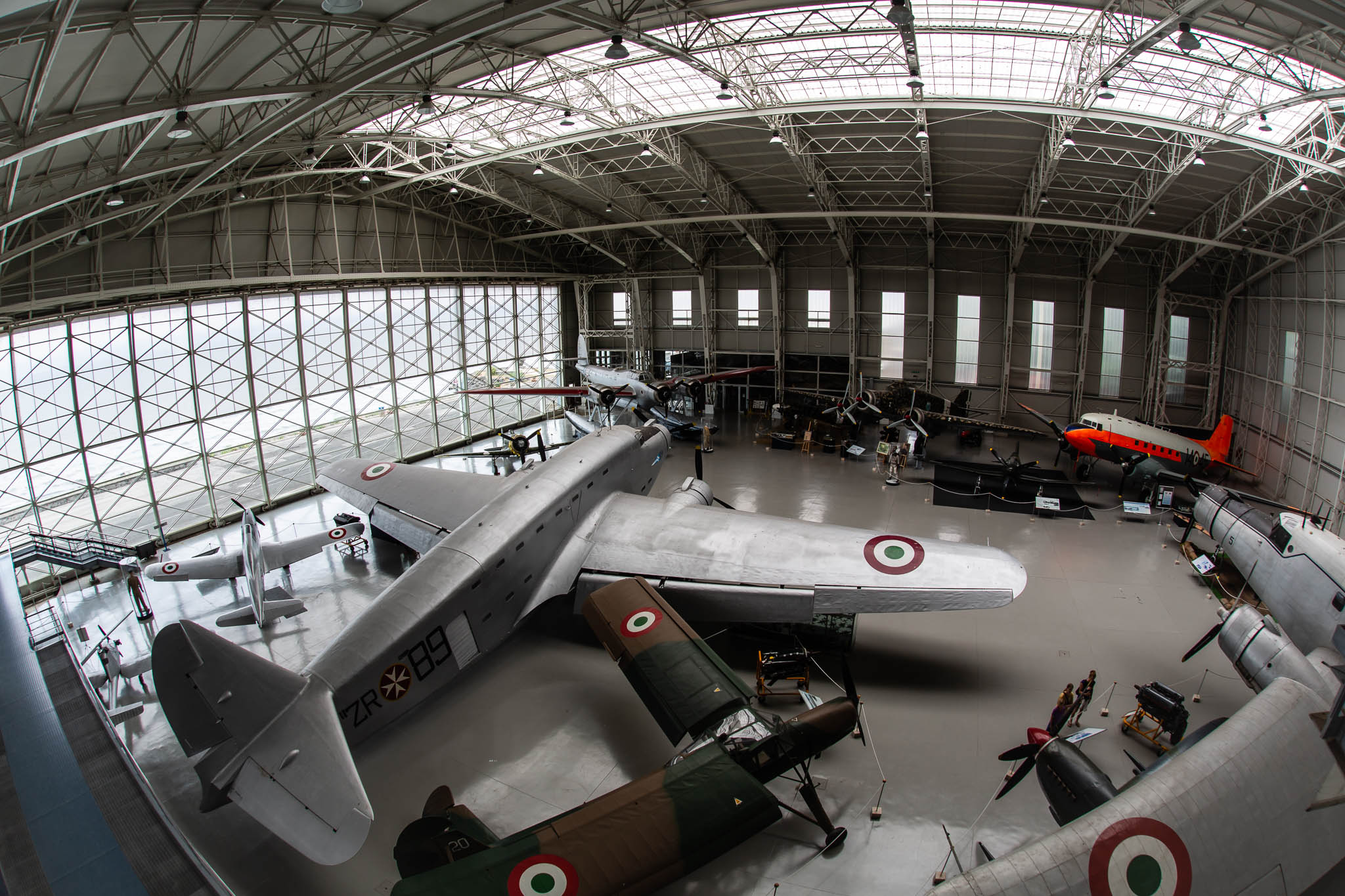 The Badoni hall which was built in 1930 and used until 1959 by the 84º Gruppo CRDA Cant Z.506S Airone sea planes.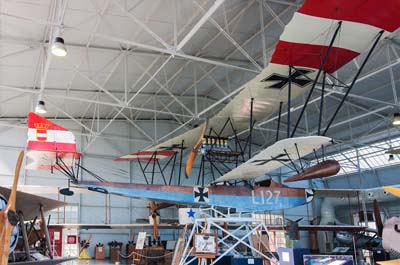 The sole surviving Lohner L-1 is of Austrian design but was built under license in Hungary during World War I for the Imperial German Navy.

Early flight


The museum comprises four halls named Troster, Velo, Badoni and Skema the latter now has an annex attached. Starting at Troster the visitor can follow AMI history from its start in 1910 to more modern jets on display in Skema hall.
Troster hall has the oldest aircraft and some of the most interesting. The Caproni Ca.3 for example is a three-engine bomber unusually having two engines pulling and one pushing. It had been flown in World War I by Lt. Casimiro Buttini a recipient of the Gold Medal of Valor. After the War he bought his aircraft for 30,000 lire and stored it in a barn in the Piedmont mountains. It was kept safe there till 1959 when it was bought back by the AMI for the museum.

The Ansaldo SVA-5, one of 2,000 delivered from 1917, was Italy's first all Italian aircraft and the fastest of World War I. The example on display took part in a bombing exercise over Vienna in 1918 dropping leaflets inviting Austria to surrender. With the War ended two SVAs flew an amazing 11,250 miles (18,000 km) to Tokyo. Another SVA flown by Antonio Locatelli was the first to fly solo over the Andes.

The Lohner L-1 was designed by Jacob Lohner & Co of Vienna and by 1917, 93 had been built and put into service for reconnaissance and bombing. The example on display (L-127) was actually 1 of 24 built under license by Ungarische Flugzeugwerke A.G of Budapest. It was delivered to the Imperial German Navy in June 1916 and took part in bombing raids against Italian positions. On June 3, 1918, while based at Lussino and used for reconnaissance over the Dalmatian coastline, it was taken by two defecting naval pilots of Italian decent, who flew it across the Adriatic to Fano, where it was captured. After a many hours of restoration it was transferred to the museum in 1988.
Sea planes, competitions and World records
The Schneider Cup collection including; Macchi Castoldi MC.72 (MM181) which won the World speed record for a seaplane of 443 mph (709.202 km/h) in 1934 which still stands to this day. Behind is the Macchi M.67 (MM105 '10') in 1929 it achieved a speed of 351 mph (561 km/h) and the Macchi M.39 (MM76 'II') which was the 1926 Schneider Cup winning aircraft.
Seaplanes feature prominently and include four bright red racers in Velo hall that flew for Italy in the Schneider Cup, a competition devised by French industrialist Jaques Schneider back in 1912. Schneider wanted to promote seaplane production and offered a prize of £1,000 for the first team to win three of five races. The first competition in 1913, at Monte Carlo, was won by a French pilot in a Depurdussin monoplane at an average speed of 46 mph (74 km/h) over a 31 mile (50 km) triangular course. The Schneider Cup was run almost annually apart from a break during World War I till the final race of 1931, which was won by a Supermarine S.6 at an average speed of 340 mph (547 km/h). On display are; a Macchi M.39 (1926 Schneider Cup winner), Macchi M.67 (1929), Fiat C.29 (1929) and a Macchi Castoldi MC.72 (1931).
Under the power of three engines
In Badoni hall there is a collection of rare if not unique large sea-planes and transport aircraft which were powered by three engines. Most impressive is the CRDA Cant Z.506S Airone a seaplane of wooden construction, it made its first flight in August 1936 and immediately gained eight World speed records and two altitude records for a seaplane. Initially as a bomber, including torpedoes, it flew both in the Spanish Civil War and in World War II. It was eventually withdrawn from service in 1960 when actually based at Vigna di Valle with 84º Gruppo flying in the maritime search and rescue role.

Another is the Fiat G.212 'Flying Classroom' which entered service in 1948 as a cargo plane and later utilised for pilot training and photo-reconnaissance. A Savoia-Marchetti SM.79 and SM.82 Canguro are two other aircraft with three engines in Badoni hall. The Savoia-Marchetti SM.79 Sparviero entered service in 1934 as a conventional and torpedo bomber remaining in service until the early 1950s as a transport. First flown in 1939 the Savoia-Marchetti SM.82 Canguro started life as a bomber and as a transport it continued in service until 1960.

Savoia-Marchetti SM.82 'Canguro' (MM61187 'ZR-89').

CRDA Cant Z.506S Airone

one of four large three engine bomber/transports on display in Badoni Hall. Of wooden construction it made its first flight in August 1936 and immediately gained eight World speed records and two altitude records for a seaplane. Flying with 84º Gruppo based at Vigna di Valle the Z.506S was not withdrawn from service until 1960.



Savoia-Marchetti SM.82 Canguro

(Kangaroo) also has three engines, it was used as a transport and bomber. Having first flown in 1939 it remained in service till 1960. It was so named as it could carry dismantled fighters in its fuselage. Based on the civil version SM.75 Marsupiale, 875 were built during the war, providing transport between Germany and East Africa. As a bomber, it carried out missions as far a field as Gibraltar and on an oil refinery in the Persian Gulf. It had a range of 1875 miles (3,000 Km). Around 250 survived to the end of the war and were used by the 36th Transport Wing based at Guidonia, till the types eventual withdrawal from service in 1960. The

Fiat G.212 'Flying Classroom'

(MM61804 '142-5') which entered service in 1948 is beside it.



Savoia-Marchetti SM.79 Sparviero

(Sparrow Hawk). It was designed to be both a conventional and torpedo bomber and entered service in 1934. The example on display was recovered from the Lebanon, following retirement from the Lebanese Air Force, as L-112. It is restored in an Italian scheme from 1942 as 'MM24327' coded '278-2', however it is reported as really being MM45508. With a crew of six and a range of 2,200 miles (3,500 Km) it flew till the early 1950s as a transport until its retirement.
Fighting World War II and beyond


The Fiat CR.32 was developed as a fighter and its impressive manoeuvrability also made it the plane of choice for aerobatics teams in the 1930s. The example on display was license built in Spain and donated by the Spanish Air Force in 1955 it has been restored in Spanish Civil War colours.
Aer Macchi are well represented with ten aircraft on display, including the; MC.200 Saetta, MC.202 Folgore and MC.205 Veltro which served as fighters with the AMI during World War II.
Another famous Italian fighter represented is the Fiat G.55 Centauro a single seat fighter produced in Turin from 1942. The G.55 was in operation with the AMI till the armistice on September 8, 1943. After that date they were flown against the Allies by the National Republic Air Force (A.N.R.) until all were destroyed. As no G.55s survived the War the aircraft exhibited is a modified Fiat G.59 recovered from a park of remembrance in Novara.
From 1944, Spitfire Mk.5s and Mk.9s were flown by the AMI and later replaced by P-51D Mustangs. Both types have been preserved by the museum although the Mustang is currently being restored off-site.
IMAM Ro.37bis

(MM11341 '110-12') production of the two-seat biplane for the fighter and reconnaissance role began in 1934. The AMI's Ro.37s were all retired from service by the time of the armistice in August 1943.



Nardi FN.305

was designed by the four Nardi brothers in 1933 and made its first flight in 1935 from the Milan - Bresso airfield. Lake Bracciano can be seen through the glass doors of Badoni Hall.



Macchi Castoldi MC.205V Veltro

(MM9546 coded '97-2') was a development of the earlier C.202 Folgore. It first flew in 1942 and had a top speed of some 400 mph (644 km/h).
The Jet Age


Italian aircraft designers Caproni were amongst the first to move into the age of jet propulsion. The Caproni Campini CC.1 in Velo hall is one of the World's first jet aircraft, flying for the first time in August 1940. It is really a hybrid, using a traditional piston engine, combined with a compressor, combustion chambers and exhaust system, the power coming from an afterburner.
Later Fiat built the G-80 and G-82 designed by Gabrielli which were flown in 1951 and 1953 respectively as advanced two seat jet trainers, however the AMI were not too impressed by their performance and no production orders were forthcoming.
The Ambrosini Aerfer Ariete and Sagittario II Ram were prototype jet fighters built in the late 1950s, both flew with disappointing results and both projects were cancelled. With the lack success of Italian designed jet aircraft, the AMI looked further a field for its fighters. The museum has a fine collection of jets, some of which were license built in Italy by Fiat. Represented are; a de Havilland DH.113 Vampire NF.54, Republic F-84G Thunderjet, F-84F Thunderstreak and RF-84F Thunderflash, Canadair CL.13 (F-86E) Sabre, North American F-86K Sabre, Lockheed RT-33A Shooting Star and F-104G Starfighter, Aermacchi MB-326 and MB-339. The Fiat G-91 is well represented with four derivatives (G-91R, T, Y and PAN) on display.
Last but not least a number of AMI pilot training aircraft, which following their retirement often went to civilian aero clubs. Trainers on display include; Nardi FN.305, the Aer Macchi MB.308, Macchi M.416 and Stinson L-5 Sentinel.
Ambrosini Aerfer Sagittario II Ram

(MM561) First flown in 1956, it became the first Italian aircraft to break the sound barrier when it attained Mach 1.1 in a dive from 45,000 ft (13,725 m).



Caproni Campini CC.1

(MM487) was one of the World's first jet aircraft flying for the first time in August 1940. Also known as the N1 it was designed to demonstrate jet technology.



Canadair CL.13 Mk.4 (F-86E) Sabre

(MM19792 '13-1') The North American F-86 first flew in 1947 and over 1,800 were built by Canadair under licence as the CL.13. 179 surplus RCAF jets were transferred to the AMI in 1955.
How did it all begin?
Grumman HU-16A Albatross (MM50-179 coded '15-5'). The HU-16 was used for Search and Rescue operations by the AMI from 1958. The aircraft on display operated with 15º Stormo/85º Gruppo when based at Rome Ciampino, its last flight was in 1978 to the Museum when it landed on Lake Bracciano.

In 1913 Italy's first aeronautical museum was founded at the Castel San Angelo in the centre of Rome. From 1933 the collection moved to other locations within Rome but during World War II all the exhibits were lost. From the 1950s plans for a new aeronautical museum began to develop. Finally in 1961 a museum in Turin was founded unfortunately by 1974 the running costs became prohibitive. As the AMI had buildings available at Vigna di Valle, the search for a cost effective solution was over. This site has an aeronautical history dating back to 1907 when Italy's first airships and later its seaplanes were test flown from here.

Troster hall is of Austrian construction and was built as reparation resulting from World War I. Two hangars were originally built with wooden panels and later replaced with metal sheets in 1925. The second of these two hangars was demolished in 1970. The remaining one is the oldest aeronautical building in Italy. Troster hall houses the oldest aircraft in the collection, covering the period up to the end of World War I.

Badoni hall was originally constructed in 1930 by the Badoni company for the maintenance of Italy's largest seaplanes. This hangar was used by 84º Gruppo who were flying the CRDA Cant Z.506 seaplane until 1959. 84º Gruppo then converted to the Grumman HU-16 Albatross at Rome Ciampino one of which is displayed outside this hall.

In 1976 work started on building Velo hall to connect Troster and Badoni halls and create a modern entrance with a shop, cafe and meeting rooms. The work was completed in just 200 days in time for the grand opening on May 24, 1977 by the Italian Head of State.

In 1978 a plan was put forward to construct a fourth hall to house the expanding collection of aircraft. Finally in 1986 work started on the massive concrete slab construction, known as Skema hall. By 1993 it was ready to house around 25 aircraft on two levels from AMI's first jets to their more modern ones.
Whilst this hall is very large and essential, if the collection is to be protected from the elements, pretty it is not. Sadly it is not in keeping with its surrounding historic buildings. There were prolonged periods in the nineties, when Hall 4 housed the 1950s jets, but was not open to the public. In 1998 the AMI held their 75th Anniversary air show at Pratica di Mare. For this event a number of museum aircraft were taken from Vigna di Valle for static display. These included the; Fiat C.29, G.5bis, G.55, G.80, Macchi C.200, C.202, C.205, SM.79 and the Fi-156. This was a rare opportunity to see these aircraft out in the sun. The museum was completely closed to the public at the end of the nineties until it was formally reopened on August 5, 1999.

During a visit in 2002 the museum Director Lt Col Massimo Mondini invited me to see the progress being made in here. The impressive Fiat G.212 'Flying Classroom' sat there lonely and forlorn in the dark with dust and debris all around. Lt. Col. Mondini who took great pride in the work done here, wanted to emphasise that the museum's valued exhibits were safe and not in decay as had been reported in the press earlier that year. Following extensive construction work, the original hangar doors have had large full height glass windows inserted. This made it much brighter and better for natural light photography. New elevated walkways give a better perspective and now connect this hall to the Skema hall next door. A large red and white static crane, used to lower the sea planes into the water, is still in place outside this hangar.

In 2004 the historic Badoni hangar, which had been closed since 2001 for roof repairs and modifications, was reopened, all four halls were now connected including some aerial walkways. Following the construction of an annex to Skema hall the museum's combined floor area had grown to over 39,300 square feet (12,000 sq/m).

Since the museum was opened at Vigna di Valle in excess of 100 aircraft have been on display but never more than 70 at one time, at my latest visit there were around 60. The collection is constantly changing as airframes are moved away for restoration and others are acquired or have been taken out of long term storage.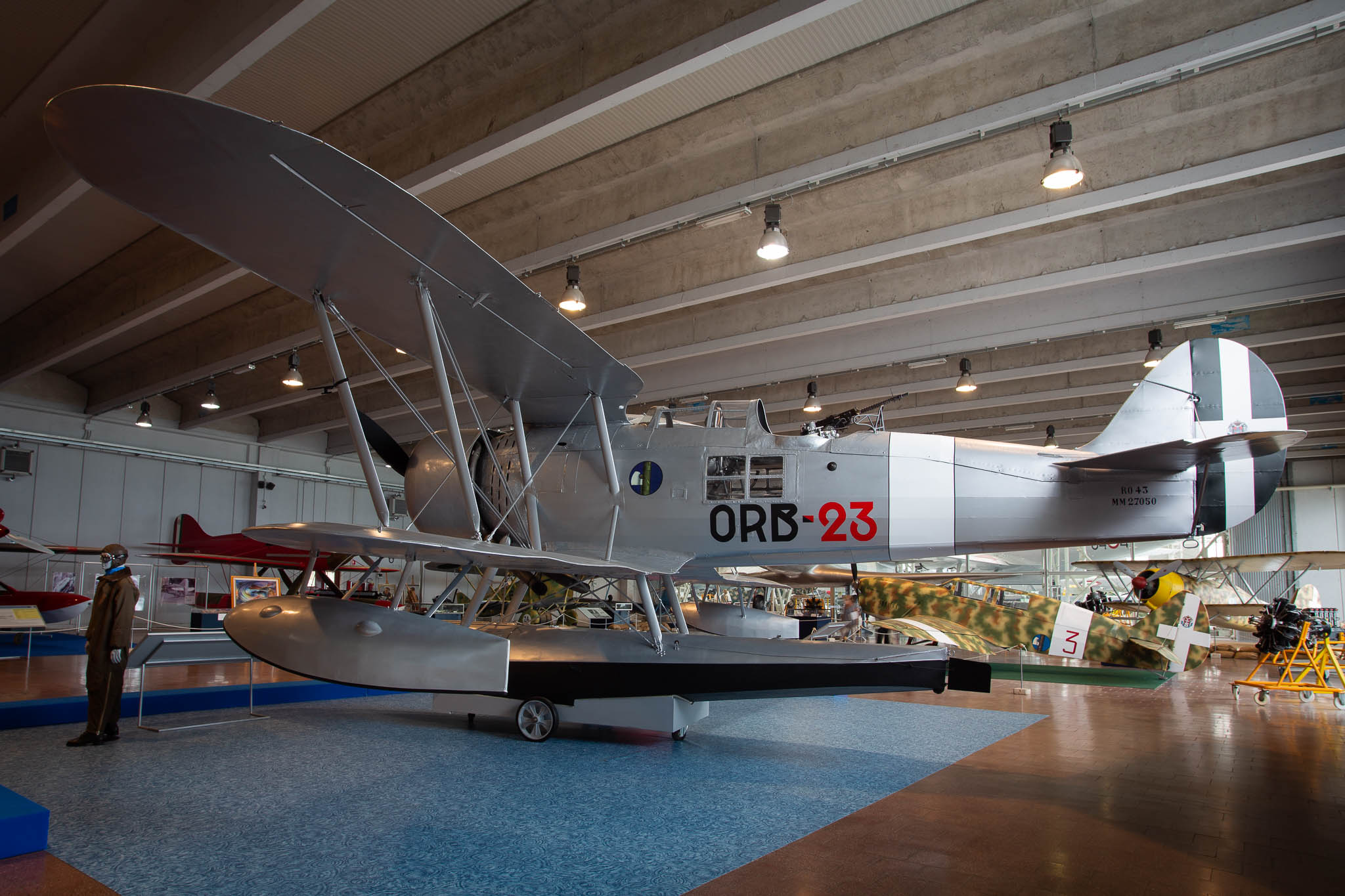 IMAM Ro.43 Maggiolino (MM27050 'ORB-23') they were built from 1934 to 1941 for the Regia Marina (Italian Navy) utilised as a spotter plane it was launched by catapult from their battleships.

Recent restorations and future plans


Many of the exhibits are initially put on display in the condition they were received. Later with the help from volunteer groups aircraft are restored off-site and returned in pristine condition some years later.

Lt. Col. Poletti has a staff of around 40 people working in the display hangars in the adjacent restoration hangar or in the administration offices. He is very reliant and grateful for the volunteers from the Air Force Association, which is made up of retired AMI offices or NCOs, who provide a museum guide service for visiting groups. Free tours for groups of 15 to 20 people are now available on request. Also Gruppo Amici Velivoli Storici of Turin (GAVS Torino), a non-profit aircraft restoration society established in 1983, have provided much needed support to the museum. They have restoration centres in Turin, Vicenza, Rome and Lombardy and have spent 6,000 voluntary hours over the last three years restoring aircraft for various museums. GAVS publish for its members, a magazine 'Ali Antiche', which is dedicated to aircraft restoration and preservation. They have done much of the valuable and painstaking restoration for the museum notably; the Ansaldo SVA-5 in 1988 and the G-55 Centauro in 1995.

The Rome section of GAVS restored the Spanish built Fiat CR.32 (Hispano HA 132L) to Spanish civil war colours. The F-86E Sabre (MM19792 coded '13-1') had moved to GAVS at Vicenza by October 2004 for restoration.
The 3º RTA (10º RMV) at Lecce, have also done valuable work for the museum, including completing the modification of the Fiat G-59 to a G-55 in 1997. The restoration of the Macchi M.67 was done in part by Associazione Aeronautical Restoration of Varese. The IMAM Ro.43 was recently returned to the museum after its five year restoration using there own staff, the materials alone cost 15,000 euro.

Another IMAM built aircraft the Ro.37 was added to the collection in 2013 following a remarkable recovery story. Amazingly the Italian Army as part of the ISAF security force in 2006 discovered six Ro.37bis fuselages in a scrap yard on the outskirts of Kabul. It had been thought that all Ro.37s had been lost. The Afghan Air Force was supplied 18 examples in 1938. The remains were flown back to Italy and the painstaking restoration took just one year at a cost of around 350,000 euro as everything was handmade.

Currently under restoration in La Spezia in northern Italy is a rare Reggianie Re.2002, a World War II fighter which had been held in the museum's off-site storage depot for the last 20 years. The aircraft was only part complete, one of the wings has to be rebuilt from scratch the other wing was missing, the landing gear and instruments also required a lot of attention. "We don't have a Reggianie in the museum but we have in fact two requiring restoration, as we also have a Re.2001 which was recovered in 2001 from off the coast of Sardinia. All the aluminium is corroded so it is a completely different job to restore this aircraft even though it is complete. This is the next big restoration and it would be restored to static display condition".

Lt Col Poletti clearly enjoys his job but it is not easy with an uncertain budget and limited floor area and many stored aircraft requiring expensive restoration. Never the less he will explore every avenue to ensure every visitor's experience is a good one.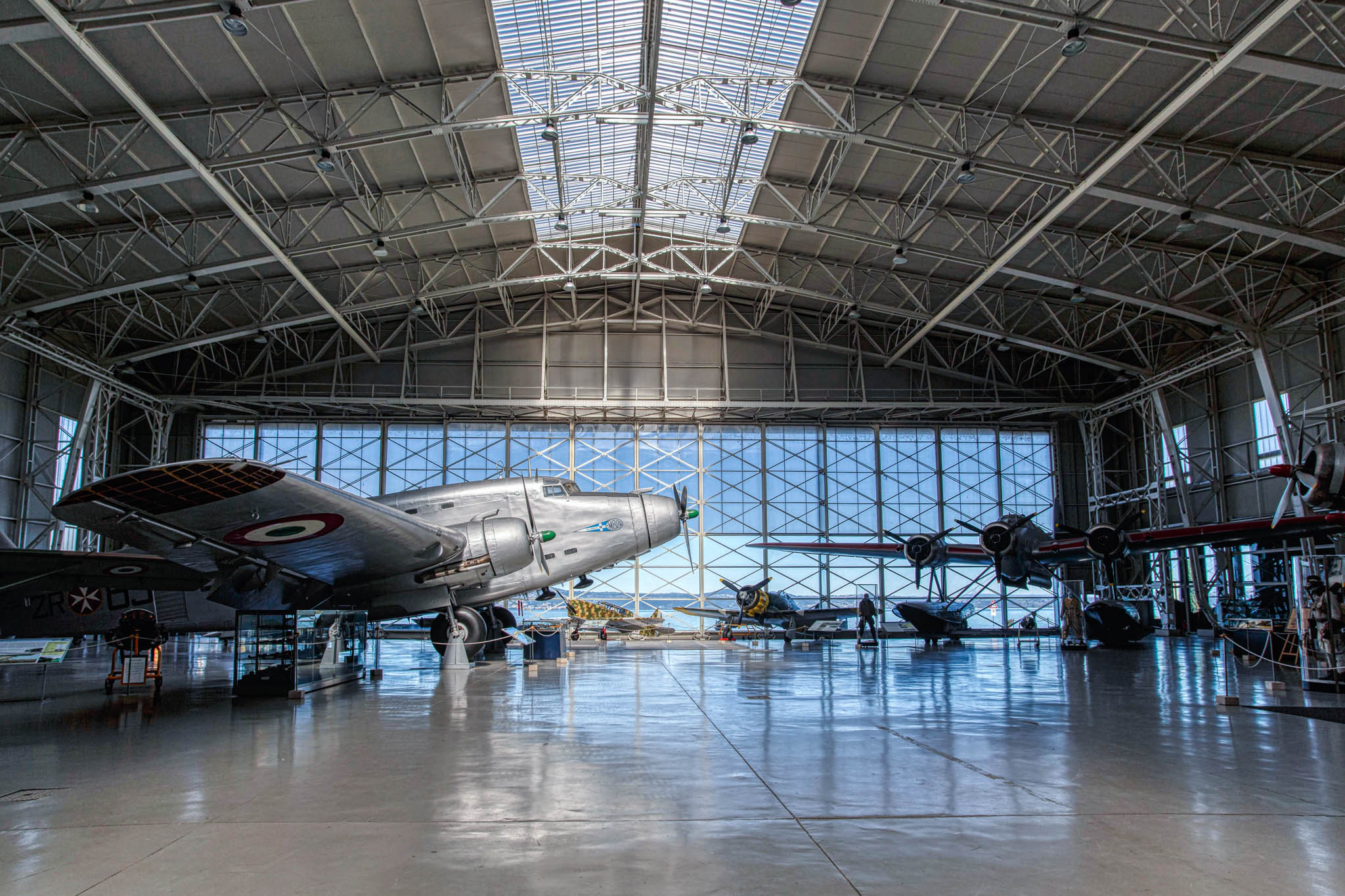 Savoia-Marchetti SM.82 Canguro (MM61187 'ZR-89') caught by the afternoon sun with Lake Bracciano through the glass doors.
Travelling to the Museum


The museum attracts 70,000 visitors each year, most come in the summer time including the schools. The easiest way to visit is by car without one it's a train to the nearest town of Bracciano and then a bus to the museum. Situated in a tourist area there many hotels and campsites. The ferry boat that goes around the lake now stops at the museum Lt. Col Poletti was pleased to say. "When it starts to rain we know we are going to get many more visitors 30 minutes later", he added.



Note:

Please check out the museum's website to confirm opening times. Over the years there has been extended periods where the museum has been part or fully closed.