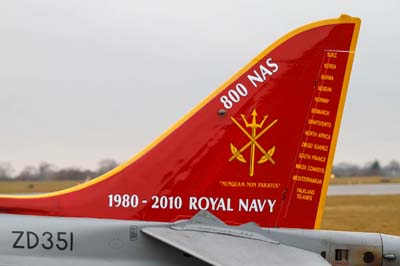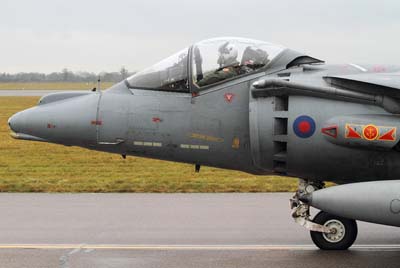 In March 2007 the Naval Strike Wing (NSW) was formed comprising of elements of 800 and 801 Squadrons and is the Fleet Air Arm's only fixed wing strike force. The NSW is one of three squadrons, the other being 1(F) Squadron RAF and 4(AC) Squadron RAF which make up Joint Force Harrier (JFH). 801 NAS was re-commissioned in October 2006 adding a black and white chequered tail to the existing 800 NAS Squadron Harriers.
800 Naval Air Squadron (800 NAS) reformed on March 31, 2006 and were allocated 13 Harrier GR.7A/GR.9s from RAF Cottesmore and are part of JFH. JFH was formed on April 1, 2000 combining the RAF's Harrier GR.7s with the Royal Navy's Sea Harrier FA.2s. It's aim was to draw together the two services, combining the best tactics and training procedures to produce a very effective strike force that can deploy from land and sea. With upgrades to the RAF's Harriers to GR.7A and eventually to GR.9/9A standard it was decided by the MOD in 2002 to retire prematurely the less capable Sea Harrier FA.2.
By March 31, 2006 the last Sea Harriers had flown from Yeovilton to RAF Shawbury for disposal, and their Royal Navy Squadrons (800, 801 and 899) having disbanded at RNAS Yeovilton. JFH is now operating from just RAF Cottesmore and RAF Wittering. Under JFH Cottesmore is the home of 800 NAS followed by 801 NAS in October 2006 with 1(F) Squadron and 4(AC) Squadron, each to operate nine Harrier GR.7/7A or GR.9/9As. Wittering is responsible for training and is operating the two-seat Harrier T.10 of which eleven are being upgraded to T.12 standard. Eventually all JFH's GR.7s will be upgraded to GR.9/9A standard enabling them to use smart weapons such as Brimstone.

In March 2010 800 and 801 NAS were merged to form a single squadron 800 NAS. The new Joint Strike Wing (JSW) consisted of 1(F) Squadron and 800 NAS.

Under the Strategic Defence and Security Review 800 NAS has disbanded and the Harrier retired on December 15, 2010. Some pilots will transfer to the US Navy Pilot School to commence carrier training.