A New Romania
Romania does not host many international air shows, the last was also at Mihail Kogalniceanu (MK) Air Base in August 2001, so I was very keen to see what Romania had to offer. Romania a NATO member since March 29, 2004 has been very keen to join the European Union for sometime now. The Romanian Air Force (RoAF) has had to restructure itself since the end of the 'Cold War' and the fall of President Nicolae Ceausescu in December 1989. Many of it's bases which bristled with MiG fighters have either closed or are dormant, littered with aircraft that are no longer in use. MK itself has a number of MiG-29 'Fulcrum' and MiG-23 'Flogger' in open store at the airfield. From 1995 Romania began upgrading its ageing MiG-21 fleet. By 2003 110 aircraft had completed there upgrades to become MiG-21 LanceR's in time for their admission into NATO.

Currently a reform plan named 'Objective Force 2007' is in operation, following on from 'Programme Force 2003'. Romania is working towards an optimum level of military hardware and personnel to take them forward within NATO and to be able to provide a rapid reaction force. Working with NATO Romania has a Membership Action Plan (MAP), which focused on increasing the interoperability, deployability and sustainability of its forces earmarked for peace-support operations. Romania is restructuring its military away from large, heavy Warsaw Pact-era forces toward smaller, light and more mobile units that will be better able to serve in NATO operations in the future.

The RoAF is now looking to replace its LanceR's further down the line and is looking at the Gripen, Eurofighter and Rafael. SAAB and a number of their Gripen's were on display at RoIAS and were used for testing leading up to the show, whilst unfortunately the other two contenders were absent. Alenia Aeronautica were demonstrating the C-27J Spartan at the show, as the RoAF are looking to buy the aircraft to replace the An-24, An-26 and An-30 transport aircraft by end of 2007.

Romanian International Air Show (RoIAS 2006)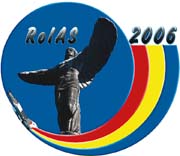 The air show was impressive which, we were told at the press briefing, due to the work by 18 people over two years. The Government had authorised a two million euro budget to finance the event, including free entrance, unlike the previous show in 2001 when 67,000 people attended. Air Fleet General Ion Stefan, Director of RoIAS 2006, was keen to acknowledge that the 2006 show was built on the experiences gained in 2001. He also made a special tribute to our own Paul Bowen (RIAT) who passed away last year, who generously spent a week with the organisers helping them formulate their plans. We were told that 34 countries were invited and 20 were keen to attend.
RoIAS 2006 was billed as a celebration of 100 years of mechanical flight. Apparently a Romanian Traian Vuia performed the first mechanical flight 100 years earlier on March 18, 1906 at Montesson in France.