By the end of the upgrade program in 2003, 114 MiG-21s (40% of all RoAF MiG-21s in service at the start of the program) had been upgraded to LanceR standard. As during this period there had been four crashes (2x A, B and C). Originally 10 two-seat Bs were ordered, this was increased to 14 in 2000 by reducing the number of A and C variants by two each). The last remaining MiG-21PFM, MiG-21R and MiG-21US variants had all been withdrawn from service by 2003.

In the end there were 75 conversions (34 from MiG-21M and 38 from MiG-21MF) to LanceR-A, 14 conversions of the existing MiG-21UMs to LanceR-B and 25 conversions of MiG-21MFs to LanceR-C. Aerostar continues to provide integrated logistic support.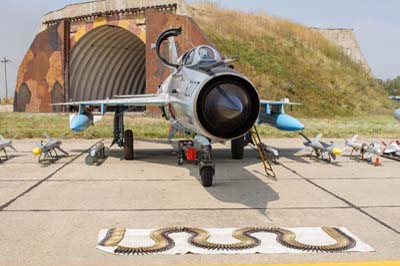 The LanceR fleet is now the backbone of the RoAF, performing air defence, close air support and training roles. The aircraft is unusual in now being able to carry both Eastern and Western armament. The LanceR was cleared for missiles such as the R60, R73 and Python 3 IR air-to-air missiles, 250lb and 500lb bombs, laser guided bombs (LGB), targeting and ECM. Some of the Lancer-As were also equipped with Rafael Litening targeting pods or Elbit/Aerostar Airborne Reconnaissance Pods. The LanceR's have now participated successfully in many NATO exercises. The upgraded aircraft have demonstrated greatly improved readiness levels, over their previous status, and comparable to other NATO members.