Where to go, the BIG question!
There is a concern that the more people go to these remote and beautiful locations in the hills, the likelihood of damage and disruption to farming increases. I really don't want to be responsible for any harm that may follow, by my giving out details of locations that can be used for low-level photography.
Some of these locations are on private land, where currently the landowner is not unhappy with those who visit. The 'Piss off Biggles' story below gives you an indication on what some farmers and landowners think of low-flying.
Over the years I have seen problems escalating with certain events or image being posted on social media or the press. Temporary bans of low flying have become more frequent and over longer periods, when will people/photographers realise that they need to be responsible?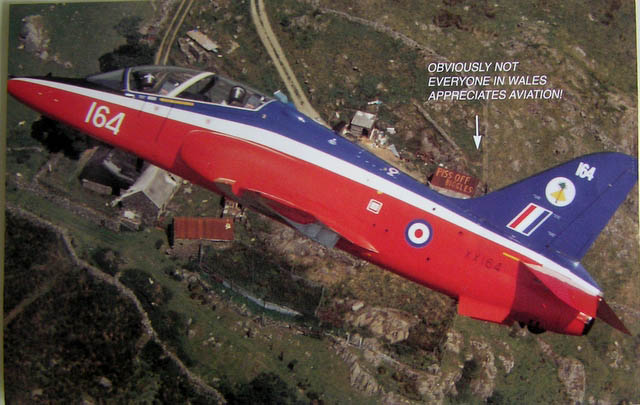 The story goes... Many years ago a Welsh farmer became very unhappy about the amount of aircraft flying low over his farm near to Bala Lake, due to his frustration he painted; 'Piss off Biggles' on a barn roof. (The image above was taken by Terry Blacow a former BAe Systems (Warton) photographer. Terry remembers taking the image during 1989 when on an air to air photo sortie).
'Piss off Biggles', 1989


In contact with the Welsh farmer (see caption above) recently I can add more to the story. He painted the Biggles comment back in 1986 after months of frustration. Having moved into the farm house, which had been empty for a number of years, it appeared to him that the RAF were using the house (which stands on a prominent rock outcrop in a deserted valley) as a 'target'. The jets were flying low over his house day and night alarming his young children. A Hercules at mid-night on one occasion appeared to be below the level of his house. He quite properly informed the MOD that he was now "contrary to the myth, once I stopped complaining to the MOD and put up the Biggles sign things got better, it seemed to appeal to the pilots' sense of humour, it was even added to the Hawk simulator. They appeared to fly higher and showed more consideration." He also added that a friend in the RAF had been asked by an American pilot, "Whats a Biggle?"

(For those few that are not familiar with who is 'Biggles'. He was a fictional military pilot starting from the time of World War I and going on to World War II, of whom 104 excellent books were written (1932-1969) by Captain W.E. Johns).

The local famers, 2005
A good friend of mine had checked out a possible location for low-level photography in a valley well used by military aircraft. Having checked on-line ordnance survey maps to make sure the land was open access (see Countryside Right of Way Act (CROW)) he visited the location to try it out.

Getting to the hill involved taking a wide circuit of a farm and an inevitable barking dog to then double back to climb the hill side. On his fourth visit to the location the farmer on his quad bike was motoring towards him. He looked the other way and tried sinking in to the heather, but it was obvious that the farmer was coming to 'have a word'. The farmer shouted up to him and fearing the worse he walked down the hillside to meet him. "What are you doing up here?", "I like photographing the aircraft as they fly past, it's just a hobby", he replied. "Oh I have seen them below me, you can see right in to the cockpits, I've seen their white helmets they are so close". Just then the aircraft scanner by his camera bag sprang in to life. "Is there someone else with you?", "No, that's my radio scanner I can here the pilots talking to each other". The farmer muttered something about modern technology and said; "I thought you were doing something with the fence and haven't I seen you up here earlier in the year"? "Yes I have been here before. It's so quiet today if you want to give me a hammer and nails I will repair any fences for you", he suggested jokingly.

The farmer had sounded him out and then came out with this totally unexpected suggestion. "You know that outcrop up there would be much better for you", "I can't go up there its private land". "I will give you my mobile phone number, give me a call next time and you can park your car in the farm yard, it won't be in the way there. I will then give you a ride up on the quad bike. You can have a coffee first if you like". "Well I won't come too often here but will give you a call next time". What a generous offer, it goes to show if you are considerate and polite then most people will respond accordingly.

However, not every farmer is that understanding. 'Hill 15' as it is known by many regular low level photographers is a no-go area. Two or three have tried it only to be confronted by a very angry farmer and his threatening son. His hill is not on open access land and it overlooks his farm. Those that have tried the hill have either, been confronted and told to move away in no unclear terms or have got back to their car parked in the lay-by below to find that a window has been smashed. So caution and some research is required before you go stumbling up some hillside to take some pictures.

Where to go, my fears, 2006


Some years ago I did not know where to go. I sent emails to one or two people and did not get a reply. I then spent some time gathering information from the Internet on low-flying areas and looking for tight valleys or choke points where the low-flying is funnelled. It does not take too long before you start to see where the aircraft fly. Eventually you meet people and when you are trusted, they might well give you more tips on where to go.

Also, I met a good friend from Italy, he wanted to do some low-level photography. I ended up taking him to a place where I said jokingly; "Now I have to blindfold you, for the final ascent." After explaining my reasons, he said; "This is like when people don't reveal where the best places are to pick mushrooms." I appreciate that comment; if you do find a good place to pick mushrooms then surely you should not provide details of it on a forum or website? The next time you go, everyone else will have picked the mushrooms and trampled over the ground, left BBQ debris and beer cans from the previous evening etc. I would guess that you would not say where you pick the best mushrooms!

All the places I know, don't have supermarket style car parks, in fact some places don't have any places to park at all. One particular low-level location has a parking place for just one car and the landowners have said that the road should be kept clear. I now take a bicycle in the car boot and park a mile up the road and cycle to the location, hide the bike and then climb the hill. If I was to provide details of this location, then what do you think would happen? After I have driven the 200 miles to get there, I will find that someone has parked in the one and only place, annoyed the landowner, who may then have called the Police. Consequently no one would be able to go to this location anymore. Originally this location took a day to find on a weekend. I took my Ordnance Survey map with me and hiked around the area, to find the remote vantage point.

There are places where there is adequate parking and the land is now governed by the Countryside Right of Way Act (CROW) otherwise known as 'Right to Roam' which allows public access. But, there will be ample room for as long as the numbers visiting don't increase significantly over the present level. If every visitor passes on the information to just one friend, eventually the place will become overwhelmed. As numbers have increased so have the potential problems. The most popular place known as the ' Bwlch' has a good sized car park with a gate at one end that is used by the farmer from time to time, it is now frequently blocked by inconsiderate drivers / low-level photographers.



'I'm with Stupid', June 2010


The favourite places of the regulars are now well known and have been documented on one or two websites in the past. I say "have been" because the two well known websites have now removed their low-flying photography location guides. The reason for this was as a result of a 'so-called' low-level photographer whose image was published in the national press in June 2010. It showed a Tornado GR.4 back-seater who held up a poster which read; 'I'm with stupid'. The press went to town about the cost of the Tornado and the serious nature of the job etc, etc. It was an ill thought out action by the air crew member and the image should never have been published. The MOD unsurprisingly took a dim view of this and consequently low-level flying was curtailed through the popular valleys where the photographers hang out for some months. The photographer in question was not known to the regulars that respect the hobby and he has not been seen since the action and backlash nearly destroyed the hobby as we know it.



'Elfyn Llwyd MP demands rethink on low-fly jet training'

, BBC July 2010.



'Complaints spark probe into Machynlleth low-fly jets'

, BBC August 2018.



Facebook (FB) groups and Twitter - The RAF ban on low flying through the Mach' Loop, November 2018


As though lessons have not been learned a similar tale of events occured when an image of a Typhoon with afterburners (or reheat) was sent ot the national press another spell of detremental stories hit the headlines.

The Tweeted and retweeted iPhone video of a Typhoon pulling out of low level shows a dreadful lack of understanding of how this could be construed. Comments about knowing when the jets are coming with; "I don't care if I get the pilot in to trouble, it was his fault". This was copied on to the FB groups along with an internal memo is all so damaging to everyone who enjoy the FB groups.
Typhoon STANEVAL announced the ban immediately following this Tweet showing a Typhoon pulling up from a low pass to the squeal of a girl tweeter which gave the impression it was all for or about her. The ban was quickly extended to the whole RAF fleet.

The problem of not respecting the hobby and pilots has not gone away, even if we get zero passes through the Loop for a period. Too many people just don't or won't understand how they should behave to get mutual respect between those going to the Loop and pilots.
Pilots are doing a very challenging job and are extremely professional. It's up to us to manage Facebook groups to make sure nothing damages the situation. Its comments like; "that was the lowest fastest pass I have ever seen", should not be put on any social media as it will be taken the wrong way by those in Command. Almost certainly the statement will be wrong, as the poster is just trying to get 'Likes'.

FB Administrators should delete all postings, images or comments that jeopardise pilot's careers and our hobby. Any comment of disagreement should lead to the person being deleted from the FB group.


Good luck and please take care where ever you decide to go.



Philip Stevens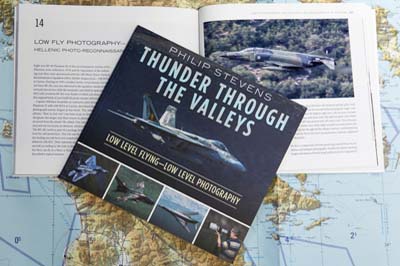 Thunder Through the Valleys:

Low Level Flying - Low Level Photography

Two books in one, my book covers military low flying and the challenges faced by the photographer. The main subject is about military low-flying - the skills, reasons and dangers from a pilot's perspective. The many commanders, pilots and mission planners interviewed explain the challenges they face flying fast and low day and night. Pilots describe their training, planning, systems and their most memorable missions flying the aircraft they love from the; A-7 Corsair, F-4 Phantom, Tucano, Tornado, Sk 60, B-1B Lancer, F-16 Fighting Falcon, F-16I Sufa, F/A-18 Super Hornet to even the F-22 Raptor. As the sole photographer I reveal how and where images were taken from mountainsides and desert canyons to cockpits for air to air images. Order a signed copy