de l'Amicale Jean-Baptiste Salis Air Meeting
Cerny airfield - La Ferté-Alais
June 11-12, 2011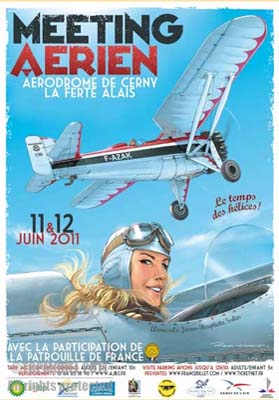 The Association Jean-Baptiste Salis (AJBS) held its 39th Meeting Aerien (air show) at the tree lined plateau that is Cerny airfield at La Ferté-Alais. Thousands of enthusiasts lined the full length of the grass landing strip to see a full range of aircraft from the Blériot to the latest military jets with a predominantly French flavour.

The air show is described as Le Temps des Hélices (The time of the propellers) and as such is one of the best in Europe, only Flying Legends at Duxford is able to match this wonderful event. Traditionally the meeting is held on the weekend of Pentecost or Whit Sunday, which can be end of May or up to mid June. However they organisers don't live up to their 'Le Temps des Hélices' billing as a number of military jets are invited to perform. For me is a disappointment, I like fast jets very much but the Cerny airfield is a place where they just don't belong. The airfield has a long history of historic propeller driven aircraft, the ear-shattering Rafales, Super Etendard and the Patrouille de France disturbed the ambience of the event. To show my obvious inconsistency I have turned a 'blind eye' to the Morane 760 Paris which was part of the 100th anniversary of Morane-Saulnier, which as it happens was not nearly as fast and loud. AJBS are soon forgiven of course, the simulated dogfights, formation and individual displays and aerobatics by the rare old aircraft and all in close proximity to our cameras means you come away with some great images and wonderful memories.



More than just an air show


For me this is not just a warbird and vintage aircraft air show with a French flavour, it is one of my favourite locations since I first 'discovered' the airfield back in 1975. At that time many of the aircraft were locked away, the vast museum hangar was yet to be built. I remember a line up of around twenty AT-6 Texans which had recently been recovered from a airfield dump. Many of these Texans were eventually restored to flying condition, while a few lingered in the trees nearby. AJBS is a charity, combined with the Salis Aviation Company has a history of recovering old and rare aircraft and lovingly restoring them in their workshops. It is based on a team of dedicated lovers of aircraft who devote much of their spare time to keeping the organisation going.

Situated 30 miles (50Km) south of Paris, the airfield of La Ferté-Alais was built by one of France's most famous aviators, Jean-Baptiste Salis (J-BS) at the start of World War II. Years later AJBS was first formed in the mid 1960s as a living museum, the Association progressed further with Jean Salis, Jean-Baptiste's son from the 1970s. AJBS is now a collection of around 75 vintage and replica aircraft, which are mostly preserved in flying condition. The aircraft are frequently used in the making of movies and most are flown at the annual Pentecost air meeting, using Association's numerous members and skilled volunteers. AJBS comprises 300 members of those, about 60 work through each week and at weekends to keep around 30 historic aircraft flying.



Jean-Baptiste Salis - French Aviator


Born in 1896, at the age of 16 he learns to fly and quickly becomes France's youngest pilot. In 1915 he joined the French Army and becomes an explosives expert. By 1917 he realises his destiny and joins the first French Air Force squadron as an instructor. By the end of the War he had flown 1900 hours but had frequently broke military rules by taking 'unnecessary risks' in performing aerobatics. After the war J-BS bought a number of surplus military aircraft and formed his own flying school by 1921 at Chambery and also at Chamonix. In 1927 J-BS formed the world's first aerobatics team the 'La Patrouille Tricolore'. In 1929 he begins his long association with the movie industry and starts flying for the cameras.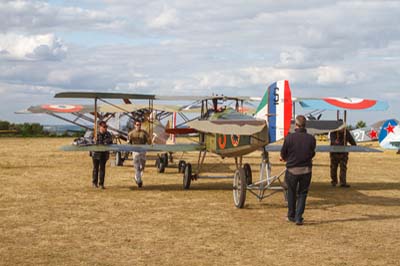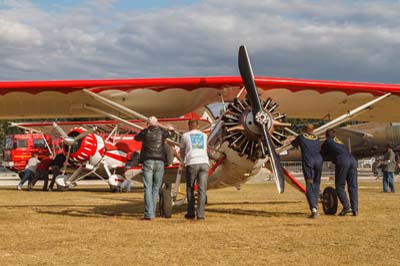 During the Spanish Civil War (1936-37) the French Air Ministry asks him to carry out a mission in a Dewoitine. By 1938 J-BS is working under cover for the French Ministry. In 1939 he buys a farm at Cerny near La Ferté-Alais and signs a contract with the Ministry to train pilots for the French Air Force and work starts in constructing the airfield. However at the start of the World War Two all of J-BS equipment at Cerny and elsewhere is requisitioned by the French and destroyed (including many collectable aircraft) to prevent it falling into German hands. The Luftwaffe had already asked J-BS to assist them, but had refused and had 'escaped' to La Ferté-Alais. Here J-BS contacts British Special Operations Executive to offer his airfield for clandestine activities.

The airfield is approved and given the code name 'Biniou' (a french bagpipe) and equipment is frequently dropped by parachute for the French Resistance. As part of his cover, he buys a sawmill in La Ferté-Alais enabling him to move freely around the heavily wooded areas around his airfield. At the end of the war he is awarded the Military Cross and begins to prepare the airfield for flying. Later he will rebuild the workshops and start to restore aircraft for his museum. One of the first projects was an original Blériot XI, which is still flying today. He subsequently flew it in 1955 across the Channel to commemorate the 50th anniversary of the first crossing. Up until his death in 1967 J-BS was working with his son Jean (now 69) to rebuild aircraft for their own Association/Memorial Squadron and also constructing replica aircraft for the movie industry. Films using La Ferté-Alais and its aircraft include; Steven Spielberg's 'Empire of the Sun' and 'Indiana Jones' in a list of almost 150 movies filmed since 1960. In 1970 the first airshow is organised at Cerny. Throughout the 1970s the airfield is further developed and the large museum hangar constructed in 1977 to house the ever increasing and evolving collection of classic vintage aircraft.

For a more complete history of Jean-Baptiste Salis his son Jean and their aircraft please visit their excellent website.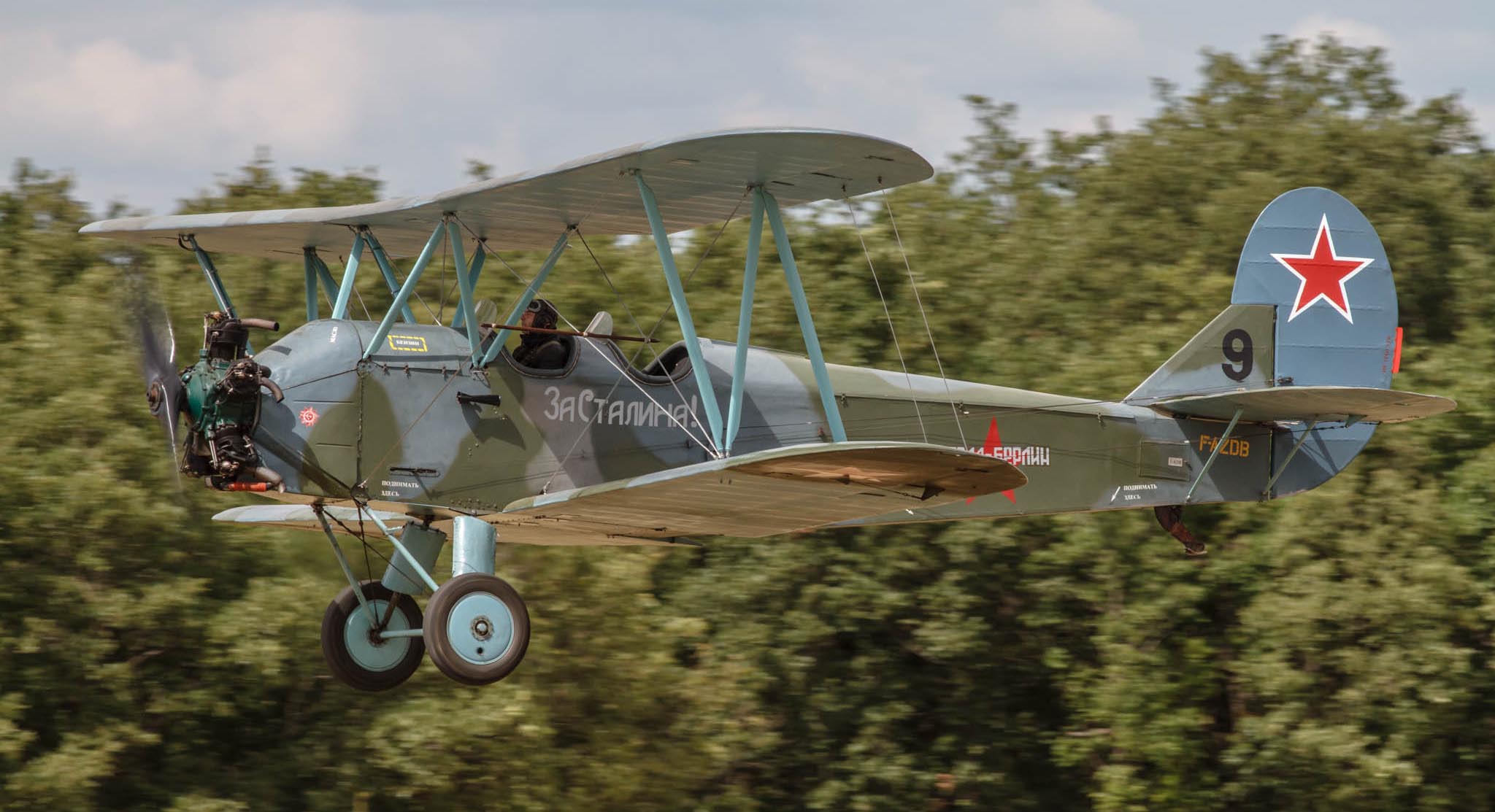 La Ferté-Alais based Polikarpov Po-2W 'Mule' (F-AZDB).
Each year the show consists of a few solo displays combined with a number of multiple aircraft demonstrations in aviation themes. This year the main theme was the 100th anniversary of Morane-Saulnier.
Left to right: Morane Type H (F-AZMS '7') re-built by AJBS in 1990 it dates back to 1913, apparently Roland Garros crossed the Mediterranean in 1913 from Frejus to Bizerte in this aircraft a flight of 700km.
Left to right: Morane-Saulnier MS.138 (F-AZAJ '5') of AJBS from 1927.
Morane-Saulnier MS.315 (F-AZAH c/n 254) from 1935.
Morane-Saulnier MS.317 (HB-RAO c/n 329) from 1937.
Morane-Saulnier MS.317 (F-BGUV c/n 297) of AJBS. The MS.301 first flew in 1931 and from 1960 40 MS.315s were upgraded to MS.317 for the French Navy.
Left to right: Morane-Saulnier MS.317 (D-EZOR c/n 279).
Morane-Saulnier MS.230 (F-AZAK c/n 403 ex F-BEJO) of AJBS its dates back to 1929.
Morane-Saulnier MS.406 C1 (HB-RCF c/n 138) of Association Morane Charlie Fox based at Bex, Switzerland. Of the 289 EFW/Dornier D-3801 license built MS.406s manufactured from 1939 to 1941 in Switzerland for the Swiss Air Force only two survive.
Morane-Saulnier MS.502 Criquet (F-AZRA '2E+RA' c/n 2039/14).
Left to right: Nord 1101 Noralpha (F-BLYU c/n 18) built by SNCAN (Société Nationale de Construction Aéronautique du Nord) at Les Mureaux near Paris, it was based on the Messerschmitt Bf.108 Taifun.
Ryan PT-22 Recruit (1164 N53018 '8') built by Ryan Aeronautical Company between 1940 and 1942 1023 PT-22s were delivered to United States Army Air Corps for primary pilot training.
Left to right: Jodel D.9 Bébé (91-YJ) inscribed 'Miss Sophie' and also 'l'avion de Zozo'.
Scheibe SF-28A Tandem Falke (F-CCJY) inscribed 'Irene'.
Bücker Bu133 Jungmeister (F-PBRI) of AJBS.
Polikarpov Po-2W 'Mule' (F-AZDB c/n 045), more than 40,000 Po-2s were built in Russia between 1928 and 1953, making it the most produced biplane in the history of aviation.
The World War One dog fighting replicas.
Left to right: Nieuport 17 Scout (G-BWMJ as N1977 '8') it is a replica.
Royal Aircraft Factory SE.5 (F-AZCY/A8898) it is a replica which was built for a French movie.
Left to right: Fokker DR-1 Triplane (G-CDXR) it is a replica.
Fokker D.VII (F-AZLM 4400/18) Lo! of replica operated by Association Memorial Flight at La Ferté-Alais.

Left to right: Boeing Stearman PT-17 (F-AZMZ) of AJBS.
Focke-Wulf Fw-44J Stieglitz (F-AZMJ), painted in German markings for a film.
Waco UPF-7 (F-AZLC c/n 5711) of AJBS.
Left to right: North American AT-6 Texan (F-AZEF/14387)
North American AT-6G Texan (F-AZMP/493056 'X-56') of AJBS.
North American SNJ-5 Texan (F-AZRB/90747 'PA-47')
North American AT-6G Texan (F-AZBQ/51-15237 'OH') of AJBS.
Left to right: North American AT-6B Texan (F-AZZM) modified to look like a Japanese 'Zero'. Curtiss-Wright P-40B Warhawk (G-CDWH '284' '18P').
Christophe Jaquard's Hawker Sea Fury FB.11 (F-AZXJ/WH589 '115-NW') in stunning Royal Australian Navy colours.

Left to right: Yakovlev Yak-11s (F-AZIM '27 and F-AZNN '14')
Beech (18S) C-45 (F-AZEJ '22429' c/n BA-359) of AJBS.
Left to right: Grumman TBM-3 Avenger (HB-RDG '4.F6'ex G-BTDP) inscribed 'Charlie's Heavy' it is owned by Trachsel Charles.
Douglas AD-4N Skyraider (F-AZDP / 124143 'RM-205') it was bought by AJBS in 1984 it is ex French and later Gabon Air Force.
Left to right: North American/Rockwell OV-10B Bronco (F-AZKM 99+24)

French Navy Dassault Rafale M (30).
Left to right: Dassault Rafale M (30) and Dassault-Breguet Super Étendard (14) both of the French Navy (Aeronavale).
Left to right: Morane-Saulnier MS.760 Paris (F-AZLT ex 32 Aeronavale), it was built in 1959 and the Patroille de France with their Alpha Jets.

Pleasure flights and transports
Left to right: Junkers Ju-52/3m (HB-HOT ex A-703 and F-AZJU 'AZ+JU').
Left to right: Antonov An-2 (D-FKME) and Douglas DC-3 (F-AZOX ex F-GIDK).

The Photography


La Ferté-Alais welcomes visitors all year round; the Pentecost show is the main activity of the year when most of the extensive collection is flown. Accessed by a now widened winding road to the top of the L'Ardenet plateau, the airfield is a place of beauty. It is still surrounded by vast wooded areas and it's wide grass runway is roughly east to west. The runway long crowd line is positioned close to the action on the south side. With the sun behind you and the close proximity of the aircraft, photography is very good. The display aircraft are mostly positioned south side at the eastern end by the hangars and museum in a series of well-spaced rows. The clever bit here is that spectators are free to roam up avenues in between the aircraft rows to get those close in shots. Even the aircraft parked across the other side of the access way to the runway are within easy reach of small telephoto lenses.

The flying is close but can appear a little tame at times, as many of the classic aircraft are not all high performance warbirds. This is what I like however, being able to photograph mostly French civilian and ex military aircraft in their element, flying from one of the most attractive grass airfields there is.

I used a 70-200mm for the ground shots and a fixed 300mm lens for the flying shots. As 99% of the action involves propellers it is important to keep the shutter speeds low to 1/125th or 1/250th for the flying shots. You must be prepared to bin quite a few shots using these slow shutter speeds as it is difficult to pan perfectly (well for me it is!) each time. The resulting blurred background emphasizes speed very nicely.
Previously in 2006 I noted that running down the length of the crowd line there was a red and white tape a meter high which obstructed shots of the aircraft. In 2007 I was pleased to see that for they had been reduced to just a few inches high, well done to the orgainsers. However by 2011 they had enormous speakers erected 20 meters in front of the crowd line every 50 meters or so along the crowd line. will they ever consider the photographers?