de l'Amicale Jean-Baptiste Salis Air Meeting
Cerny airfield - La Ferté-Alais
June 3-4, 2006
For the 34th consecutive year the picturesque airfield of Cerny at La Ferté-Alais, France hosted the fabulous Association Jean-Baptiste Salis (AJBS) air meeting. An estimated 45,000 spectators, many camping nearby, attended the two day event in glorious weather.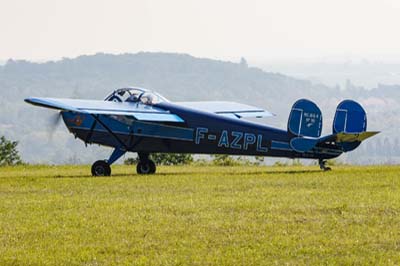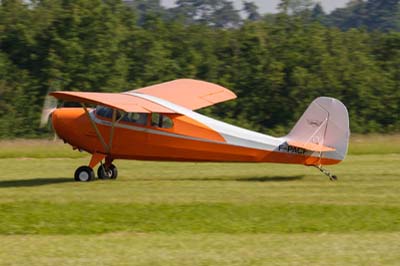 The first part of the extensive flying program started at 9:30 a.m. and ran until 12 p.m. when a useful lunch break halted flying for just over an hour. The display was divided into sections starting with a small light and obviously mostly French built aircraft taking to the air, such as the Nord NC.854 from 1950 and the Aeronca Chief. This was followed by flying school aircraft from the 1950s with a wonderful Nord 1100 Noralpha, a pair of Nord 3202s, two pairs of Bücker Bü131 and Bü133s and a Boeing PT-13 Stearman.
Left and right: Nord NC.854 (F-AZPL c/n 10) constructed in 1950 near the edge of the L'Ardenet plateau. Models NC-840/841 and NC-850 to NC-860 were produced between 1946 and 1951 by Societe Nationale des Constructions Aeronautiques du Centre (SNCAC) and later du Nord (SNCAN). Trading as Aerocentre the design and the initial production was done by SNCAC at Bourges until 1949 when the NC-853 and NC-859 were produced SNCAN.
Aeronca 11AC Chief (F-PACF) taxis out to end of the runway from the display aircraft park.
Boeing B-17G Flying Fortress (44-8846 'DS-M' / F-AZDX) 'Pink Lady' on approach - 400mm 1/80 f18.
Left to right: AJBS Nord 1100 Noralpha (67 'CY' registered F-GMCY) this aircraft is based on the Bf.108 Taifun.
Nord 3202 (15 'ZIY' registered F-AZIY), designed as a basic trainer for the ALAT to replace the Stampe-Vertongen SV.4 it first flew in 1957. 'ZIY' has been with AJBS since 1979, where it was stored until its restoration from 1989 to completion in 1994.
Nord 3202 pair (F-AZJO 'AJP' and F-AZFT 'AJJ'),
Boeing N2S-3 (PT-13) Kadet/Stearman (N60M '323').
Left to right: Former Swiss Air Force Bücker Bü133c Jungmeister (F-AZBS / U-69) with Jungmeister's (F-AZGG and F-AZHC),
Bücker Bü131 Jungmann (F-PBSE) all shots taken at 1/60th.
By 10 a.m. we were moving into an aerobatics section with such aircraft as the Cap 20, SF-260, Yak-52 and a Pitts S1S and S2B, followed closely by the AT-6 Patrol and a T-28 Solo.
Left to right: Yakovlev Yak-52 (RA-3376K) and performing an extravagant 360 degree turn just in front of the commentary box was Pitts S.2B (F-GMCG).
Coming from the UK it was nice for me to see a section of the show dedicated to French registered de Havilland aircraft, consisting of AJBS's DH-89 Dragon and a Chipmunk with a visiting Vampire.
Left to right: AJBS de Havilland DH-89A Dragon Rapide (F-AZCA). It first flew in 1934 and was bought by AJBS in 1973 (as F-BGON) and restored in 1980. Former Swiss Air Force (J-1115) FB.6 Vampire (F-AZHX 'VZ152/4-LH') was bought by AJBS in 1991.
It was still only 11 a.m. and we were being presented a section of fine former Armée de l'Air (French Air Force) trainers, from the MS.230 and MS.317 and on to the SV4 Stampe and finally flying in from elsewhere was a Fouga Magister. 'Groupe Tranchant' a female Russian aerobatics display team, of four Yak 54s swiftly followed with an exhilarating ten minute routine up to the mid-day break.
Left to right: Morane-Saulnier MS.317s (F-BCNL and F-BGUV). The MS.301 first flew in 1931 and from 1960 40 MS.315s were upgraded to MS.317 for the French Navy. Stampe-Vertongen SV.4A (F-BAGY No.1116) - 310mm 1/60 f14.
Left to right: Yak-54 of Groupe Tranchant' (RA-3333K), Armée de l'Air TB.30 Epsilon display team. Minute Colomban MC.15 Cri Cri 'Cricket' (F-PCLF) is cleared to land.

The afternoon session started with a para-drop from the based DC-3 Dakota which, followed by a French Air Force TB-30 Epsilon display team. Sadly with the wind getting up, the Blériot XI and Caudron G.III failed to take to the air, but were still gamely taxied along the crowd line.
One of the most entertaining events was the section dedicated to aircraft of the World War One. Here RAF SE.5s, MS.138 and Fokker DR.1 were flown in mock dog fights, with simulated bombs exploding across the airfield.
Left to right: Royal Aircraft Factory SE.5 Replica's (F-AZCN and F-AZBF / C1096 '3'), Morane-Saulnier type A1 (F-AZAP '7') it was re-built from an original in 1947 by AJBS and Morane-Saulnier MS.138 (F-AZAJ '5'). The MS.138 was taken at 380mm 1/60 f20.
Moving on to the 'Thirties' section, two Beech Staggerwings impressed me with their majestic formation flying, followed by the silver Lockheed 12A, a Dewoitine D.21 and FW-44.
Left to right: Beech D-17S Staggerwings (F-AZLA and F-GUZZ), Dewoitine D.21 (F-AZJD No.290) first flew in 1926. - 400mm 1/80 f13.
It was now time to leap forward in time with a section dedicated to the Korean War. The former West German Air Force OV-10B Bronco with it's superb manoeuvrability was eye catching, along with displays by a Cessna 337 and L-19 combining with the very powerful AJBS AD-4N Skyraider. An F-86 burst onto the scene at the end of this routine to perform fast and slow-fly byes.
Left to right: North American/Rockwell OV-10B Bronco (F-AZKM 99+24) - 180mm 1/160 f9, Cessna 337D Super Skymaster (F-BRPQ / 80995) and ex French and later Gabon Air Force Douglas AD-4N Skyraider (F-AZDP / 124143) it was bought by AJBS in 1984.
Left to right: Cessna L-19 Bird Dog (F-GDPC 'DPC') and North American F-86 Sabre (G-SABR '8178 / FU-178').
A section dedicated to Stalingrad included AJBS's Junkers JU-52/3m. This aircraft was thought to be a Spanish built CASA 352 until during it's restoration the fuselage was mysteriously found to have Junker's construction plates (No.24), the wings were from a Spanish built CASA 352 however. It was bought from Aces High in 1990 following its departure from Spain in 1976. A Yak-11, Polikarpov Po-2 and Fi-156 Storch completed the display.
Left to right: Junkers Ju-52/3m (F-AZJU), Yakovlev Yak-11 (F-AZIM '27') and is based at Cerny. Polikarpov U-2/Po-2 (F-AZDB '9') was designed in 1927 and obtained by AJBS from a Belgrade Museum in exchange for a Nieuport Baby.
Away from the war themes, three MD-312 Flamants and former VIP transports of the Armée de l'Air were joined in formation by a Falcon 2000, which were flown in tribute to aircraft designer Marcel Dassault. The Flamant first flew in 1947, a number of examples arrived at AJBS in 1981 after their withdrawal from service.
Left to right: Marcel Dassault MD-312 Flamant's (F-AZGE 'P' and F-AZKT/260 '316-KT').
Back to the World War Two aircraft theme, an impressive one hour long section included many classic World War Two aircraft, such as the B-17 Flying Fortress, Curtis H-75 Hawk, MS.406, two P-51 Mustang's, F-8F Bearcat, F-4F Wildcat, F-4U Corsair, two Piper L-4 Cubs and one of my favourite's the Messerschmitt Bf-109. The Spitfire was commemorated (70 this year) with the Alison-Wood Spitfire with it's two propellers.
Left to right: AJBS Boeing B-17G Flying Fortress (F-AZDX 48846 'DS-M') 'Pink Lady', North American P-51D Mustang (F-AZSB / 411622 'G4-C') 'Nooky Booky IV' and P-51C (43-25147 'HO-W' / G-PSIC) 'Princess Elizabeth' - 190mm 1/100 f14.
Left to right: Morane-Saulnier MS.406 (HB-RCF '1') - 210mm 1/60 f13, Curtis H-75 Hawk (No.82 'X8-81') and Messerschmitt Bf-109 (D-FMBB 'FM+BB').
Left to right: Piper L-4H Grasshopper's (F-BFQD 'YC') - 275mm 1/80 f9 and (F-BEGU) - 250mm 1/80 f10.
Left to right: Grumman F-4F Wildcat (G-RUMW) and Supermarine Spitfire 19 (F-AZJS / PS890).
Left to right: North American AT-6 Texans (F-AZBE / 43-12127 and F-AZMP / 493056) and single seat NA-68/P-64 (F-AZHE) - 235mm 1/100 f11
Left to right: AJBS North American T-28S Fennec (F-AZKG No.82), T-28C Trojan (N556EB / 140566), Yakovlev Yak-11 (F-AZIM '27') - 275mm 1/100 f11 and Yak-11 (F-AZFJ '29') - 190mm 1/50 f18.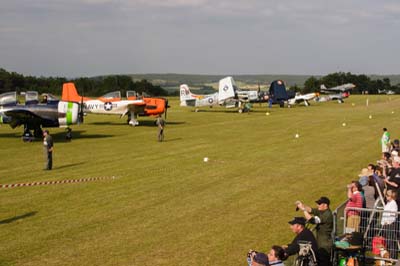 The finale to the eight hour flying display was a continuous swooping and single file fly past of twelve AT-6 Texans, three T-28 Trojans, Yak-3, Skyraider and Corsair. It brought a lump to my throat when all these aircraft turned to face the crowd at the end of the show. With engines roaring and pilots acknowledging the applause of the hugely appreciative crowd, this original ending to the show reminded me of footballers saluting their fans after winning a cup final. It was a truly wonderful show.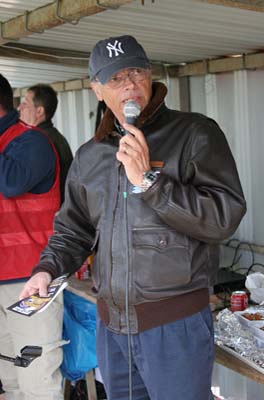 Bernard Chabbert

(left); legendary broadcaster, historian, Lockheed 12 owner (see below) and commentator first appeared here in 2000. In 2006 I was lucky enough to meet him here during a break in his wonderful commentary on the show. Many of you will have listened to him during his guest commentaries for 'Flying Legends' at Duxford. Sadly for me on this day, his words were naturally only in French, a language I have yet to master.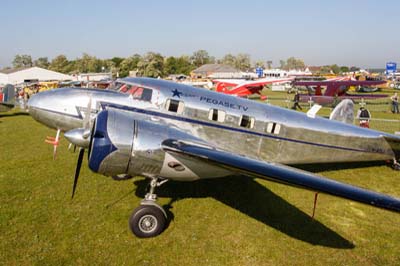 The show was a great photographic experience. The only downside was that the organisers had running down the length of the crowd line a red and white tape strung between meter high posts, just 20 meters from the crowd. Annoyingly this tape obstructed the views of some of the aircraft as they taxied close by. A series of well-spaced cones would work equally well I would have thought.

For most of the show I was using my Canon EOS 20D and EF 100-400mm f4/5.6 L IS lens.