Royal Air Force Museum
Hendon
1989, 2006, 2007, 2008, 2009, 2012, 2013 and 2019
Aircraft of World War II

(continued)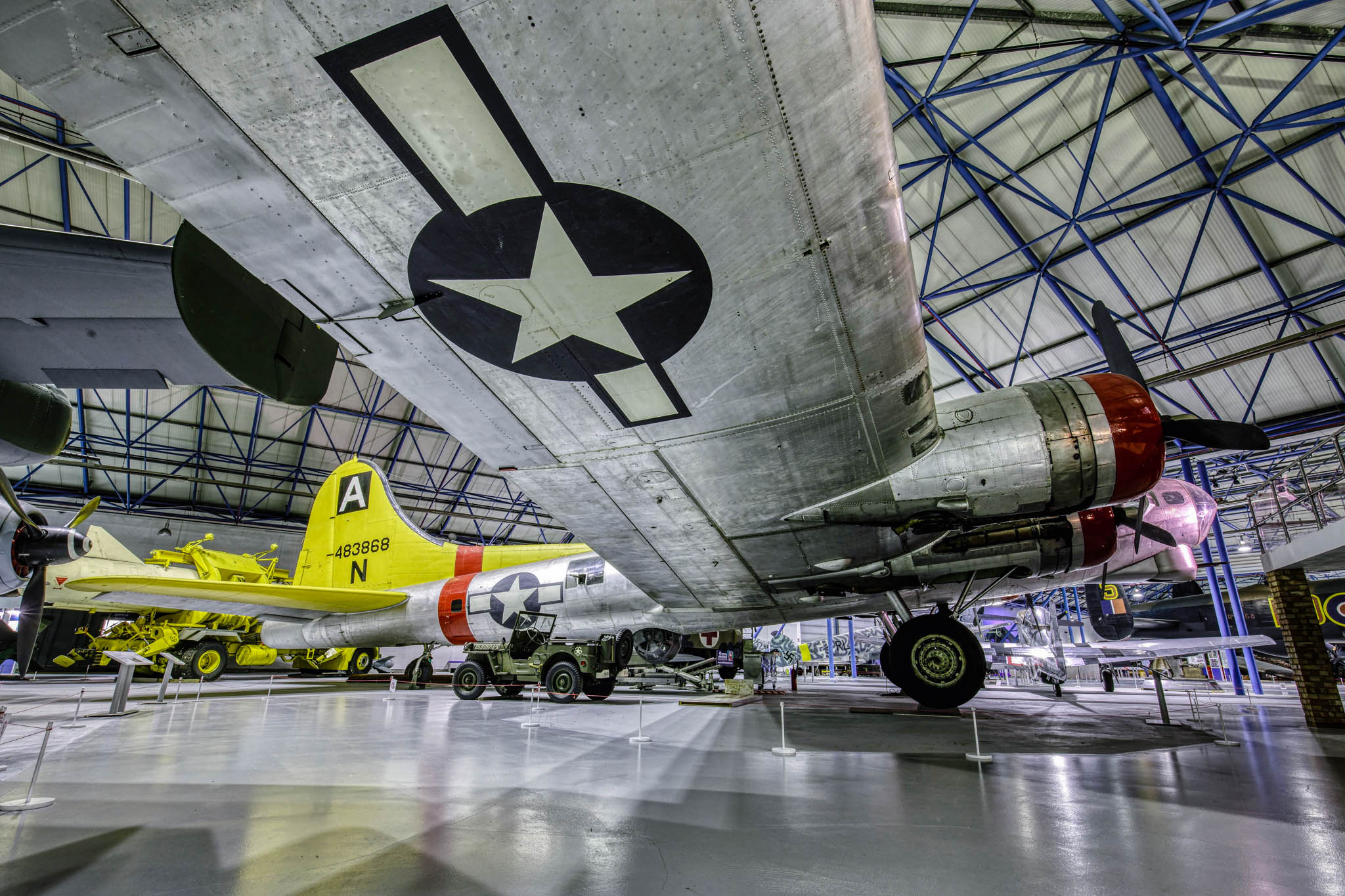 Boeing B-17G-95-DL Flying Fortress

(44-83868 'N' later N5237V). The B-17 started life on the drawing board in 1934 with deliveries starting in 1937. At the time of the attack on Pearl Harbour there were fewer than 200 B-17s in service. Production was immediately stepped up and at Boeing's Seattle plant alone production rose to an aircraft every 90 minutes. It was the first massed produced large aircraft and 12,731 were built in total. Just over 200 B-17s were supplied to the RAF starting in 1941.
The B-17G on display was built by Douglas Aircraft Corporation in 1944. In July 1945 it was transferred to the US Navy and equipped with radar for a maritime reconnaissance role along the US West Coast. In 1955 it was withdrawn from service and sold to Butler Aviation who converted it into a water bomber for firefighting duties. After its retirement in 1982 it was flown to the UK in 1983. It is painted in the markings of 94th Bombardment Group when based at Bury St Edmunds, Suffolk.
Consolidated B-24L Liberator VI

(KN751 later with Indian Air Force as HE807). Designed by the Consolidated Aircraft Corporation the B-24 made its first flight on December 29, 1939. By the time production ended in 1945 19,257 Liberators had been built by Consolidated, Douglas, North American and Ford. Compared with the B-17 it had a longer range and could carry a greater payload. 1,900 aircraft were delivered to the RAF, with over 100 more being transferred during operations. The final Liberators in service were flown by the Indian Air Force until December 1968.
The example on display was built in 1944 at Ford's Willow Run factory which had attained a production rate of one aircraft per hour. It was flown via the Middle East to 99 (Madras Presidency) Squadron at Dhubalia. It was then detached to Cocos (Keeling) Islands until the Squadron was disbanded in November 1945. KN751 was struck off charge in April 1946. Transferred to the Royal Indian Air Force as HE807, in 1948 it was converted to the maritime patrol role with 6 Squadron. It served with 15 other Liberators at Poona until 1968, when they were replaced by eight Super Constellations. Following an overhaul it was handed over to the Royal Air Force Museum and flown to the UK in July 1974. In 1976 it was put on display at Cosford, where it stayed until it was moved to Hendon in 2005. As photographed at Cosford in 1989.
Republic P-47D-40-RA Thunderbolt

('KL216' 'RS-L' also 9212M). The P-47 Thunderbolt did not enter service with the RAF till 1944 for use with South East Asia Command. They were used to attack Japanese ground forces as well as for escorts of RAF Liberators. By the end of 1945 they were replaced by Hawker Typhoons.
This particular aircraft was built in 1945 and did not see operational service, passing to the US Air National Guard (as 45-49295). Later it was transferred to the Yugoslavian Air Force (as 13064). The RAF Museum acquired the aircraft in 1986. It is painted in 30 Squadron markings representing the period when they operated the Thunderbolt from June 1944 to May 1945 in Burma.
North American B-25J Mitchell

(44-29366). The prototype first flew in 1940 with initial deliveries commencing in the following year. The Mitchell was also delivered to the RAF, the Dutch and Russian Air Forces.
This actual aircraft was delivered in 1944 but did not see any operational service, but was used for training from 1946 to 1959. Following a film career ('Catch 22' and 'Hanover Street') it joined the RAFM in 1982. It is painted in the scheme applied to it on delivey.
Lockheed Hudson

(A16-199). The Hudson was based on the Lockheed 14 Super Electra civil airliner and 2,942 were built. The first of over 2,000 Hudsons ordered by the RAF in 1938, entered service with Coastal Command in 1939 on anti-submarine and general reconnaissance duties. When they became obsolete they were switched to the transport role which included the dropping of Allied agents in Nazi-occupied Europe. Other impressive actions attributed to the Hudson, was being the first Allied aircraft flying from the UK, to shoot down an enemy aircraft. Also it was the first aircraft to capture a U-boat, when U-570 surrendered to a 269 Squadron Hudson in August 1941.
A16-199 was ordered as FH174 but was in 1942 one of 247 diverted to the RAAF before delivery to the RAF. The RAAF operated the Hudson until the remaining 48 were sold in 1946 and 1947. A16-199 became VH-SMM in 1950 and was owned by the Sydney Morning Herald Newspaper but was withdrawn from service in 1953. Following a period of aerial survey work it was put on display with Lancaster NX611 at Bankstown by 1964. In 1966 it was re-registered VH-AGJ by Adastra Aerial Surveys and later operated by Adastra Aerial Spraying in 1969. Operated by Adastra Airways in 1973 it was flown to the Strathallen Collection in Scotland where it was repainted in the colours of 13 Squadron RAAF and registered G-BEOX. In 1981 it was sold for £16,000 to the RAFM and moved to Hendon. As photographed in 1989.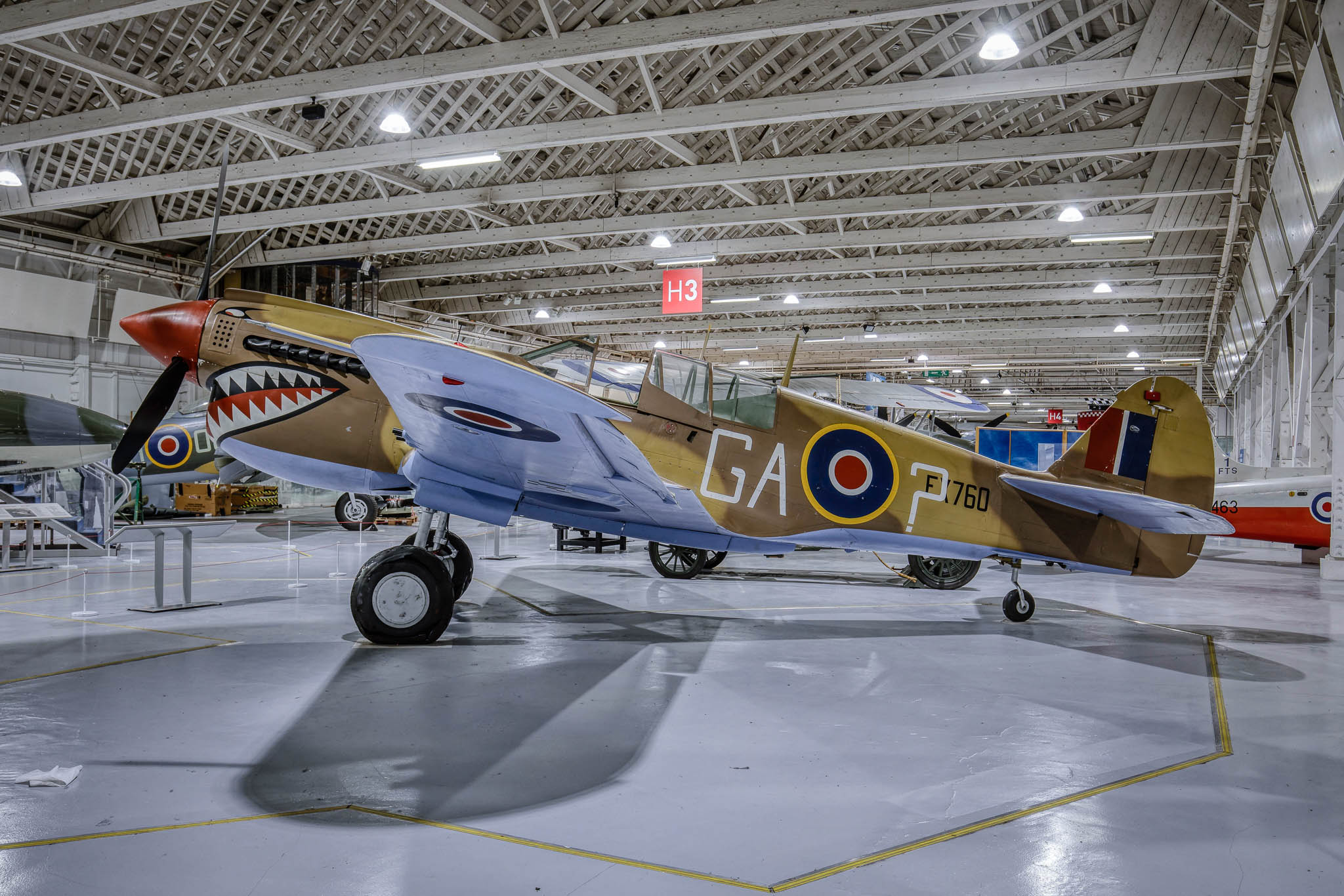 Curtis Kittyhawk IV

(A29-556 painted as 'FX760' coded 'GA-?' ex 42-106101). The P-40 was developed as a ground attack fighter, in US service the P-40 was known as Warhawks. Over 3,000 P-40s entered service with Commonwealth Air Forces from 1942. In RAF service P40A, B and C variants were named Tomahawks. The more powerful P-40Ds were named Kittyhawks. The Kittyhawk served in Italy till 1945 and in the Far East.
The aircraft on display is a composite, made up of parts from wrecks found in New Guinea. It is painted in authentic markings of an aircraft serving with 112 Squadron in 1941 in the Mediterranean.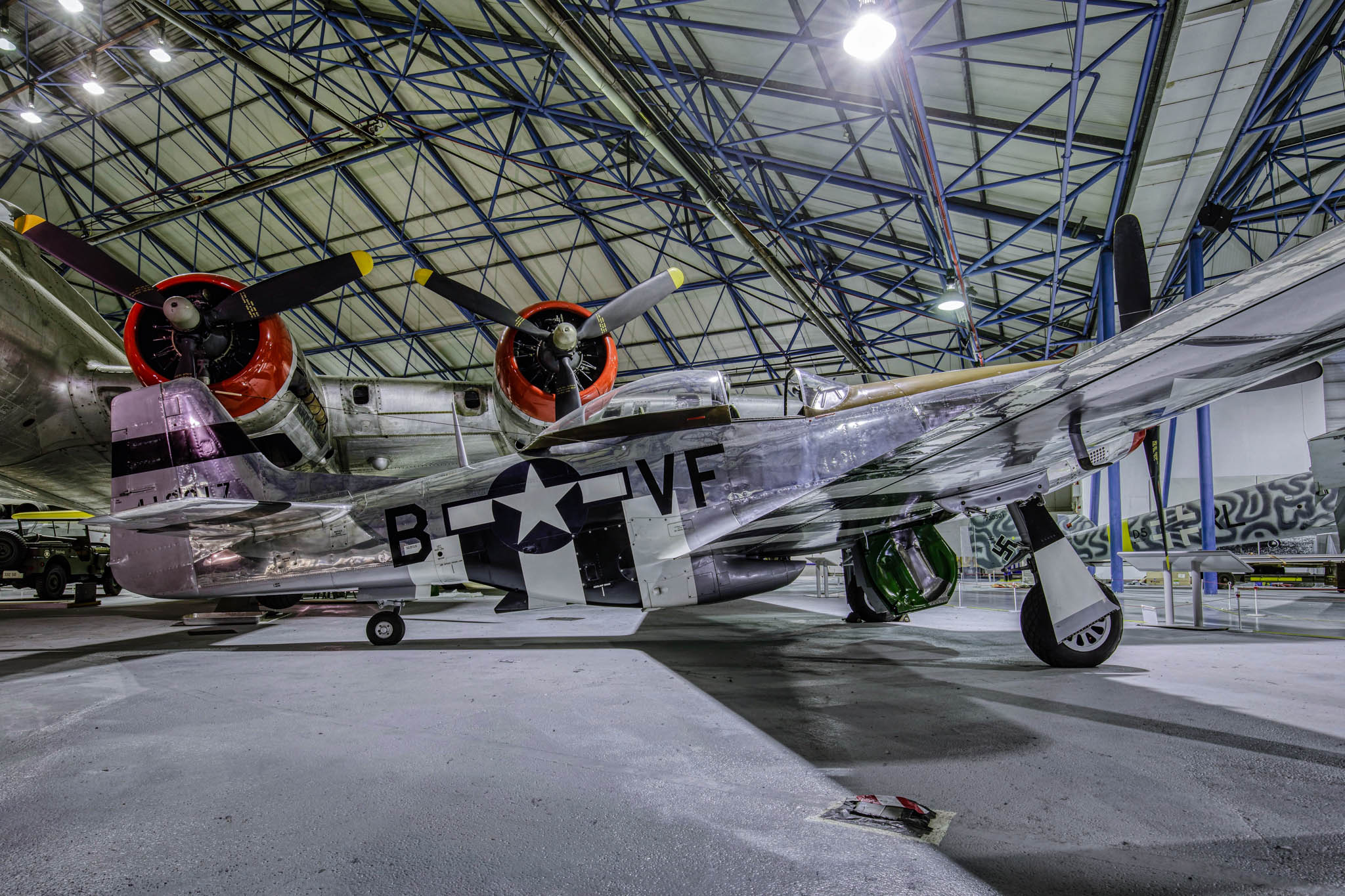 North American P-51D-30-NA Mustang

('41-3317' 'VF-B' really 44-74409 later NL51RT). Perhaps the best fighter of World War II, the P-51 Mustang was built from 1940 by North American Aviation to a British specification. By 1941 the first Mustang was delivered to the RAF for testing. In 1942 a Rolls-Royce Merlin engine was fitted to the P-51B giving the aircraft at 30,000 feet an extra 100 mph to 440 mph over the Allison engine. In June 1944 the first of 8,000 P-51Ds with the British designed bubble canopy were produced. It had now become a vital long-range fighter escort, equipped with drop tanks, which could be jettisoned when empty of fuel, to improve the aircraft's performance. Over 2,600 Mustangs were supplied to the RAF flying with 31 squadrons during the war. They were all withdrawn from RAF service by November 1946.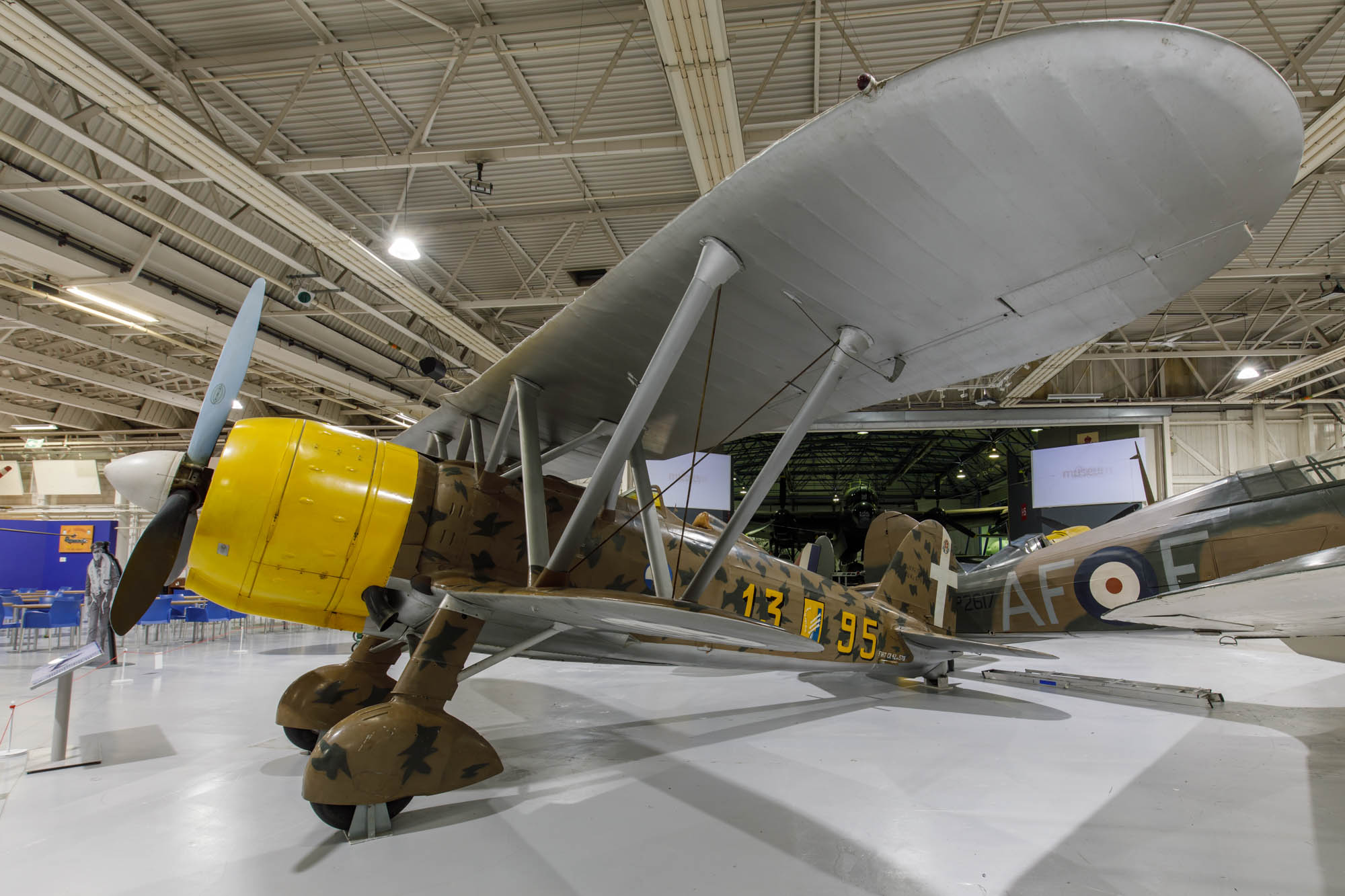 Fiat CR.42 Falco

(MM5701 '13-95' and BT474 and 8468M). The Italian Air Force originally ordered 200 examples as primary fighters, which entered service in 1939. They were later used as night fighters and trainers ending their service career in 1950. They first saw action in southern France and were sent by Mussolini to assist the Germans in the aerial fight against Britain in 1940. The CR.42 was no match for the far superior RAF fighters and saw little action. The aircraft on display moved to Maldegan in Belgium with the 18 Gruppo, 56 Stormo, 95 Sqadriglia Caccia Terrestre in October 1940. One month later it was forced to land on the beach at Orfordness in Suffolk, as a result of a broken oil pipe. It was flight tested at RAE Farnborough before going into storage in 1943. Following a number of moves it ended up at St Athan in 1968 where it was restored before its move to Hendon in 1978.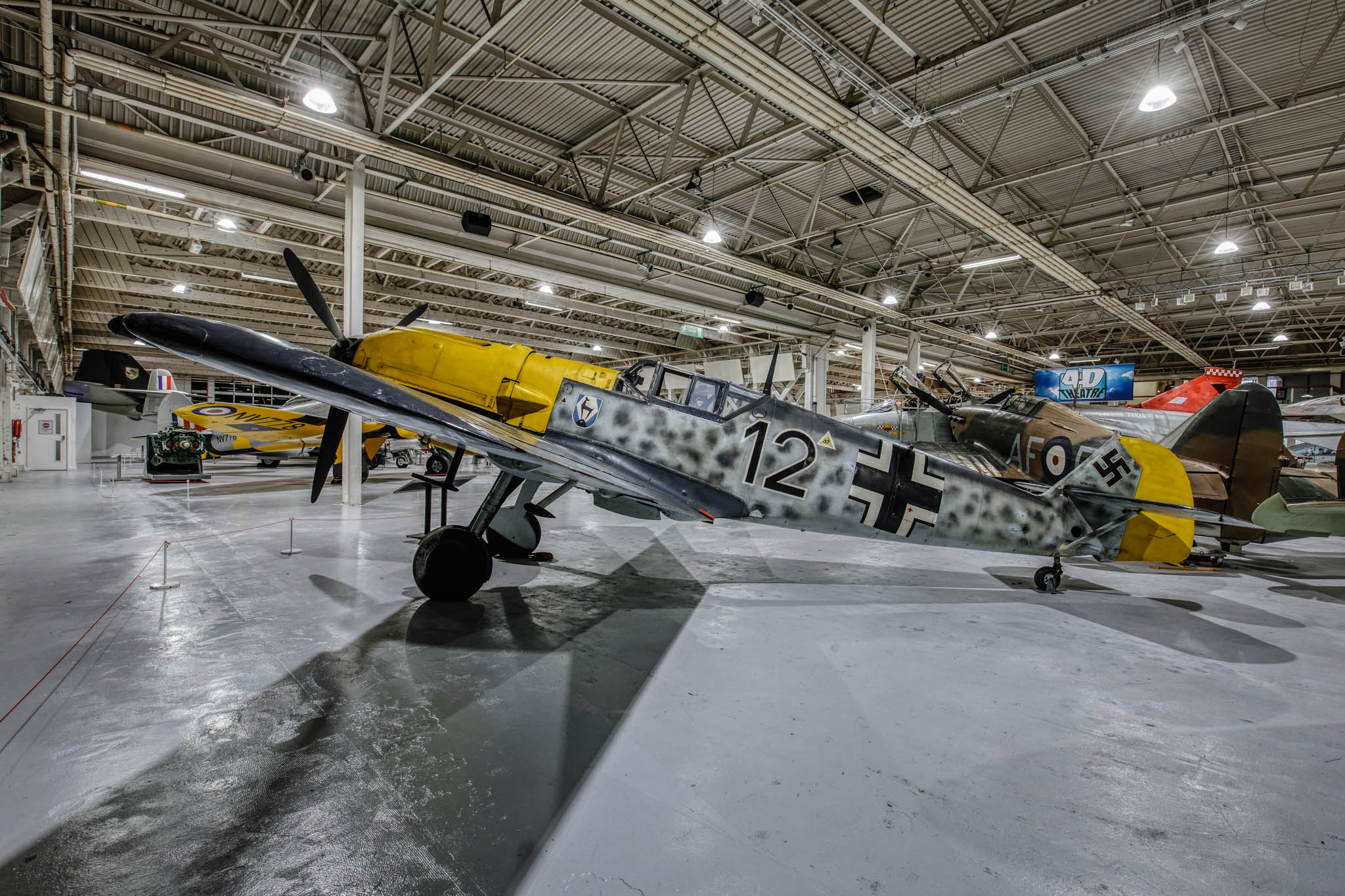 Messerschmitt Bf-109E-3

(4101 '12' later DG200 and 8477M) on display in the former Battle of Britain Experience Hall in 2007.
Messerschmitt Bf-109E

(4101 '12') on display was built in 1940 and delivered to Jagdgeschwader 51 based at Pihen in France. It was shot down over Kent in November 1940 by a 66 Squadron Spitfire. Following recovery it was delivered to Rolls-Royce at Hucknall for repair and evaluation. It was moved to de Havilland at Hatfield for propeller tests before going on to the A&AEE at Boscombe Down in 1942. It later joined 1426 (Enemy Aircraft) Flight at Duxford and later Collyweston. In 1943 it was put into storage eventually moving to St Athan in 1969 for refurbishment. It moved to Hendon in 1976 and to the Battle of Britain Hall in 1978.
Junkers Ju-88R-1

(360043 'D5+EV' later PJ876 and 8474M). The Ju-88 was one of the most versatile and successful German aircraft of World War II. It was employed as a bomber and later as a night fighter and also for long-range reconnaissance. The first Ju-88As were delivered in September 1939, they were immediately used to attack British shipping and later for the Battle of Britain. Insufficient defensive armament meant that they suffered heavy losses before their role was switched to night-fighting.
The example on display was license-built by Heinkel in 1942 and was converted to R-1 standard in 1943. On May 9, 1943 it took off from Aalborg in Denmark landing at Kristiansand in Norway. After falsely reporting that it had an engine fire it headed for Scotland. British Secret Service had somehow previously convinced the German aircrew (Oberleutnant Heinrich Schmitt, veteran of the Spanish Civil War and the Battle of Britain, radar operator Oberfeldwebels Paul Rosenberger and mechanic Oberfeldwebels Erich Kantwill), to defect and fly the aircraft to Great Britain with its radar secrets. It landed at RAF Dyce at Aberdeen to be met by Professor RV Jones a German radar expert. It was flown to RAE Farnborough a few days later under escort for evaluation and testing. British markings were applied and it was transferred to 1426 (Enemy Aircraft) Flight. At the end of the War the Flight was disbanded and the Ju-88 was transferred to RAF Sealand with 47 MU, destined for a museum. It passed through several other airfields and storage, before going to St Athan in 1973 for restoration. Restoration was completed in 1975 and it was moved to Battle of Britain Hall at Hendon in 1978. Moved to Cosford by 2018.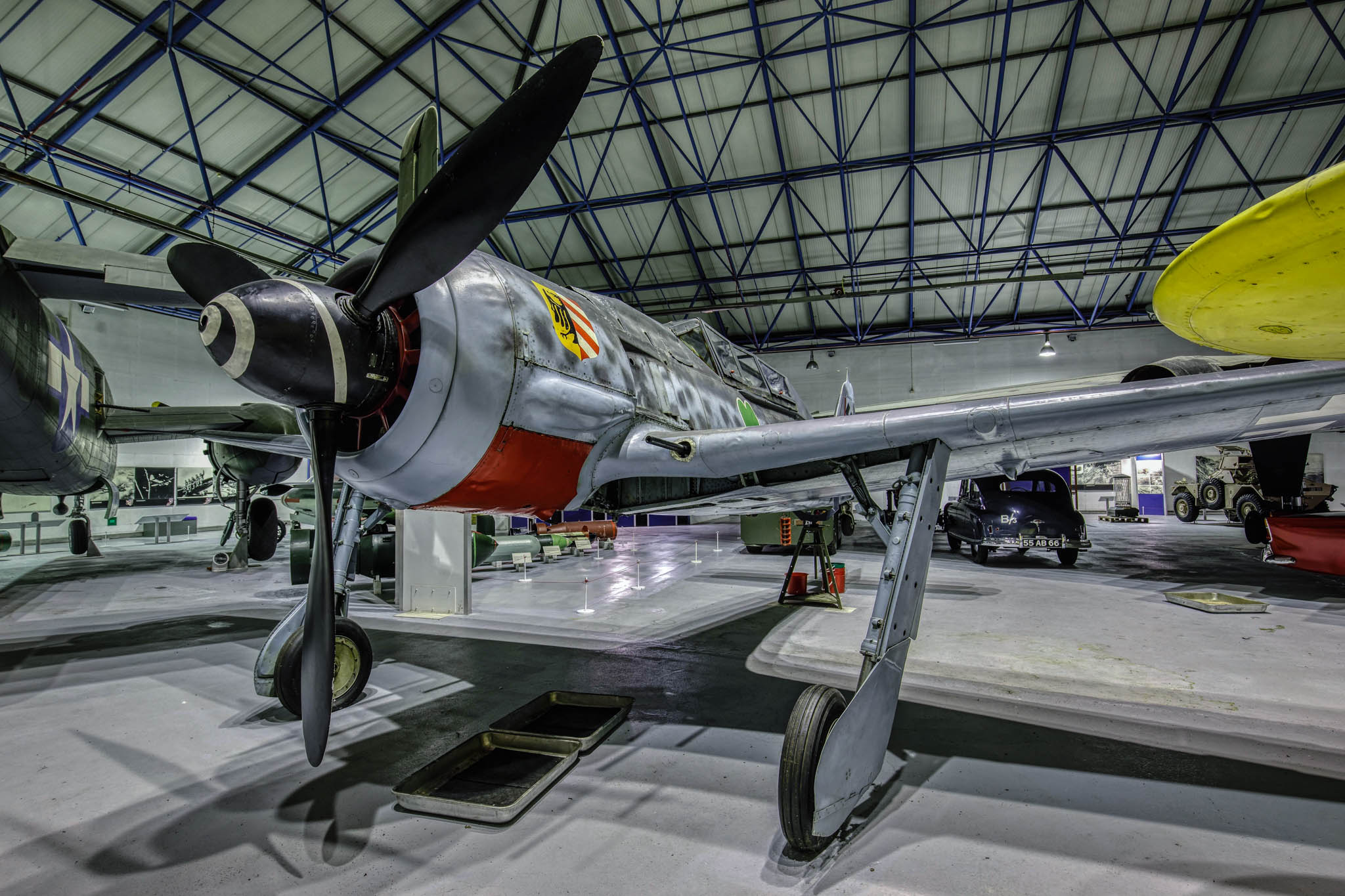 Focke-Wulf Fw-190A8/U1

(584219 '38' also 8470M). The FW-190 operated very successfully from its introduction in 1941 and throughout the war, as a day fighter alongside the Messerschmitt Bf-109. This particular aircraft was originally a single-seat until being converted to a two-seat trainer. It was at one time with the Air Fighting School 103. It was found in Northern Germany and flown to the Royal Aircraft Establishment at Farnborough for evaluation at the end of the war.
Messerschmitt Bf-109G-2

(10639 'Black 6' later RN228 and 8478M and G-USTV). The Bf-109 was one of the finest single seat fighters from World War II with 33,000 being produced. It was designed in 1935 and performed very well during the Spanish Civil War. It was only matched by the Spitfire's and Hurricane's performance. It could out climb both and was faster than the Hurricane but not the Spitfire. Its main limiting factor was its limited endurance as it could only engage in combat over England for a few minutes. A fighter-bomber version was introduced in 1940. In January 2012 it was moved to the Bomber Command Hall and by June 2018 it had moved to Cosford.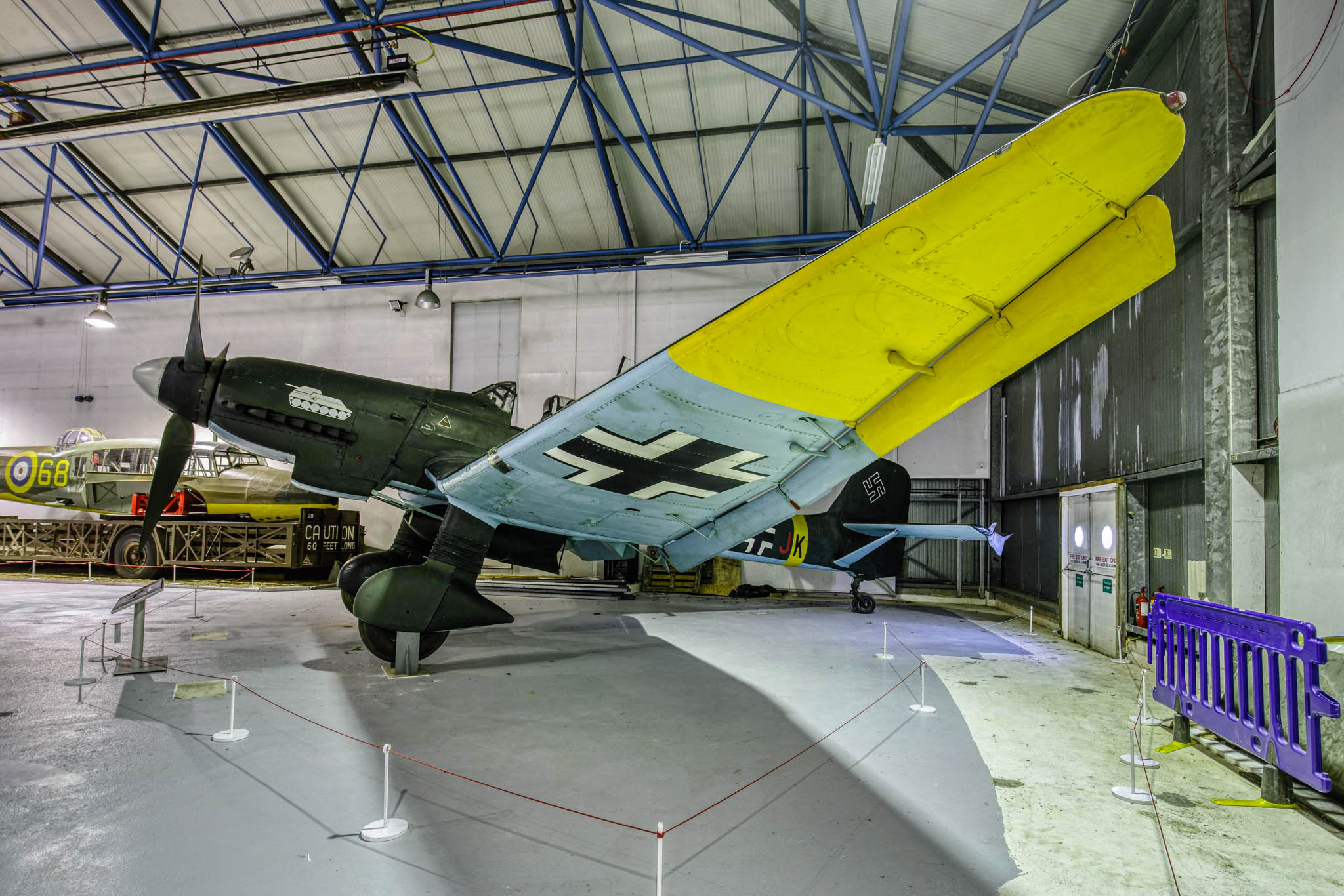 Junkers Ju-87D-3

(494083 'RI+JK' also 8474M). The Ju-87 was widely known as the 'Stuka' (German for dive-bomber) and entered service in 1938. It first saw action during the Spanish Civil War (1936 to 1939). It was very successfully used against Poland and France before being employed to attack shipping in the English Channel. It went on to destroy more ships than any other aircraft in history. After its role was switched to attacking coastal airfields and radar stations it began to suffer heavy losses due to its poor defence against enemy fighters. They were later moved to the Russian Front to attack tanks.
The aircraft on display in was built around 1943 as a Ju-87D-2 but later modified to G-2 standard by removing its dive brakes and fitting two 37mm Bk37 cannon. It was captured in 1945 in Germany with unidentified 'RI+JK' unit markings and flown to Eggebek before being shipped to United Kingdom and storage with 47 MU at RAF Sealand. It was moved to RAF Stanmore Park, RAF Wroughton and RAF Fulbeck before arriving at RAF St Athan in 1960. It was repainted in 1975 and transferred to the Battle of Britain Hall at Hendon in 1978.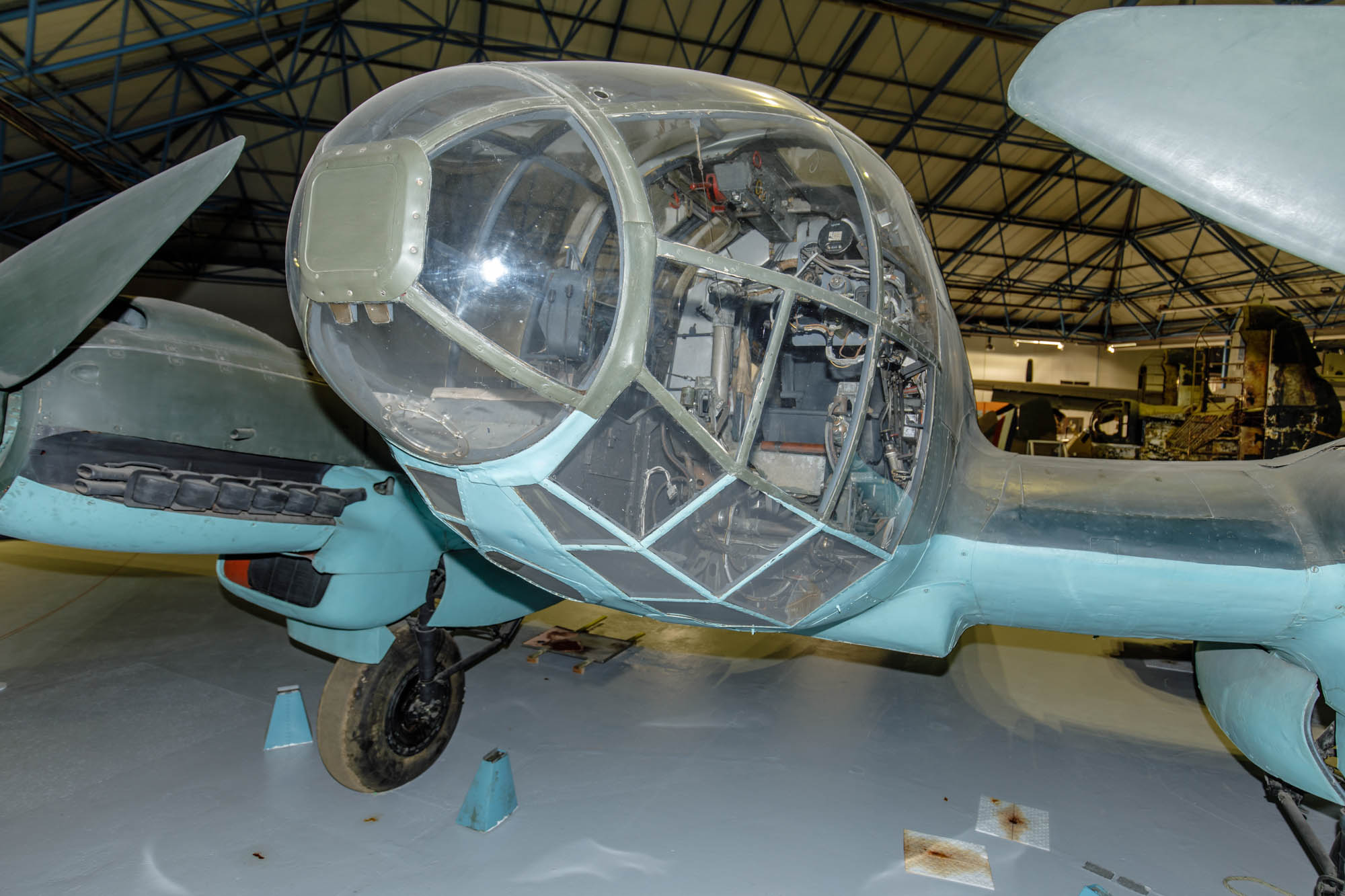 Heinkel He-111H-23

(701152 'NT+SL' and 8471M). The He-111 was designed as a high speed medium bomber and civil transport in 1934. The first bombers were delivered in 1936 and were first used as such in the following year during the Spanish Civil War by the Nationalist forces. This proved an ideal testing ground. In 1940 the fully glazed nose versions (He-111H and He-111P) were introduced. During daylight raids they were very vulnerable to fighter attack due to their poor defensive armament and their lack of speed. Following heavy losses their role was switched to night attacks against Great Britain.
The He-111H on display was delivered as a paratroop transport in 1944 of which it could carry 16 with a crew of three. Following the German surrender it was allotted to the USAAF in 1945 and ferried to Cherbourg but not shipped. In July 1945 it was flown to RAF Boxted, home of the 56th Fighter Group, USAAF and painted in their markings. Over the next few months it was displayed at several American air bases before being transferred to RAE Farnborough to join other captured German aircraft. In 1947 it was put into storage at RAF Sealand. After a number of moves it arrived at St Athan in 1969 before going to Hendon for display in the new Battle of Britain Hall in 1978.
Messerschmitt Bf-110G-4/R6

(730301 'D5+RL' later 8479M). Designed in 1939 as a long-range escort fighter, it had a crew of three and could reach 342mph (550kmh). It first saw service over Poland in 1939, however in the Battle of Britain it was no match against the faster Spitfires and Hurricanes in daylight, later as a night fighter it was very successful.
The example on display was presumed built in 1944, it was seized at Grove airfield in Denmark in May 1945. Three months later it was being assessed at RAF Farnborough, but swiftly moved in storage. Moving from one storage facility to another over the next 20 years it ended up at RAF St Athan where it was restored in 1976. It moved to the Battle of Britain Museum Hall at Hendon in 1978.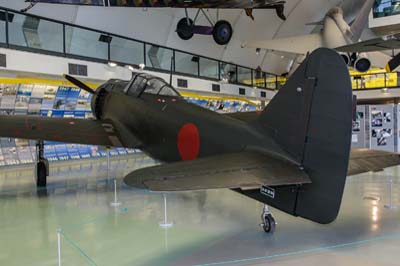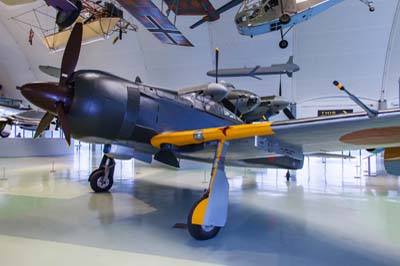 Kawasaki Ki 100-1b

('24' also 8476M). Introduced late in World War II the Ki 100 was one of the most effective Japanese fighter aircraft. Its first flight was on February 1, 1945 272 Ki 100 1a's were produced followed by 188 Ki 100 1b's with bubble canopies. The aircraft on display is the only survivor. In September 2011 it was relocated to Cosford where it was put on display in October.
Supermarine Southampton I

(N-9899). The Southampton flying boat was designed by RJ Mitchel for reconnaissance duties the 24 Mk.1s built were of wooden construction (cedar and mahogany) followed by 40 Mk.2s with hulls of aluminium alloy. Entering service in 1925 the reliable aircraft remained in service for eleven years, flying all over the world.
The Southampton Mk.1 flying boat N9899 was built in 1925 at the Supermarine Aviation works in Southampton. It entered service with 480 (Coastal Reconnaissance) unfortunately it was damaged beyond repair at Portland in a Gale and the hull was sold in 1929. In 1930 the hull was converted to a houseboat. Recovered in 1967 the hull only had been found on the mud flats of Debden river in Suffolk. The all wooden hull was the subject of extensive restoration starting in 1984 at Cardington and completed nearly eleven years later. The wings could not be rebuilt as the drawings no longer exist.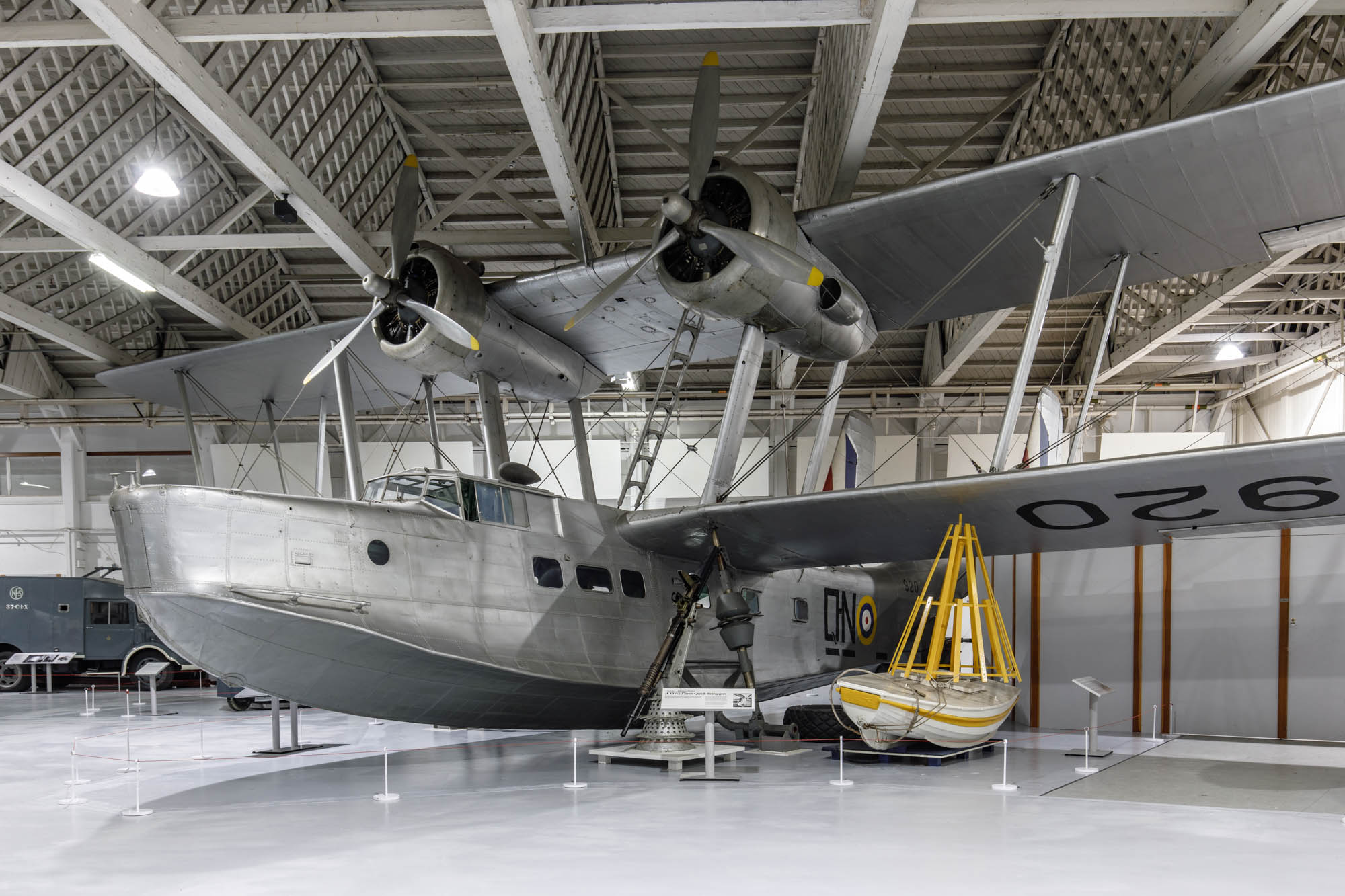 Supermarine 304 Stranraer

(RCAF 920 'QN-' and CF-BXO). The Stranraer was developed from the Southampton flying boat (the hull of a Southampton is also at Hendon). It had a speed of 165 mph (266 kmh) and an endurance of over nine hours. The hull is constructed from anodised Alcad sheeting with wings and tail of duralumin and fabric covering. 17 aircraft were manufactured by Supermarine Aviation Works (Vickers Ltd) and delivered to 228 Squadron at Pembroke Dock in 1937. They served with the RAF until they were withdrawn in 1942. Vickers (Canada) built 40 Stranraers for the Royal Canadian Air Force. The RCAF used the flying boats to patrol their coastlines until they were withdrawn in 1945. Queen Charlotte Airlines of Vancouver continued to fly their aircraft until the 1950s.
The aircraft on display was delivered to 5 (Bomber Reconnaissance) Squadron at Dartford, Nova Scotia in 1940. In the following year it was transferred to 9 (Bomber Reconnaissance) Squadron who operated from Prince Rupert and later Bella Bella in British Columbia. It was withdrawn from service in 1944 and sold to Labrador Mining and Exploration Co., registering it as CF-BXO. As a civilian carrier it continued with several owners till it was purchased from Fortune Films in 1969 by the RAF Museum. It was collected in two RAF Belfast transport aircraft in 1970. Following extensive restoration work in was put on display at RAF Hendon, resplendent in its former RCAF, 5 (BR) Squadron markings. Unfortunately its code of 'QN-' could not be completed with the aircraft's individual letter, due to a lack of information.
Supermarine Seagull V

(Australian Air Force A2-4). It was designed by R J Mitchell as an Air and Sea Rescue amphibian in 1933. It was used for rescuing downed airmen or for reconnaissance and could be catapulted from warships. It was known as the Walrus in RAF service, when the Australian Air Force ordered 24 they named it the Seagull. With Supermarine concentrating on building Spitfires, production of the Walrus was assigned to Saunders Roe Ltd (SARO). SARO eventually built 461 out of a total of 746 aircraft by January 1944, when production ended.
The aircraft on display was test flown in December 1935 before its shipment to Australia. Before and during the war it was embarked on a number of HMAS ships suffering a number of accidents, including a sinking in 1938. After the war it was sold, becoming VH-ALB and operating successfully till the late 1960s. After a crash in 1970 it was held by the RAAF before being shipped to the UK in 1973. Restoration began in 1975 at Henlow and the aircraft was moved to Hendon in 1979.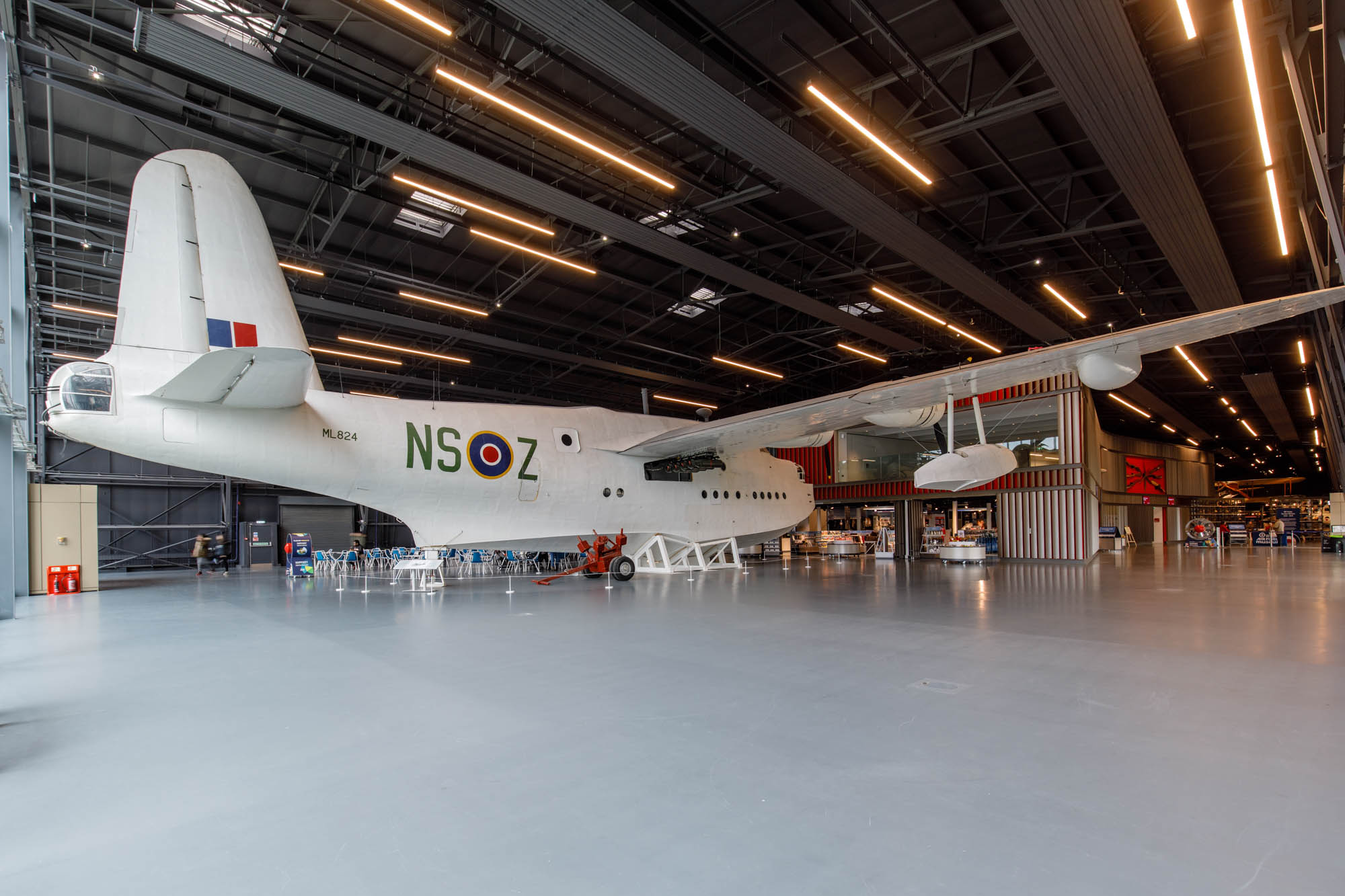 Short Sunderland V

(ML824 'NS-Z'). The Sunderland entered service in 1938 and was based on the 'C' class Empire flying-boat operated by Imperial Airways. It was the first British flying-boat to have power-operated gun turrets for its defence and was also the last flying-boat to be operated by the Royal Air Force after 20 years of service. At the start of World War II there were three squadrons operating the Sunderland. Eventually 749 were built serving with Coastal Command till 1945 and continued to its retirement in 1959, after operating from the United Kingdom, Africa and the Far East.
The Sunderland on display was launched as a Mk.III in 1944 from Short's factory at Belfast and was immediately converted to a Mk.V. It served with 201 Squadron at Castle Archdale and 330 (Norwegian) Squadron at Sullom Voe. After a period with 57 MU at the end of the war it was transferred to the French Aeronavale with 13 others in 1951. It was donated to the Short Sunderland Trust at Pembroke Dock in 1961. In 1968 it passed to the RAF Museum and was stored in the Graham White Hangar from 1971. In 1976 is was painted in its original 201 Squadron markings at St Athan before moving to Hendon in 1978.
Messerschmitt Me-262A-2a

Schwalbe

'Swallow' (112372 '4' later VK893 and 8482M). This was the most advanced fighter of World War II. Design work began in 1938 but problems with the revolutionary turbojets delayed the first flight till July 1942. An interfering Hitler insisted that it be manufactured as a fighter bomber and as such it was not operational till summer 1944. As a fighter the Me262 was formidable but the small numbers produced meant that it had little impact during the war. It was on display at the Milestones of Flight Exhibition before moving to Cosford by 2018.
Heinkel He-162A-2

(120227 '2 red' later VH513 and 8472M). The German aircraft industry were pushed towards the end of the war to produce aircraft designs that could reverse an ever increasingly desperate situation. The He-162 jet fighter took just 69 days from initial design to its first flight. It was the first aircraft to be fitted with an ejection seat. Deliveries began in February 1945, with 200 only being delivered. Due to a shortage of supplies it was mostly built of wood. This aircraft was captured at Leck in Northern Germany and brought back to Great Britain for evaluation. It flew 26 sorties before being put into storage.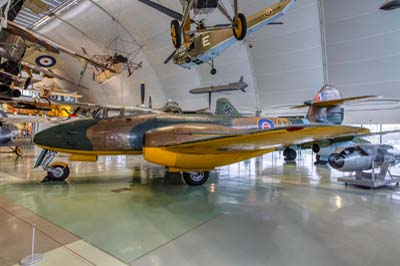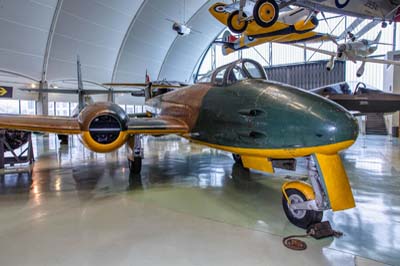 Gloster F.9/40 Meteor Prototype

(DG202/G later 5758M). This is one of eight Meteor prototypes ordered by the Ministry of Aircraft in February 1941. It was built by Glosters at Brockworth by Autumn 1941. Following ground running tests it attempted to take to the air in July 1942, but was beaten by sister aircraft DG206 to a first flight. Its actual first flight took place in July 1943. Trials continued until 1945 including deck landings before it was put into storage with Glosters at Moreton Valance and was later alotted the instructional serial 5758M with School of Aeronautical Engineering (Officers) at RAF Henlow at the end of 1945. There it was used for ground training until it was transferred to the main gate at RAF Yatesbury in 1958. In 1965 after a period of storage it moved to RAF Cosford where it remained until its transfer to RAFM Hendon in September 2011. DG202 had returned in to storage at Cosford by February 2018. As photographed at Cosford in 1989.
Gloster Meteor F.8

(WH301 later 7930M). The Gloster Meteor was the RAF's first operational jet fighter and saw combat during World War II. By 1947 30 squadrons were equipped with 1,000 of the improved Mk.8 Meteors. The F.8 however did not actually see combat and some were eventually converted into target tugs.
The Meteor F8 on display started its service career at the Day Fighters Leaders School at the Central Fighter Establishment from 1952 to 1955. It then moved to 609 Squadron before passing to the RAF Flying College at Manby in 1956. It later served with 85 Squadron in 1965 after periods in storage. WH301 was given to the RAF Museum in 1967 and was stored at Henlow until it was put on display at Hendon in 1980.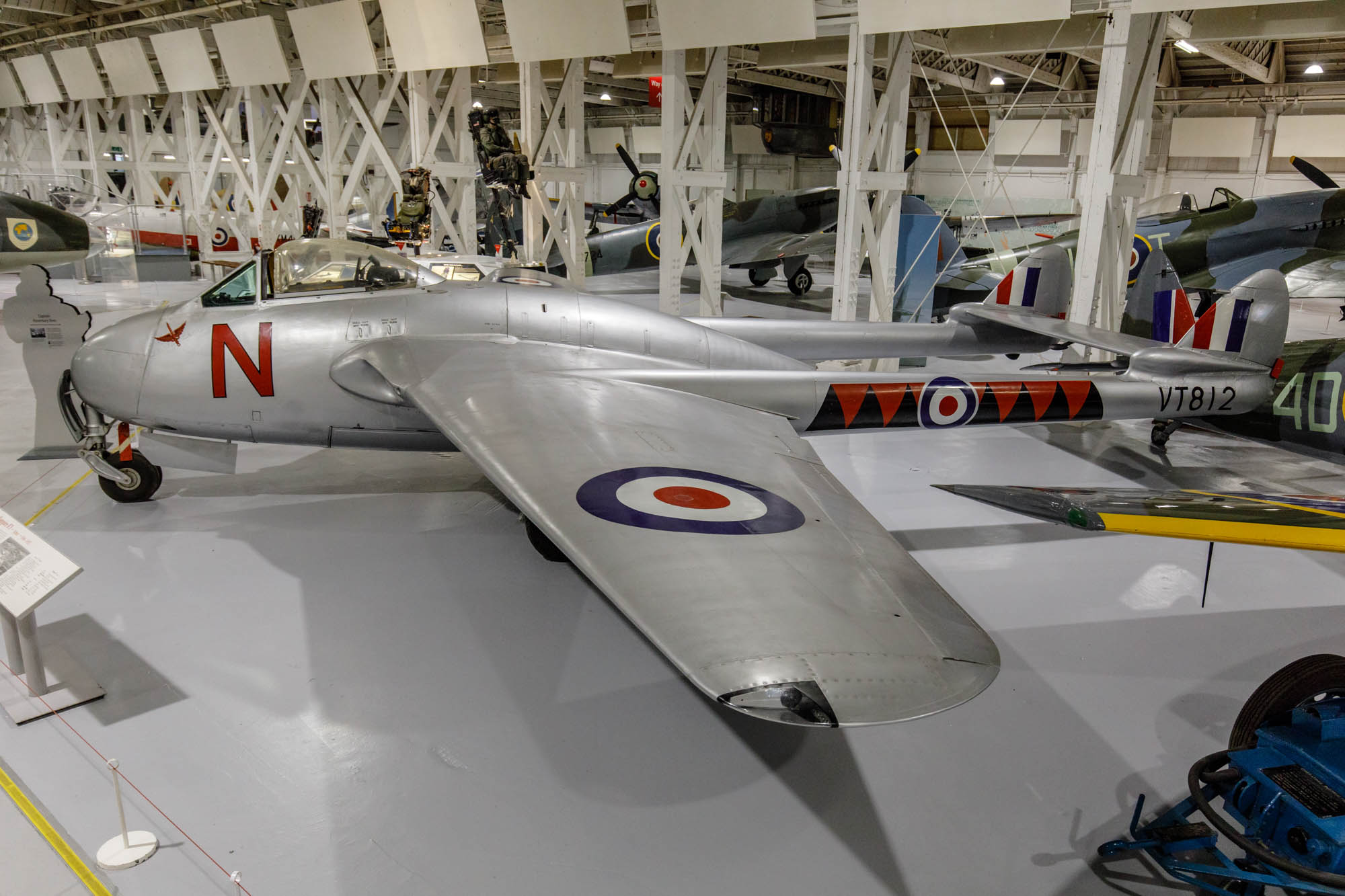 de Havilland DH.110 Vampire F.3

(VT812 'N' later 7200M). Work began in May 1942 on the prototype de Havilland DH.110, with the first flight taking place on September 20, 1943. The Vampire F.1 entered service with the RAF in mid 1946 followed by the longer range F.3 version.
VT812 was delivered in 1947 and allocated to 32 Squadron in 1948 then based at Nicosia, Cyprus, replacing their Spitfire FR.18's. By 1950 it was with 614 Squadron at Llandow and later with 601 Squadron at North Weald before moving on to 602 Squadron at Abbortsinch. The surviving F.3's were retired during 1953, being replaced by the improved FB.5 variant. Following a period of storage with 48 MU at Hawarden VT812 was allocated 7200M for ground instructional use in 1955. It was then put on display at various locations before moving to Abingdon by 1968 and later Colerne where it was refurbished. When Colerne closed in 1975 it was moved Cosford via Shawbury in 1976 for the Aerospace Museum. In 1978 it was transferred to the RAF Museum. In 1997 a full restoration was started at Cardington and completed at Cosford by 2003, prior to its return to Hendon for display. As photographed in 1989.
English Electric Canberra PR.3

(WE139 and 8369M). The Canberra was the Worlds first jet-powered bomber when it entered service in 1949, replacing the obsolete Avro Lincoln. Later photo-reconnaissance versions replaced de Havilland Mosquito's, another World War Two designed aircraft. Eventually 1,352 Canberra's were built, 782 serving the RAF for over 50 years, during which time it achieved 20 World records before the last remaining PR.9s were retired in 2006.
WE139 was ordered in 1949 and first flew in 1953 it was delivered to RAF Manby and later moved to RAF Wyton where it was prepared for the New Zealand Air Race in which it took part later in 1953. It won the Speed Section of the 12,270 mile London to Christchurch route in a time of 29 hours, 51 minutes. In 1954 it was transferred to 69 Squadron at RAF Gütersloh and later RAF Laarbruch both in West Germany. By 1958 it was with 39 Squadron at Luqa, Malta. To make way for the newer Canberra PR.9's it was transferred to 231 OCU at RAF Bassingbourne in 1962, remaining there till its final flight in 1969 before it was put in to storage at RAF Henlow. It was moved to the RAF Museum at Hendon in 1971.
Left to right:


Hawker Hunter FGA.9

(XG154 and 8863M). Based on the Hawker Sea Hawk, the first production Hunter F.1 flew in 1951, following flight testing of the P.1052 and P.1081 test aircraft. Neville Duke broke the world speed record in a Hunter F.3 in 1953 when flying at 727.63 mph. Eventually 1,972 Hunters were built serving with 19 air forces to 1994. In 2007 two of a large number of privately operated Hunters were contracted to fly once again for the RAF. The last FGA.9 flew with 8 Squadron till its disbandment in 1971.
XG154 was built at Bitteswell as an F.6 and was delivered in 1956 to join 56 Squadron later in the year. By 1957 it was with 66 Squadron at RAF Acklington. In 1959 it was one of 36 to be modified to FGA.9 standard. In 1960 it flew with 43 Squadron before its transfer to 8 Squadron based at RAF Khormaksar in Aden in 1963. Following a number of deployments around the Middle East and Africa up to 1971, XG154 was transferred to 229 OCU which became the longest serving RAF unit to operate the Hunter. By 1976 it was with the Fleet Air Arm at RNAS Brawdy later transferring to 1 TWU at RAF Brawdy. Following its final flight in 1984 it was put into storage at St Athan. It had flown for 5,500 hours and had made 675 landings. In 1989 it was moved to RAFM Hendon.



Hawker Hunter FR.10

(853 (Jordan & Oman) formally XF426). XF426 was delivered to the RAF in 1955 as a F.6 variant of which 379 were built. It initially served with 208 Squadron in Cyprus before being recalled in 1959 for conversion to FR.10 standard. From 1965 it was used by A&AEE at Boscombe Down for camera trials before moving to 2 Squadron at Gutersloh in West Germany in 1967 and then to 229 OCU later in the year. In 1972 it was given to Jordan before moving on to Sultan of Oman in 1975 serving until 1993. After years of static display it was transferred to the RAFM in 2003. It was placed around the back of the museum for a while before being mounted on a plinth at the front in 2010. It left Hendon in March 2017.

Left to right:

Avro Vulcan B.2

(XL318). The Vulcan B.1 took to the air in 1952 followed by the B.2 variant in 1956, which was modified to carry the Blue Steel stand-off nuclear missile. The Vulcan's mission changed from high level to low-level in 1966 with the withdrawal of their nuclear weapons in 1970. As a conventional bomber and with in flight refuelling it continued in service until 1984.
XL318 was delivered to 617 Squadron in 1961, it later joined Scampton Wing (27, 83, 617 Squadrons) in 1965. Back with 617 Squadron in 1969 it then moved to 230 OCU in 1972. In 1975 it was with Waddington Wing (9, 44, 50, 101 Squadrons) before moving back to 230 OCU and finally returning to 617 Squadron once again in 1981. In 1982 following retirement it was moved to RAFM Hendon.

British Aircraft Corporation Lightning F.6

(XS925 'BA'). The English Electric Lightning, when it became operational in 1960, was the first truly supersonic fighter and had twice the top speed of other fighters in the RAF. It was employed on air defence duties for an extraordinary 28 years till its retirement on April 30, 1988 at RAF Binbrook. The F.1 variant (18 F.1 and 28 F.1A built) initially served with 74 Squadron and later by the F.2 (44 built) with 19 Squadron in 1962 and was followed in to service by the F.3 (70 plus 16 F.3A built) in 1962. The F.6 (39 built) had a longer range and entered service in 1965. Additionally 20 T.4 and 22 T.5 two seat side-by-side trainers were delivered.
XS925 was delivered in 1967 and served with 74, 11, 23 and 5 Squadrons before it was put in to storage at Binbrook in 1986. It joined the RAF Museum for display in 1988. Two early P.1 Lightning prototypes are on display at RAF Museum - Cosford.
McDonnell Douglas F-4M Phantom FGR.2

(XV424 and 9152M) Originally developed for the US Navy, the Phantom is a two-seat, twin-engine, all-weather, long-range interceptor jet fighter/fighter-bomber and entered service in 1960. The Royal Navy ordered 52 Phantom FG.1's to fulfill the fighter/ground attack role and the RAF ordered 118 Phantom FGR.2s for the fighter/ground attack/reconnaissance role. The Phantom FG.1s and FGR.2s entered service in 1969 and were supplemented by 15 former US Navy F-4Js in the 1980s. Following the introduction of the Tornado F.3 the last RAF Phantom was retired in 1992 when 74 Squadron disbanded.
XV424 was delivered to the RAF in 1969 and entered service with 6 Squadron at RAF Coningsby with eleven other FGR.2s. In 1972 it served briefly with 54 Squadron and 228 OCU before returning to 6 Squadron. In 1974 it was transferred to 29 Squadron when 6 Squadron disbanded and moved on to 111 Squadron at RAF Leuchars in 1976 and then on to 56 Squadron at RAF Wattisham in 1978. In 1979 it was back at RAF Coningsby with 228 OCU as the RAF's solo display Phantom. In 1985 it served with 92 Squadron at RAF Wildenrath, before returning to 29 Squadron in 1986 and 228 OCU once again in 1987. In 1988 it was moved to RAF Wattisham where it served with 56 Squadron It made it last operational flight in July 1992, before moving by road to Hendon in the November.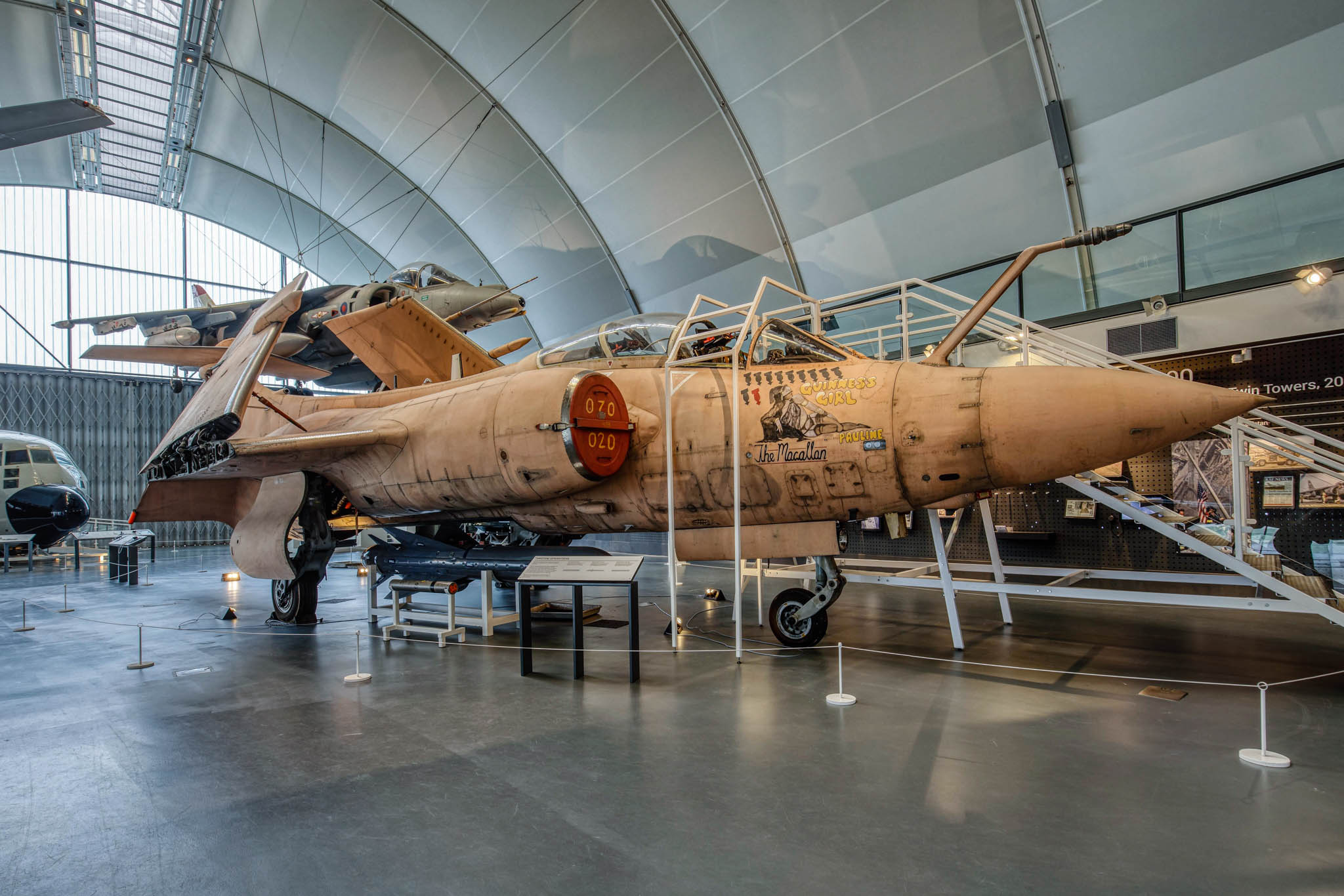 Left to right:


Hawker Siddeley Buccaneer S.2B

(XW547 'R', 9095M/9169M). The Blackburn Buccaneer was designed for the low-level strike role and was in service with the Royal Navy from 1962 to the 1970s when they were transferred to the RAF who operated the Bucc' between 1969 to 1994.
The aircraft on display was first delivered to 15 Squadron in 1972 when based at Laarbruch in Germany. By 1974 it had been transferred to 12 Squadron and later 237 OCU and 216 Squadron at Honington. In 1981 it moved north to Scotland with 12 Squadron at Lossiemouth. After a spell with 208 Squadron and 237 OCU it returned to 12 Squadron where it saw out its service days before being retired in 1991. By 1993 it was on display at the RAFM at Cosford. It has retained its Gulf War sand 'pink' camouflage applied for Operation Granby along with nose art 'Guinness Girl' and 'Sky Pirates'.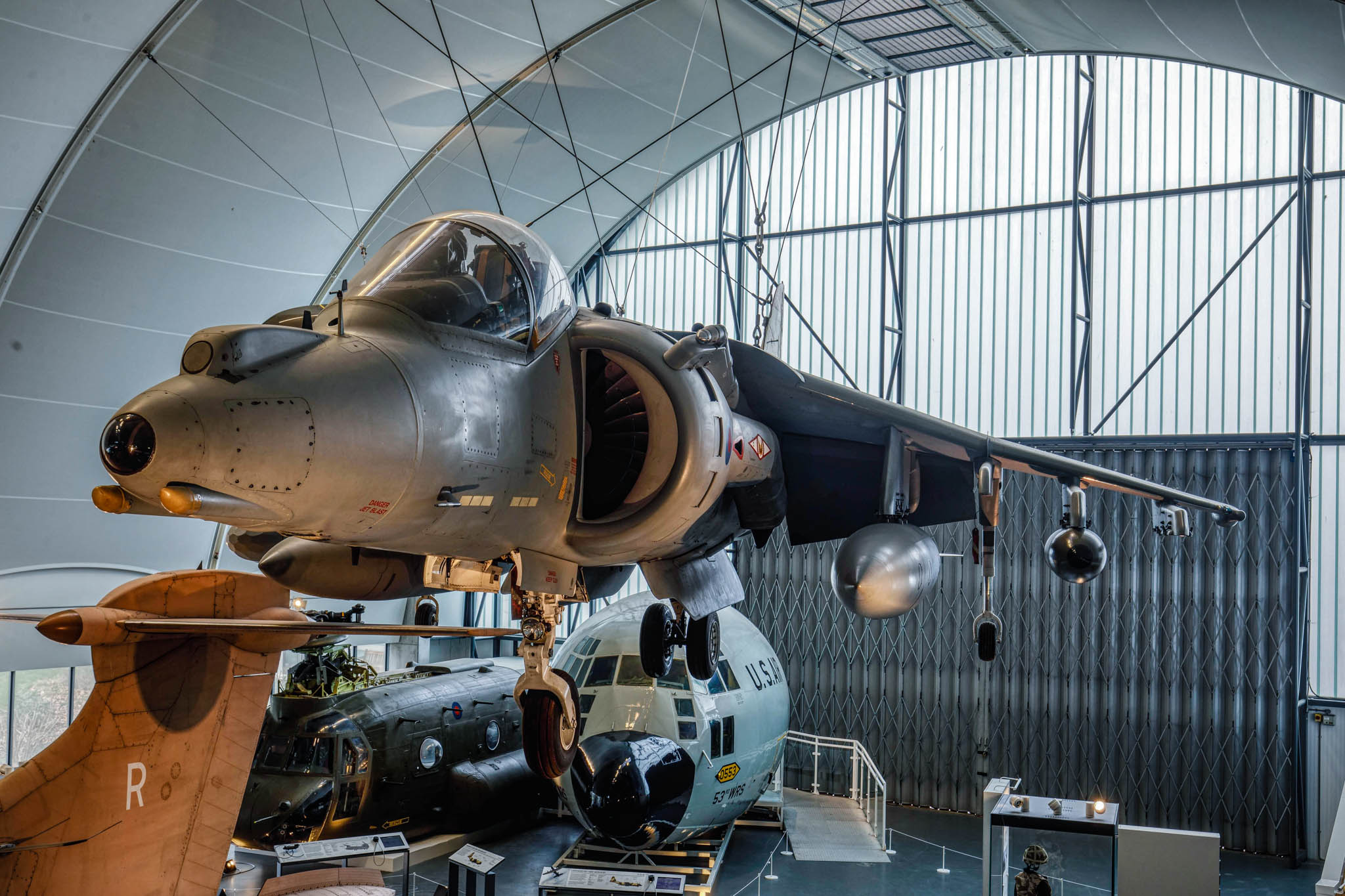 Left to right:


BAE Harrier GR.9A

(ZG477). It has a 1(F) Squadron special tail applied at the end of its service. The Harrier was the first operational jet fighter capable of vertical take-off and landing. It was utilised by the RAF in the ground attack and reconnaissance role and for Close Air Support (CAS). The GR.3 was developed from the GR.1 and had a more powerful engine with improved attack sensors and electronic counter-measures.



BAE Harrier GR.3

(XZ997 'V' and 9122M). This example was first allocated to 4 Squadron at Gütersloh with RAF Germany in 1982 and later that year moved to Yeovilton for ski-jump training prior to being involved in the Falklands War on HMS Hermes. After the war it returned to 4 Squadron at Gütersloh before a spell with 1435 Flight for the Air Defence of the Falklands. In 1986 it was with 1 Squadron and 233 OCU at Wittering. From 1988 to 1989 it was back with 4 Squadron before it was withdrawn from service and transferred to St.Athan for storage making its final flight with a total of 2,200 hours and 6,050 landings. In 1991 it was allotted to the RAF Museum at Hendon. In 2003 it was put on display in the new Milestones of Flight Building. By 2019 XZ997 was on display at Cosford, before its move to Hendon.
Left to right:


Panavia Tornado GR.1B

(ZA457 'AJ-J'). Panavia was a consortium put together by the United Kingdon, West Germany and Italy to develop a combat aircraft in three main versions; Tornado IDS (Interdictor/Strike), Tornado ECR (Electronic Combat/Reconnaissance and Tornado ADV (Air Defence Variant). 992 Tornados were built including 72 for Saudi Arabia. The first British prototype flew in 1974 and was initially the designated the GR.1 when it entered service in 1980, 142 Tornados were later upgraded to GR.4/4A standard as a mid life update, entering service in 1998. It still is the RAF's primary long-range strike attack aircraft and is fitted on each side of the nose two 25mm cannons. Capable of flying in all weather and at low-level, using its terrain-following, ground-mapping radar. It has Forward Looking infrared (FLIR) and linescan imaging systems to help fulfil its reconnaissance role, along with a 'RAPTOR' (Reconnaissance Airborne Pod TORnado) reconnaissance pod. For close air support and interdiction, the aircraft would be equipped with iron bombs, cluster bombs and laser-guided bombs. In the defence suppression role, it is equipped with anti-radar missiles. The Tornado GR.4/4A can also carry 'TIALD' (Thermal Imaging and Laser Designator) pod, first introduced during the first Gulf War in 1990.
ZA457 was built by British Aerospace at Warton in 1983 and was delivered to the Tornado Operational Evaluation Unit at Boscombe Down in the same year. It later served with 9, 15, 17 and 617 Squadrons. In 1994 it was modified to a GR.1B standard to carrying the Sea Eagle anti-shipping missile. It last served with 2(AC) Squadron from 2001 till 2002 before being delivered by road to RAF Museum Hendon in July 2003 after a period of spare reclamation at DARA St Athan. The aircraft has 617 Squadron markings including two LGB (Laster Guided Bombs) mission symbols representing attacks made on Iraqi targets during Gulf War I.
Left to right:


Panavia Tornado F.3

(ZE887 'GF'). 152 Tornado ADVs (Air Defence Variant) started entering service from 1987. ZE887 first flew on September 30, 1988 and was delivered to the RAF in 1989 to 229 OCU at RAF Coningsby as 'AN'. By January 1990 it had become 'GE' with 43 Squadron. After periods with 11 Squadron and 5(AC) Squadron in 2005 it was painted with a black fin of 43(F) Squadron's Commanding Officer it has a specially painted tail fin with the code 'GF' which stands for the Squadron's motto; 'Gloria Finis' (Glory is the end). It was eventually withdrawn from service on March 4, 2010 having logged almost 5,000 hours. It was taken by road to St Athan on September 23 in preparation for preservation at the RAF Museum at Hendon. On October 18 it arrived at Hendon and was put on display there on November 25, 2010.



SEPECAT Jaguar GR.1A

(XX824 'AD'). Taking to the air in September 1968 for the first time this Anglo-French designed jet attack aircraft was originally used by the RAF and the French Air Force in the close air support role. The Jaguar served with the French Air Force as the main strike/attack aircraft until 2005, and with the RAF until April 2007.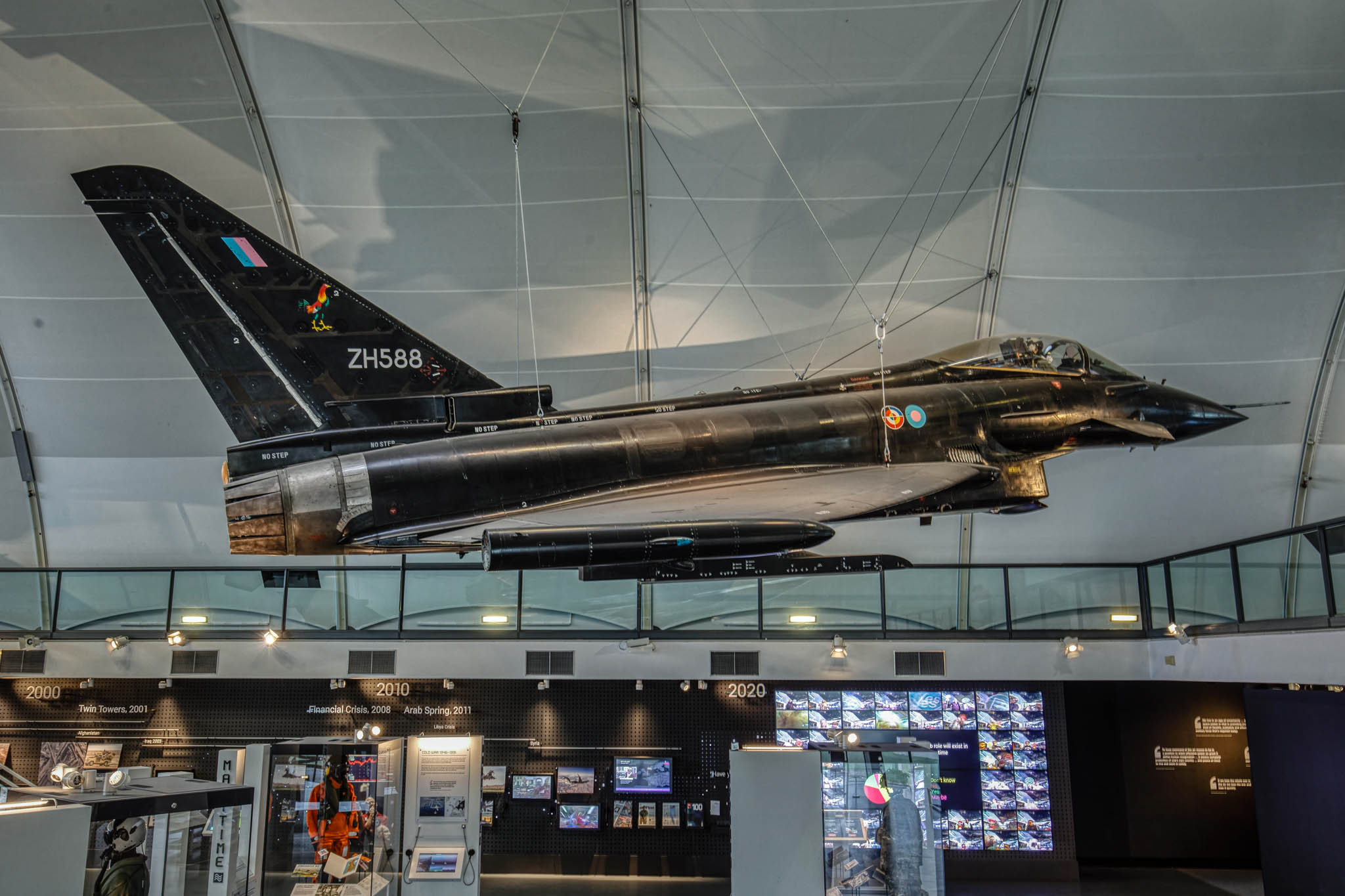 Eurofighter EF2000 Typhoon

(ZH588). The UK, Germany, Italy and Spain from 1986 started work proper on this state-of-the-art multi-role aircraft. The consortium utilised development work from earlier projects including the European Combat Fighter (ECF) from 1979, the Agile Combat Aircraft (ACA) from 1982 and the Experimental Aircraft Program (EAP) from 1983 and also the European Fighter Aircraft (EFA) program also from 1983. The BAE EAP prototype aircraft was rolled out at Warton in 1985 and from 1986 flew for five years for flight testing. By 1992 work started on the EF2000, as it was now named, this final design was very similar to the EAP. The first flight of the EF2000 took place in March 1994. In 2002 it was finally agreed that production would be set at; 232 for the UK, 180 for Germany, 121 for Italy and 87 for Spain. Each consortium member manufactures all the parts of the whole production, but each nation's own aircraft are assembled in their own countries. The German Air Force, Italian Air Force, Royal Air Force (Typhoon) and Spanish Air Force (Tifón) accepted their first Eurofighters in 2003.
ZH588 (DA2) was rolled out from BAE Warton in 1993 and first flew on April 6, 1994 starting the 575 sorties scheduled for its test life. Its first supersonic flight (Mach 1.05) took place in June 1995 and by August 1996 it had made 132 test flights In December 1997 it reached a speed of Mach 2. In 2000 it was painted black to hide nearly 500 pressure transducers used for further flight tests. By April 2002 DA2 had made 419 test flights. In 2007 it made its final flight into Coningsby and following some spares recovery there and C-17 portability trials at Brize Norton it was taken by road to the RAF Museum at Hendon in January 2008.
Slingsby Grasshopper TX.1

(WZ791 later 8944M). 152 Slingsby Grasshoppers were built at Ings Lane, near Kirbymoorside, Yorkshire for the Combined Cadet Force and Air Training Corpsfrom 1952 to 1953. They were used for ground training and with a rubber bungee for ground slides to develop a cadet's self discipline, leadership and as an introduction to RAF procedures. Some Grasshoppers remained in use until 1986 when structual defects were discovered. This example was transferred fromthe Air Cadet Central Gliding School at RAF Syerston to RAFM Hendon in 1991 after it had been on display for a period.



Slingsby T.31B Cadet TX.3

(XA302). The Slingsby Cadet first flew in 1935 and was utilised by the Air Training Corps as the Cadet TX.1 from the 1950's.
XA302 was part of a batch of 32 Cadets built by Slingsby Sailplanes at Kirbymoorside from 1950. In 1952 it was allocated to 22 Gliding School (GS), RAF Kirton-in-Lindsey. It operated with a number of Gliding Schools and Gliding Centres until it was withdrawn by the Air Cadets in 1985. In 1987 it was donated to SLdr William Connell Walker OBE who had prepared 1,000 cadets for their first solo on XA302 between 1961 and 1967. By 1996, with an estimated 20,122 flights recorded, it was stored at RAF Syerston. In 2005 it was donated to RAFM Hendon where it was put on display in the historic hangars in March 2006.
de Havilland DHC-1 Chipmunk T.10

(WP962 'C'). Designed by de Havilland Canada eventually 735 examples were built. Replacing the Tiger Moth from 1950 the Chipmunk was the RAF's primary trainer, initially with the University Air Squadron's and later with the Air Experience Flights till the 1980's and beyond.
Hawker Siddeley Gnat T.1

(XR977) former Red Arrows display team aircraft. The Gnat is swept-wing subsonic fighter aircraft that was developed and produced by Folland Aircraft as an advanced jet trainer. XR977 made first flight on January 1, 1964, before being delivered to No.4 FTS at RAF Valley. 105 Gnats served with the RAF until November 1978. The Red Arrows flew the Gnat from 1966 until 1979. It was transported from Cosford to Hendon in 2018.
Percival Prentice T.1

(VS618 registered G-AOLK). 349 Percival P.40 Prentices were built at the Blackburn Aircraft factory at Brough, deliveries were from 1947 to 1949. The Prentice was the first side by side trainer in the RAF and were in service as trainers until 1953 and were retired during 1956. 252 examples were offered to the civilian market, however due to excessive fuel consumption only a few were sold the rest were scrapped.
The example on display was sold in 1961 and after periods of storage was eventually bought by RAFM in 2009 and restored to its former 22 FTS colours. Only 17 Prentices exist today.
British Aircraft Corporation Jet Provost T.5A

(XW323 '86' and 9166M). The Hunting Percival Jet Provost first flew in 1954 and was the first jet powered basic trainer to go into service any where in the world and was based on the piston powered Percival Provost. Ten T.1 variants were initially ordered followed by 201 T.3s which had an improved engine, an ejector seat and retractable tricycle undercarriage. 70 T.3s were later upgraded to T.3A standard with improved avionics. From 1961, 185 T.4s were delivered incorporating further improvements to the engine. The T.5 variant took to the air in 1967 and introduced the much needed pressurised cockpit. The first of 110 T.5s were handed over to the Central Flying School in 1969. 94 were later upgraded to T.5A standard between 1973 and 1976 with the introduction of improved avionics.
XW323 started its service life with the Royal Air Force College at Cranwell in 1970 and remained there apart from periods with 5 MU at Kemble till 1991, its final year was with 1 FTS at RAF Linton-on-Ouse before it was put on display in the RAFM in 1992. A T.3A (XM463 '38') is also on display.
Sikorsky S-47 Hoverfly I

(KL110 painted as 'KK995' 'E' ex 43-46558). 133 Hoverfly 1's were built by Vought-Sikorsky in Stratford, Connecticut, 45 of which were supplied to Britain under lend-lease conditions in 1944 and 1945. The Hoverfly is credited with being the first operational helicopter in service with the RAF and the United States Army Air Force.
The Hoverfly on display is painted as KK995 but thought to be KL110 with parts taken from KK995. In 1945 KL110 was delivered to UK and assembled at Hooton Park, Cheshire. Later in the year at RAF Andover the 43 Operational Training Unit – Helicopter Training Flight was formed to train 29 Army pilots to fly the new helicopters. By 1947 KL110 was one of a number of Hoverflys allocated to the Kings Flight at RAF Benson, some of which were transferred to Scotland to operate the daily mail run to Balmoral Castle. The Hoverfly was withdrawn from RAF service in 1949 and some were evaluated by the Royal Navy till 1951. Both KL110 and KK995 found their way to the Cranfield College of Aeronautics for vibration testing. In 1966 they were offered to museums and KL110 was moved to Henlow with parts from KK995 for preservation and restoration as a composite from 1968. It was moved to Hendon in 1970 and suspended from the ceiling in the new Milestones building in 2003.
Left to right:


Saunders-Roe (SARO) Skeeter AOP.12

(XM555 and 8027M). Designed by Cieva from 1948 development continued by Saunders Roe from 1951, when they were taken over. The Skeeter was the first helicopter to operate with the British Army Air Corp (AAC). Eventually 64 AOP.12 variants were produced for the AAC and delivered from 1958 to replace the Auster in servce. It was later replaced by the Sioux and Scout from 1967.
XM555 was built at the Eastleigh factory and delivered in July 1959 to the AOC at Middle Wallop, before transfer to 654 Squadron at Hildesheim, West Germany. It later went to Osnabruck before its retirement in 1968 when it went to RAF Upwood as a Ground Instructional airframe (as 8027M). From 1973 it was displayed on the gate at RAF Ternhill and then RAF Shawbury from 1977. Restored in 1983 it was transferred to RAFM at Cosford and later to Hendon in 2003. It had been removed from display by December 2013.



Bristol 171 Sycamore HR.12

(WV783 later 7841M and G-ALSP). The Sycamore is a single-engine five-seat light utility helicopter produced by the British manufacturer Bristol Aeroplane Company, it was the first British helicopter to serve with the RAF, it first flew in 1947. Built in 1950 four HR.12s were built for the RAF for evaluation in the search and rescue role. WV783 was put in to storage (Old Sarum, Henlow, Cardington and Wyton) following an accident in 1953 arriving at Hendon in 2004 following its restoration in 2002 at Rochester.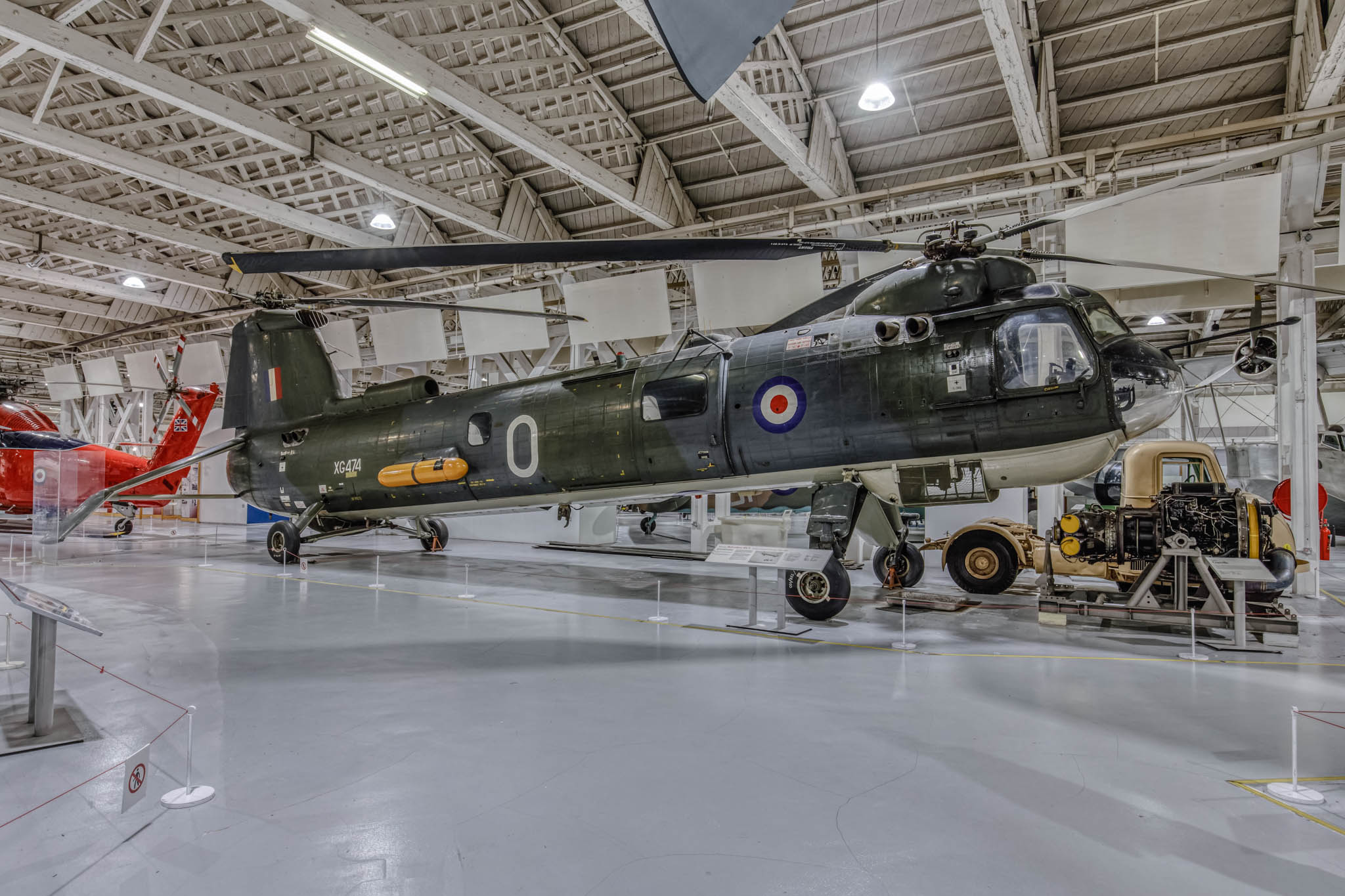 Bristol Type 192 Belvedere HC.1

(XG474 'O' and 8367M). Following its first flight in July 1958, 26 Belvedere's were delivered to the RAF from 1961. Till its retirement in 1969 they operated mostly in the Middle East and Far East.
XG474 was one of six shipped to Singapore in April 1962 for 66 Squadron at RAF Selatar. In 1963 it operated in Brunei and Borneo before joining 26 Squadron in Aden until they disbanded in 1965 when it returned to 66 Squadron in Singapore. When they disbanded in 1969 nine Belvederes were scrapped leaving XG474 which was shipped back to the UK for preservation. It arrived at RAFM at Henlow in August 1969 before moving to Hendon in 1971.
Westland Whirlwind HAR.10

(XP299 and 8726M). 68 Whirlwind HAR.10's were built and supplied for Search and Rescue (SAR) duties during the 1960's.
XP299 was built in 1961 by Westlands at Yeovil and was initially used for trials till it was delivered to Ternhill in 1966. In 1967 it was transferred to 230 Squadron at Odiham before its allocation to Finningley with 22 Squadron in 1971. It operated in the SAR role at Chivenor, Brawdy, Coltishall and Manston before its retirement in 1981 when it was presented to RAF Cosford Aerospace Museum. It was moved on to Hendon in 2003.



Westland Sea King HAR.3

(XZ585 'A') British licence-built version of the American Sikorsky S-61. The initail batch of 19 (XZ585-XZ599) HAR.3 RAF Search and Rescue version entered service in 1978 to replace the Westland Whirlwind HAR.10. It had a stretched fuselage and inflatable buoyancy bags housed inside the aircraft's sponsons. XZ585 arrived at Hendon in December 2017 for the 'RAF First 100 Years exhibition'.
Westland Wessex HCC.4

(XV732). The Wessex was a development of the Sikorsky S-58 and was produced at the Westland factory in 1956 at Yeovil initially for the Royal Navy with deliveries of HAS.1s commencing in 1958. In 1962 the HC.2 variant commenced deliveries to the RAF with 18 Squadron at RAF Odiham. In 1968 the Queen's Flight required two HCC.4s (VIP version of the HC.2) which operated from RAF Benson as 32 (Royal) Squadron until disbandment in 1998. XV732 went to RAF Shawbury for storage until it was moved to the RAF Museum in 2002. XV733, the only other HCC.4 and the last Wessex built, went to the Helicopter Museum at Weston-super-Mare in 2001. The last RAF Wessex flight took place in January 2003.
Westland SA.341E Gazelle HCC.4

(XW855). The Sud Aviation (later Aérospatiale) Gazelle was designed in France as a lightweight utility helicopter. In 1967 Westland Helicopters secured an agreement to build 292 Gazelles for all three services.
Built by Westlands at Yeovil in 1973 to SA.341D/HT.3 standard it was one of 32 Gazelles delivered to the RAF. It initially operated at RAF Turnhill as a helicopter pilot trainer but moved in 1976 to 32 Squadron at RAF Northolt, following modification to HCC.4 standard for the VIP communications transport role, it was the only HCC.4 conversion. The final flight took place in April 1996 after which it was put in storage at RAF Shawbury before being transferred to the RAF Museum in April 2003.
How do you get to the Museum?


The Museum is very easy to get to, it is situated to the north of London, six miles from central London, just off the M1 motorway. The Museum is seven minutes walk from Colindale Underground station (not Hendon Central) on the Edgware branch of the Northern Line. Mill Hill Broadway rail station is also within walking distance.

Consult the RAF Museum website (London) for more details, including opening times. Admission is free, car parking is now 'pay and display'.

Royal Air Force Museum London
Grahame Park Way
London, NW9 5LL
England

Telephone: +44 (0)20 8205 2266 (General Information)
Liberator VI (KN751) carries an inscription on the nose stating that the aircraft was
donated by the Indian Air Force to the RAF Museum.
This image is a good example of the excellent use of lighting which includes concealed spotlights under and around the aircraft.
Hawker Sea Fury FB.11 (VX653).
Left to right:


Hawker Sea Fury FB.11

(VX653). Built in 1949 and delivered to 736 Squadron at RNAS Culdrose. After a period of repairs and storage it arrived at RNAS Lossiemouth in the 1960s. Moved to RAF Museum, Hendon from 1972 to 1991. After which it was tranferred to The Fighter Collection to Duxford for restoration and registered G-BUCM in 1992.


Lockheed Hudson

(A16-199). In 1981 it was sold for £16,000 to the RAFM and moved to Hendon.


Supermarine Spitfire F.24

(PK724 and 7288M). By 1961 PK724 was gate guardian at RAF Gaydon till 1970 before moving to Hendon.
Left to right:


Mikoyan-Gurevich MiG-15bs 'Fagot' Lim-2

(01120 ex Polish Air Force). It was transferred for display at Cosford.


de Havilland DH.110 Vampire F.3

(VT812 'N' later 7200M). In 1978 it was transferred to the RAF Museum. In 1997 a full restoration was started at Cardington and completed at Cosford by 2003, prior to its return to Hendon for display.
Photography Note:


This is not a museum I have visited very often, the first time was over 20 years ago. In those days I found the museum dark and the aircraft too pristine to look real. Well many years older and perhaps more appreciative, I have changed some of my opinions of Hendon. I prefer to see aircraft looking as they ended their flying days rather than as they had looked on the day they were delivered. The aircraft at Hendon were as expected in excellent condition. Typical of most indoor museums they are often tightly packed together, making photography difficult. The lighting is pretty good now, with spotlights discreetly positioned beneath some of the larger the aircraft, offering some very nice images. For most of the shots I used flash to pick out the detail in the shadows. As the museum's atmospheric lighting is interesting, some shots were taken without flash (See example shot with flash and without flash). The barriers where necessary are small and low and don't spoil the shots unduly.

Throughout the visits I used either a Canon 24-105mm suplemented with a Sigma 20mm f1.8 in 2006 or a Sigma 15mm f2.8 fisheye in 2008 and 2009 with a Canon flash and a tripod. In later images I used a Canon 16-35mm and monopod. Exposures were around one second at f.8. Incidentally to use a tripod you once needed a pass, but that is no longer required. The staff I must say were very helpful, I was hardly ticked off at all for encroachment or stepping over the lines. I was also assisted on several occasions with crowd control, to make sure the public did not get between my camera and the aircraft. The visits lasted from 10:00 till 18:00 (earlier closing in winter. During those hours I felt there was too much to see in one day and so had to be selective with what I photographed during these visits. Plan your time, there may be different opening and closing times for each of the hangars summer and winter.