First day at a new school
I arrived at Zoersel very early on Thursday morning and to be honest it felt like being at a new school on the first day. There were many photographers wandering around the aircraft or congregating in a large pavilion. Eventually registered I was now sporting my blue Academy hi-viz vest and ID card with a pocket full of meal vouchers. Coeckelberghs was found in the briefing hangar where at 09:00 I was told the 60 Academy photographers would be briefed on safety and the week's events and opportunities which included; back-seat rides, evening and night-shoots, sunset-shoots and access to key areas around the airfield. Initially there was a lot to take on board and it felt a little over-whelming for the Academy first timers. We all knew in advance of our planned Academy flight in the Skyvan; mine was booked for Sunday, the photographic prospects over the next four days were looking good. Peter Vinther an airline pilot from Denmark and attending for the first time said; "I did not realise there would be so many opportunities on the ground."
Fascinating lectures
Four lectures gave a series of fascinating accounts, imparting their experience and advice on air-to-air photography. Italian Riccardo Braccini covered helicopter shoots followed by Guy Putman described his years as an official Belgian Air Force air to air photographer in the 1960s. John Miller from South Africa a very experienced air to air photographer and formally with 'SA Flyer' Africa's largest selling aviation magazine was very forthright when he spoke about safety stating that the pilot is responsible but the photographer is accountable.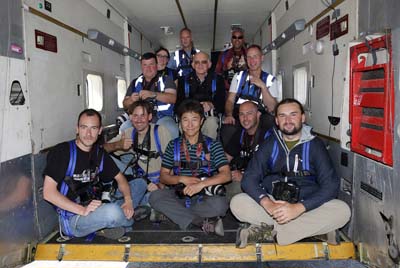 Ready to go minutes before departure, an Academy Flight line-up with Daniel Rychcik Flight Director at the Skyvan's rear left position. From the rear ramp the line-up is; three cross-legged, then two cross-legged in the second row then three seated followed by three standing. All positions have their merits and all provide near perfect views. Your size and joint flexibility has the biggest bearing on where you end up shooting from. Some photographers prefer to sit while others choose greater comfort and sit or stand at the back.
Daniel Rychcik an Academy Flight Director and night-shoot coordinator followed describing the Skyvan flights and providing tips and recommendations on lenses and shutter speeds. These were the questions every photographer new to air to air wanted to ask. The answers were not always definitive only suggestions of using short and medium length zoom lenses with shutter speeds of between 1/250th and 1/80th. My selection of a 24-105mm and a 70-200mm zoom lens on a second camera body was the choice for most people. Rychcik's recommendation for shutter speeds was to work down from a relatively fast 1/250th with each change of aircraft and position when behind the camera-ship. "Get a safe shot to start with to make sure you have something sharp". Propeller blur is what conveys movement and a full propeller disc is considered perfect. As the number of propeller blades and the engine's rpm dictate's the necessary shutter speed for a complete blur disc there can't be a consistent shutter speed. Some flights can be bumpy and the subject aircraft can dramatically move up and down, achieving a sharp shot is more challenging the slower the shutter speed selected.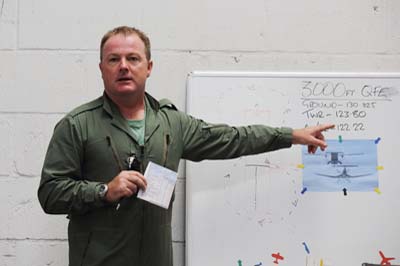 Skyvan pilot Ashley Kemp during the flight briefing. He discussed and approved pilot's requests while confirming their times for joining up. He asked each pilot for his preferred speed so he could adjust his own speed accordingly during the flight. The Skyvan can fly between 75 and 145 knots. The Stinson preferred 90 knots, the Stampe 75 knots and the Bulldog 95 knots.
Coeckelberghs announced that there were four seats going for an evening Skyvan flight with a Spitfire and Hurricane, to help cover fuel and running costs was to be 800 euro. A lottery was taken using Academy ID cards and four names were drawn, I counted 15 cards still in the box. For many it appeared it was necessary to have a pocket full of euro available.
A walk out to the Skyvan for the newbie's ended the morning's session. Here we were shown the seating positions and the safety procedures including the harnesses which attach you securely to the Skyvan. It was explained that a loose object falling from the Skyvan could bring down an aircraft, so cameras should be looped through the harness and additionally fixed to another strap. The lens release button and the battery door were to be taped over and lens hoods removed. You were forbidden to swap lenses and memory cards during the flight.
During lunch I chatted to fellow photographers on the course and we enjoyed swopping tips and exchanging information. The afternoon was spent walking around the airfield taking shots of aircraft arriving, taxiing and later departing for the late Skyvan shoot. The evening meal consisted of three courses of basic but very edible food. As it was very hot on each day the unlimited free bottles of water or orange juice were very welcome.
As the sun came down the night-shoot was being organised by Rychcik, he put in a great deal of effort to make sure we got the best possible shots under the floodlights. Calling in a large tanker he sprayed a swathe of water across the taxiway to enhance the photographs. Only as it ended at mid-night did I realise I had not yet checked in at my hotel and was relieved to find it was open 24 hours a day. Many of us had agreed to meet up next morning at 5:30 for sunrise shots. After downloading my day's images it was now very late and making that early deadline was impossible. I was not the only person who failed to make the sunrise shoot that morning!
Friday was equally exhausting some attendees were flying on the mid-day Academy Skyvan flight others were on the evening warbird flight the rest of us positioned ourselves beside the runway and taxiways, the day ended with another night-shoot. It was impossible to do everything on offer shooting from 05:30 till midnight each day is virtually impossible. Rychcik organised a third night-shoot on Saturday with another set of aircraft, he appeared close to collapse by Sunday morning!