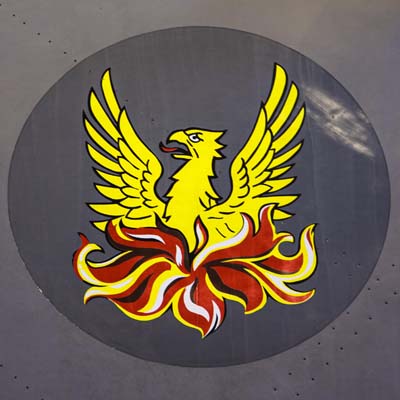 56(R) Squadron receives pilots fresh from 4 Fighter Training School at RAF Valley, to enter the Operational Conversion Unit course. Students spend the first six weeks at RAF Coningsby in lectures on the F.3s systems with time on the simulators. Moving to RAF Leuchars, pilots fly the first of 44 sorties, WSO's require just 34 sorties. For the pilots the first 15 sorties are used to teach them how to fly the F.3, 12 are flown 'dual' with a Qualified Flying Instructor (QFI), before the student goes solo with an instructor navigator in the back-seat. Students during this phase will fly in close and tactical formations, initially during the day before moving on to night sorties. Air-to-air refuelling is introduced before the start of next phase of the course which includes target interception and the firing of air-to-air missiles.
Instruction on Basic Fighter Manoeuvres (BFM) follow, involving interceptions and one versus one engagements down to 250 feet (76m). Defensive scenarios are now introduced, teaching student how to avoid being shot down themselves. Eventually two v one practice intercepts are flown, to further challenge the WSO's before they move onto to two v two scenarios. Combat sorties at this stage are flown at medium and at low-level, initially over the sea, before two sorties are flown over land. The final and most difficult part of the course involves tactical formations (leader and wingman) flying against multiple threats. The final check sortie involves flying a Combat Air Patrol (CAP) against other types of aircraft such as Hawks and Typhoons.
Following graduation pilots and WSO's are transferred to one of four front-line F.3 Squadrons for further training; including electronic warfare, air-to-ground strafing, air-to-air gunnery and intercepts against slow moving targets. Pilots will progress to large four-ship formation flying before being declared combat ready and able to fly Quick Reaction Alert (QRA) sorties.
Plans are in place, but are subject to constant review, to withdraw the Tornado F.3 in 2009, as the Typhoon takes over. 56(R) disbanded in April 2008 with its aircraft and operations taken over by 43(F) Squadron.