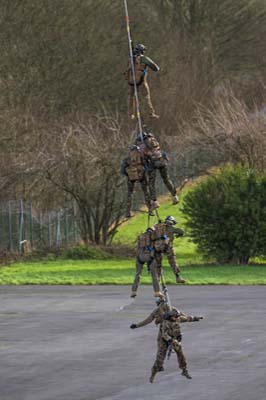 Swiss Special Forces being dropped off on to the helicopter landing pad.
Swiss Special Forces team being flown back to Camp Knook using the SPIE extraction system.

The Royal Norwegian (RoNAF- Luftforsvaret) and Swiss Air Forces (SwAF) were able to train with their respective Special Forces using the (FIBUA) Military Training Village (Fighting in built-up areas) at Copehill Down located in a remote area of Salisbury Plain Training Area (SPTA). Copehill Down is a specially built urban complex, it is in regular use for military training and is run by the run by Land Warfare Centre at Warminster. It was proposed in 1986 and initially built to resemble a Bosnian village in the early 1990's. Recent modifications include an Iraqi style village comprising mostly of large metal shipping containers.

The RoNAF were first to arrive in the UK, with four Bell 412SP consigned to RAF Brize Norton in two NATO Boeing C-17 Globemaster IIIs. Once assembled the helicopters and troops were flown to Knook Camp with the SPTA. The SwAF did not have it as easy as they flew their four AS.532UL Cougars (designated TH98) directly from Switzerland but were forced to night stop at Southampton due to poor weather on-route.

SPIE rope extraction
Not much is known about the operations contained within Ex Virgo except that numerous flights were made between Knook Camp and Copehill Down. Both teams of Special Forces were billeted at Knook Camp which was just a short ten minute flight away from the exercise area at Copehill Down. Usually flying in pairs the SwAF transported their well-equipped special forces teams which were fast roped down to the training village. After a short period these troops were often exfiltrated using the Special Patrol Insertion/Extraction (SPIE) system and returned to Knook Camp still attached to the SPIE rope. SPIE was developed as a means to quickly insert and/or extract a reconnaissance patrol from an area where a helicopter is unable to land. A SPIE rope is lowered into the pickup or drop area from a hovering helicopter. Personnel wearing a harness with an attached carabiner, hook up to a D-ring inserted in the SPIE rope.

Knook Camp
Situated about 4 miles (6.4 km) south-east of Warminster, on the A36 road to Salisbury, Knook Camp is generally used as a transit training camp used throughout the year by the Regular Army, TA and Cadet Forces. The very basic camp accommodation consists of wooded structure huts, with lecture rooms, offices and a central cookhouse and was used as the filming location for "Bad Lads' Army" television program.

Up till 1945 the Americans used the camp for part of the D-Day Invasion Force, XIX Corps of the US Army had established their HQ and an airstrip. To support them, Flight C of the 153rd Liaison Squadron operated eight L-5 aircraft to provide messenger and courier services during the build up to D-Day.