Managing the system
The UKLFS was created in 1979 to improve the system of allocating airspace for low-level flying and to make sure it is spread as evenly as possible. The UKLFS is an area covering the UK Flight
Information Rules (FIR) boundary. It does not include airspace within Aerodrome Traffic Zones (ATZ), Military Air Traffic Zones (MATZ) or Danger Areas (DA). The system is divided into the UK Day Low Flying System (UKDLFS) and the UK Night Low Flying System (UKNLFS). The UK is fortunate to have areas ideal for low flying operations. The UKLFS is divided into 18 Low Flying Areas (LFA) numbered from 1 to 19.
Regulation and monitoring systems are in place to make sure there is the minimum disturbance to the general public by low flying aircraft, whilst maintaining necessary training levels for aircrew. Aircrews are advised to avoid flying over large conurbations and livestock and other sensitive areas to minimise disturbance. Low flying is normally not permitted during Bank Holidays. The UKLFS shuts down for two weeks during over the Christmas and New Year period and also for 30 minutes on Armistice Day (Remembrance Day) November 11 at eleven o'clock. The MOD deploys the Skyguard radar system twelve times a year to secretly monitor low flying activity. Skyguard can record the height and speed of low flying aircraft.
Air Staff at the Ministry of Defence (MOD) are responsible for deciding on low flying policy. The amount of low flying will vary from year to year according to training requirements and operational commitments abroad. Extensive data on low flying activity are captured and detailed analysis is published on the Ministry of Defence website www.mod.uk. All complaints are recorded and investigated where possible, last year (April 2009 to March 2010) they amounted to 4,082 representing a complaint for every 14 hours an aircraft is flown at low-level. Last year 40% of all hours flown at low-level were by fixed wing aircraft the remaining 60% were flown by helicopters. Fast Jets over the last five years have only accounted 17% of the total hours flown at low level and with the retirement of the Harrier and the reduction in numbers of the Tornado it is estimated that this will reduce to around 10% of all low flying with the remaining 90% mostly attributable to rotary wing aircraft.
Low Flying Operations Squadron (LF Ops Sqn)

The UKLFS is run by the Low Flying Operations Squadron (LF Ops Sqn) and is based at RAF Wittering, it moved there in 2005 from its former home at West Drayton in London. Wing Commander Jon Taylor, Air Staff – Low Flying has around 30 staff responsible to him through Sqn Ldr Mike Hale, Officer Commanding LF Ops. The Low Flying Booking Cell (LFBC) is responsible for the recording of low-level flights within the UKLFS and the dissemination of aeronautical warnings concerning the UKLFS.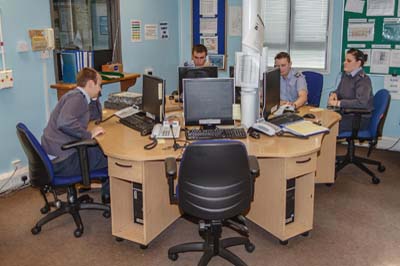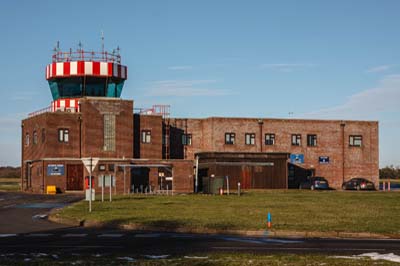 The LFBC consists of a circle of computer operators known as the 'Carousel' who take the pilot's low flying bookings and issue them a booking number for each sortie. They use the latest software package Mil-EAMS (Military Extended Aeronautical Messaging Service) supplied by NATS, who provides air traffic control services to aircraft flying in UK airspace. A separate duplicate computer and phone system ensures backup in case of failure. Under the continuous supervision of a Sergeant, LFBC staff will pass to pilots the necessary information regarding availability of the requested LFA, usually requested no more than four hours before take-off.
The booking records the pilot's initials, squadron, aircraft call sign, aircraft type, number of aircraft, departing airfield, LFA entry and exit times and the minimum height to be flown. LFBC staff will check that all requests do not contain anomalies and mistakes over timings and areas transited for the aircraft's entire routing at low-level. Pilots may request to fly at low-level through a series of LFA's, helicopters may hover or land to refuel before continuing, all adding to the complexity of the task of checking.
After the sortie has been flown the pilot's squadron will return a form containing the details of the flight, which must be done by the following day. Any deviations to the flight, along with the actual times, are used to update the original booking.
All data is held providing a comprehensive database of low-level flying movements. The database is analysed and used to identify a particular aircraft and pilot should there be a complaint that requires investigating. The aircraft's systems will record flight details, heights, speed, location etc. which again is held pending any investigation.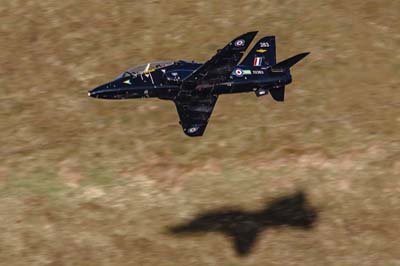 How low is low?
Low flying for fixed wing aircraft in the UK is defined as below 2,000 feet (610m) Above Ground Level (AGL), while helicopters are considered to be low flying at 500 feet (152m) AGL. Generally the low flying rules for experienced pilots dictates that they must keep a Minimum Separation Distance (MSD) of at least 250 feet (76m) from the ground or any structure and less experienced pilots must fly with 500 feet (152m) MSD.
The British military fixed wing aircraft are cleared normally to fly down to 250 feet (76m) AGL. Helicopters are cleared to fly down to 100 feet (30m) in normal operations. Speed limits apply of 450 knots (833 km/h) with a maximum limit, for attacking targets for example, of 550 knots (1,018 km/h). The UKLFS is also subject to rules regarding the weather and its effect on visibility. For any aircraft flying faster than 140 knots (260 km/h) the pilot must have at least 2.7nm (5km) of visibility, 5,000 feet (1,524m) horizontal and 500 feet (152m) of vertical separation from cloud. Pilots are also instructed whenever possible to cross over coastlines above 500 feet (152m) to avoid large bird populations. Pilots can report high concentrations of birds to the LFBC. Pilots are also instructed not to fly over the same location whenever possible more than two times during the same sortie.
Places to avoid
The low flying areas appear to cover the whole country a pilot however is not free to fly where ever he wishes. For reasons of safety and to reduce upsetting the general public many restrictions are imposed on the pilot. Pilots must be aware of NOTAM's (Notices to Air Men) providing them with locations which they should avoid for various reasons. A NOTAM is provided for military and civilian pilots alike throughout the world.
Avoidance areas have been established to prohibit low-level flying over areas of high population density, and in certain types of regulated airspace, such as around most major civilian airfields e.g. Heathrow, Gatwick and Stansted airports and the Thames Valley. For avoidance areas helicopters and light aircraft should not over-fly urban areas below 1,000ft (300m) and for rural areas not below 500ft (150m). For other larger fixed-wing aircraft they must not over-fly any avoidance area below 2,000ft (600m).
In the case of military low flying within the UKLFS there are additional NOTAMS known as Yankee's and Zulu's. A 'Y' series NOTAM refers explicitly to heights between surface and 2,000 feet (610m). A 'Z' series NOTAM is a Low Flying Temporary Avoidance where the pilot flying at low-level must avoid a location whenever possible.
Yankee's are used for low flying activities such as; Royal Helicopter Fights, Red Arrows in transit, sports aviation such as gliding and micro-lights centres or for hot air ballooning sites.
Zulu's are used when local events such as; concerts, festivals, filming, racecourse meetings or agricultural shows are notified to the LFBC. Some Zulu's are seasonal and can be in effect for say six months every year for various reasons.
When a pilot books a low flying sortie he will be asked what are the latest 'Zulus' and 'Yankees' he is aware of, to make sure he is up to date. NOTAMS can be issued at any time sometimes without notice. A pilot may identify a danger during a sortie such as; balloons or hang gliders to their Squadron who will then refer the sighting to the LFBC who will issue a NOTAM if it is deemed necessary.
The LFBC are responsible for the monthly allocation of slots to the Squadrons for the Strike command Air Weapon Ranges at; Tain, Pembrey, Donna Nook and Holbeach.
The LFBC will set up Temporary Danger Areas around civilian and military aircraft crash sites, these are usually set at to a height of 5,000 feet (1,524m) AGL with a radius of 5NM (9 km) around the incident.
The military are required to spread low flying operations around the LFA's to minimise the impact of low flying on the general public. Staff will make sure that each LFA is not overloaded with too many aircraft LFA12 in North Eastern England has a low flying cap of 15 aircraft at any one time.
The routing once at low-level is flexible aircrews are free to deviate from a planned route to avoid poor local weather conditions for example. Whilst some valleys are designated as 'one way' and are deemed to be 'flowed', there are generally no restrictions on where they can fly within the LFA providing NOTAM's are adhered to and Defined Danger Areas, built up areas and ATZ's and MATZ's are avoided.
Low Flying Training Areas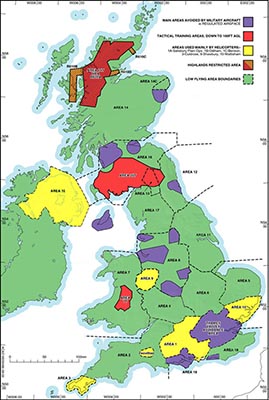 Within the UKLFS are three special low-level flying areas called Tactical Training Areas (TTA or 'Tango Area') where fixed wing low flying can be authorised down to just 100 feet (30m) AGL for fixed wing aircraft, excluding Hercules which have a 150 feet (45m) limit for Operational Low Flying (OLF) training. Helicopters are not allowed within a TTA when it is active. When a TTA is active aircraft that are not booked in to the TTA can only fly down to 500 feet (152m), however during the times the TTA is not active then normal low flying rules apply. The TTA's are designated with an individual area code, for example LFA 7T, which is within LFA 7 situated in mid Wales. Area 14T (Highlands Restricted Area) is located in the Highlands of Scotland and is used for training with Terrain Following Radar equipped aircraft such as the Tornado GR.4 and C-130 Hercules.
TTA's are only occasionally operational usually available to pilots for just one hour a day known as 'Tango times', they account for between 1% and 2% of all low-level flying in the UKLFS. Not every pilot is qualified for OLF if a pilot is required to utilise a particular TTA their Squadron must put in a 'bid' to the LFBC perhaps two months in advance for a slot in a TTA or for night-flying. A bid reflects the importance of the training requirement of the sortie.
The TTA bid (priority) codes;
1 - Operational urgent usage
2 - Large scale MOD approved exercise
3 - Small scale MOD approved exercise
4 - Work-up prior to deployment
5 - Flight Trials
6 - Unit training to qualification (Qualified Weapons Instructors (QWI), Night Vision goggles (NVG) etc.)
7 - Other exercise
8 - Routine training
The bids are collated and allocations are made as fairly as possible to each Squadron by the LFBC.
Air Defence training can take place over the LFA's, in areas designated as Operational Training Areas (OTA). There are seven OTA's (A to G), OTA Golf for example covers a good part of central Wales. The LFBC are not responsible for handling OTA bookings as they are not part of the UKLFS. A number of military ranges are situated around the UK and are used for low-level conventional and electronic warfare training. Spadeadam in Northumberland is the most sophisticated range containing a large number of realistic threat emulators. It is used regularly by fixed and rotary wing aircraft.