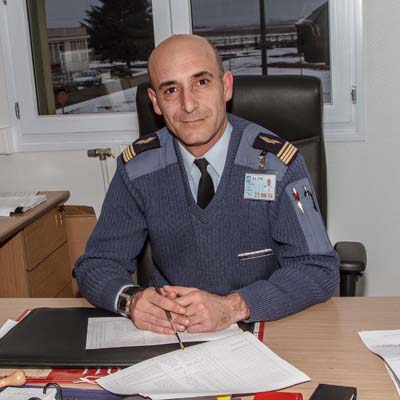 Commandant Sylvain Lavignac, Commander of 11.601 GERSA (Groupe d'entretien de réparation et de stockage des aéronefs) at his desk. Now one year in to the job is responsible for the maintenance, repair and storage of currently 400 plus aircraft, which will increase to 500 by 2015 following the French Government's rationalisation plan 'Air 2010'.

Facing new challenges
Cdt Lavignac is currently twelve months into his posting at GERSA, having previously held a position at Orange air base (Base Aérienne 115). He is enjoying the challenge; "Here you can work on all the operational aircraft types in the air force; at Orange I was only working on the Mirage 2000C, here each aircraft has its own challenges." He is responsible for a skilled workforce including airframe, avionics and weapons specialists; "The most interesting aspect is the management of people, as the chief of the Air Force said, it is the men and women that make us a force" Crucially, Cdt Lavignac also revealed that GERSA faces increased challenges over the next few years following the French Government's decision to rationalise the size of its fleet of military aircraft and the number of air bases it needs, this review was named 'Air 2010'. Cdt Lavignac has been told that he will have over 500 aircraft in his charge by 2015, as 'Air 2010' proposed that only 300 combat aircraft will be in service with the AdA by 2015.
Already numbers have started to increase as air bases are closed and units disband. Recent arrivals here have included at least 16 of the older Mirage 2000Ns from the former EC 01.004 unit which disbanded at Luxeuil (BA 116) in July 2011. The aircrew transferred to EC 02.004 when they moved to Istres (BA 125). Other recent arrivals are the Mirage F.1CRs from Reims (BA 112) which was closed in September 2011, some of its aircraft were transferred to Mont-de-Marsan (BA 118) the remainder were put in to storage. 27 former BA 112 Mirage F.1B/CR/CT were noted in the GERSA hangars.
As Châteaudun has limited covered space of 98,425 Sq feet (30,000 Sq m) intense planning has been necessary to make sure they can accommodate the increasing numbers. GERSA work very closely with a unit at Bordeaux-Merignac (BA 106) known as Air Force Support Command (Commandement du Soutien des Forces Aériennes - CSFA). Established in 2008 CSFA has a staff of 21,500 and controls 300 military units. CSFA is divided into cells each responsible for an aircraft type, part of their responsibility is to manage the aircraft fleet's hours by rotating stored aircraft with those with the operational squadrons. They decide on which aircraft is put into storage and which is taken out, either to be returned to service or harvested for spare parts and ultimately scrapped. A plan is issued by CSFA every November which covers the movement of aircraft in and out of Châteaudun by aircraft type and for each month in the following year. Issued last November, the plan for 2012 shows that 40 aircraft will be added to the numbers in storage while only 20 will be taken out of storage.
Storing a sophisticated combat aircraft is no easy task, especially in a European climate. All the hangars available to GERSA are insulated with an inner lining of toughened plastic sheeting erected two meters or so from the outer wall. The sheeting is also suspended as a false ceiling above the aircraft.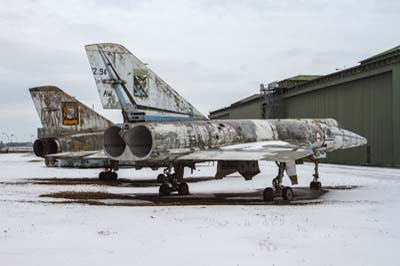 A line of the retired Mirage IVAs and IVPs outside the Poulmic hangar which contains at the time of the visit 111 aircraft plus another 83 at the Nivouville site are stored in climate controlled conditions of 45% humidity.
Heading the line is Mirage IVA (24 'AW') which is painted in the special markings of its final unit EB 2/94 'Marne' which were applied for the disbandment ceremony at St Dizier-Robinson (BA 113) on July 1, 1988.
Behind it is Mirage IVP No.7 (marked No.01 to show it was the first IVP conversion) which is painted in the special Mirage IV 25th anniversary markings which were applied in 1989 when with EB 2/91 'Bretagne' at Cazaux (BA 120), the unit disbanded in July 1996. Both aircraft have been parked at this location since around 1993.

The huge Poulmic hangar is the largest single storage hangar in Europe. Situated on its own in the south-eastern corner of the airfield, it is surrounded by revetments and trees with three lines of electrified barbed wire fences. Built in 1937 its modern metal cladding hides its original concrete and steel structure. Six industrial dehumidifiers keep the environment at a strict 45% humidity to prevent damp air from corroding the aircraft's sensitive components. Smoke alarms, water sprinkler systems and close circuit television cameras linked to the fire service complete the security deemed necessary to protect a large proportion of the nation's air force. At Poulmic Corporal Cheron is one of four electrical technicians who are solely responsible for maintaining the safe environment for the hangar's inmates. He opened a side door where a sign warned that mobile phones must be left outside apparently the electro-magnetic radiation they emit is a potential cause of combustion. Once through an air-tight door and in to the first of three inner cells a strong smell of aviation fuel was very apparent. A light switch was thrown and the dark shapes we could see were revealed to be long lines of assorted AdA aircraft.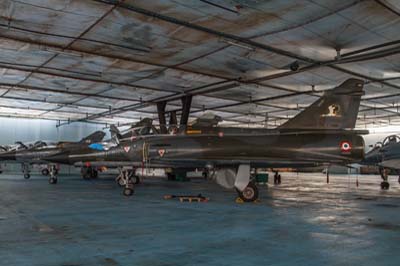 A Mirage 2000N (332 '116-BN') with a missing front cockpit glass which has been farmed to keep another Mirage 2000N flying. This aircraft is was one of the more recent arrivals it is previously based at Luxeuil-St.Sauveur (BA 116) when the Wing was disbanded in July 2011. The Mirage 2000N took over the nuclear strike role from the Mirage IV in 1996. The Dassault Rafale B was declared fully operational in the nuclear strike role in July 2010.

Another two pairs of storage hangars are located in the south-western corner of the airfield which form part of the Nivouville site named after the nearest village. These hangars also house a mix of Mirage 2000 variants, Mirage F.1, Alpha Jets and Epsilon along with a section with aircraft drop tanks. These hangars are also lined and are humidity controlled (Enceintes à Hygrométrie Contrôlée - EHC). The author's visit coincided with challenging weather conditions with extreme cold and snow. As the snow began to thaw you could hear water continually dripping on to the blue plastic sheeting above the aircraft, a network of pipes allows the water to drain away. Six hardened air shelters dispersed around the field we were told also hold aircraft in storage.
North side of the single 7,552 foot (2,302m) runway are three more pairs of hangars. One hangar contains aircraft which have been involved in accidents which have been transported here for investigation by an external authority. Another hangar contained aircraft that had recently arrived and were waiting the attention of the GERSA technicians along with a number of retired aircraft which are being used as a source of spares.
As covered space is at a premium we currently have 246 aircraft stored outside at various points around the airfield. These have in the main been harvested for spare parts. One of the main storage areas is the southern end of the disused cross runway known as the "German runway." At its southern end there are over 50 forlorn looking airframes in various stages of dismantlement including; Mirage 2000C/N, Mirage F.1, Alpha Jet, Sepecat Jaguar, Fouga CM-170 Magister and the fuselages of 13 former French Navy (Aeronavale) Nord 262E transports the last of which flew in 2009. Outside at the nearby Nivouville site are another 19 Nord 262D Frégate which had operated with the AdA up to 2004. With these sorry looking aircraft are some eleven wingless Transport Allianz C-160F Transall and half a dozen or more Dassault Mystère 20. Some of these aircraft will linger on for a decade or more; others won't be so fortunate and will go to the melting pot.